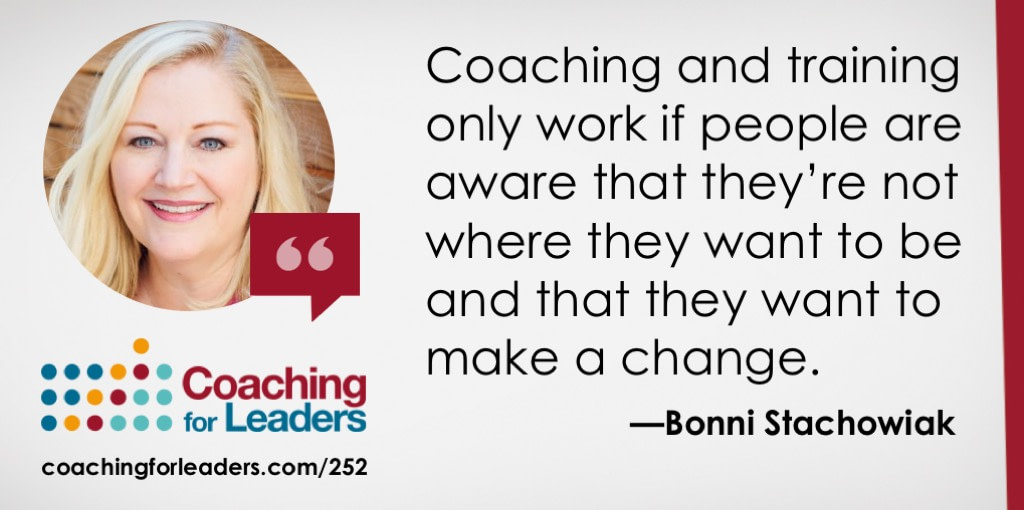 Bonni and Dave team up for the monthly question and answer episode to discuss coaching, values alignment, and work-life balance.
Question from Chase
I'm wondering about coaching someone who has inherited a job that pushes them beyond their skill set. Specifically, someone who was focused solely on a job specifically training tellers. That function moved from HR to ops. HR retained the former teller trainer for a corporate trainer role. The employee's wheelhouse is black and white training, ops and compliance focused. Now the employee's focus is on more ambiguous training around developing staff on a variety of skill sets. It's challenging for her. I struggle coaching her because her natural drive and skill is very ops focused. Any advice on some coaching on this topic would be much appreciated!
Question from Diana
I have an MSC in environment and sustainable development, and although I do some studies and recommendations on sustainable cities, the reality is that most developers don't care about the environment, and sometimes I feel I am missing my ideals.
Other team members agree with me. Sometimes I feel uncomfortable, because of my beliefs and the developers expectations.
I know I can only know how much I can stand of this incongruity, but is it something usual in the workplace? Is it common that you find that you don't agree with the position of the company you work with? Sometimes this position might only be recognized once you are working within the company.
Audio Question from Charlie
Audio Question from Rasmus
Audio Question from Joe
Feedback
Chicago Meet-up: July 7th, 2016
Will you be in the Chicago area on Thursday, July 7th, 2016? Join my friend Beth Buelow and me for a Chicago meet-up at The Bean in Millennium Park at 6:00 p.m. that evening. We'll migrate to grab a bite to eat by 6:30 p.m.
If you plan to join us, please visit this page for details and to sign-up: http://coachingforleaders.com/chicago
If you're not already subscribed to this show, please do so and you'll get new episodes every Monday. Just search for Coaching for Leaders on iTunes, Stitcher, or any podcast app you use and subscribe there.
Please join my weekly leadership guide. The leadership guide is delivered to your inbox each Wednesday and includes my thoughts and recommendations on the best articles, podcasts, videos, and books to support your development between shows. It also includes a brief overview and link to the full weekly show notes. If you, like me, tend to listen to podcasts while you're on the road or exercising, this will give you an easy way to follow up later on the links and resources we mention in every show.
As a bonus, when you join the weekly leadership guide, you'll get immediate access to my readers' guide listing the 10 leadership books that will help you get better results from others, with brief summaries from me on the value of each book. Download the 11-page readers' guide and 9-minute video of these book recommendations … plus, insight on the 2 books that I rely on weekly! Visit http://coachingforleaders.com/subscribe