So you're in the midst of conflict and frustrated with the other party. What can you do get what you really want? On today's show, Bonni Stachowiak joins me to discuss the path to get there.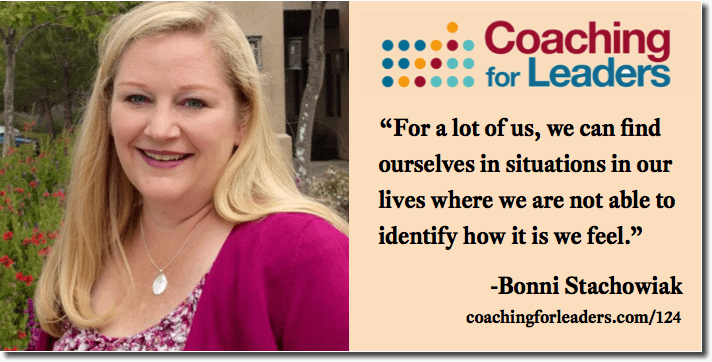 Guest: Bonni Stachowiak
Bonni and I discussed three steps for getting what you most want out of conflict:
Recognize our tendency to focus on ourselves being right and the other party being wrong.
Getting clear on the feeling factor: becoming aware of our own feelings and learning to express them accurately to another party
Know your short and long-term goal. "Given what has already transpired that you can't change, what do you want to have come out of this situation?"
We recommended the book Difficult Conversations*
Community Feedback
CoachingforLeaders.com/feedback
USA: (949) 38-LEARN
Did you know?
That there is a full episode list online? Check it out at CoachingforLeaders.com/episodes
Did you know there is a tag cloud of topics for everything on the Coaching for Leaders site? Check it out on the homepage, halfway down on in the right column.
Episode #125 airing later this month will be an all question and answer show focused on the topic of Time Management. If you have a question relating to time management, please record it for consideration for this episode at this link.
Thank you to Rose Baladez, Louise deCordova, Katie Smith, Graham Loan, Jeff Herbele, James White, David Myers, Luke Ennis, Rene Husum, Antonio Han, Erin Bailey, Nancy Rondeaux, Mary Schuman, Rob White, Huibert Gill, and my dad, Gene Stachowiak who've subscribed to my weekly update this past week.
Thank you to El Kamarda Tapatio from Mexico for your very kind written review on iTunes store. If this show has been valuable to you as well, please leave a written review on iTunes or Stitcher by visiting coachingforleaders.com/itunes or coachingforleaders.com/stitcher
How would identifying what you want out of conflict help you in a current dialogue?