For many of us, our tendency is to minimize our daily interruptions so we can get more done. On today's show, my guest Douglas Conant helps us all recognize why these moments are critical in our work as leaders and how we can best utilize them.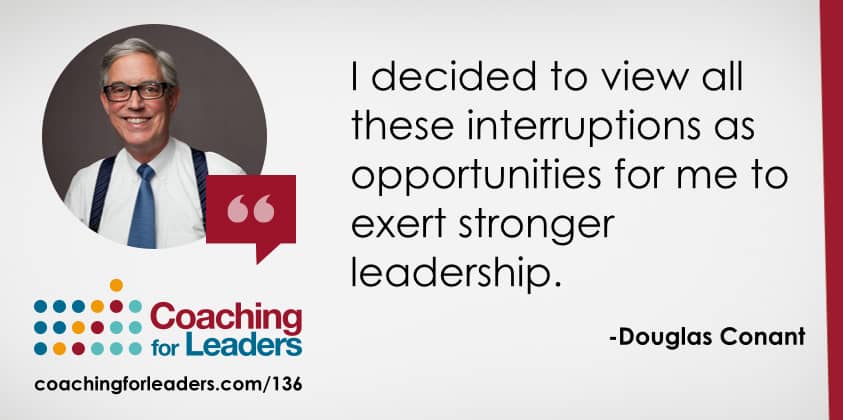 Guest: Douglas Conant
"The More I Learn About the Outside World, The More Effective I Am With The Inside World." -Doug Conant
Doug's TouchPoint framework
Ask first, "How can I help?"
1. Listen intently to what's said and not said
2. Frame the issue so you understand the context in which 

the person is looking for your help

3. Help them advance the agenda
Ask at the end, "How did it go?"
Doug mentioned the book Talent is Overrarted by Geoff Colvin*
Check out these two articles from Doug
Doug's book is TouchPoints:Creating Powerful Leadership Connections in the Smallest of Moments*
Feedback
Thank you to Alison Nail, Craig Boothroyd, Dana Ruckman, Barry Alcock, Lorina Smith, Ulysses Codognotto, Stephane Russo, Diwakar Nallamani, Travel Pod, Brenda MacPherson Camille Moingeon, Keith Pritchard, Santosh K, Gwen Gnazdowsky, Marin Geo, Justus Birlenbach, Dale Hatchard, and Julio Fernández-Gayoso.
Thank you to Islaura on iTunes and MariaW on Stitcher for leaving such kind written with! If this show has been valuable to you as well, please leave a written review on iTunes or Stitcher by visiting http://coachingforleaders.com/itunes or http://coachingforleaders.com/stitcher