Technology is great, but only if it helps you work better. On this episode, I share 7 online tools that I use and will help you get the most of our your time. I currently use them all daily in my work and I'm excited to share their benefits with you.
My three criteria for selection these tools:
Cross-platform
Not apps/tools that you already know everything about
Clear business model
Frees time to invest doing the things you are best at
I currently use all of them
Highrise (highrisehq.com)
The problem this solves: Trying to piece together everything someone has every told you in multiple places.
Far less complex than traditional CMSs
Manage relationships
Track conversations
Tag people for events, projects, etc.
Track details (birthdays, family names, etc.)
Integrates Twitter and LinkedIn
Basic task management
Tracks pending customer deals
Free plan up to 250 contacts / 30-day free trial
What will this help you do? Get stuff out of your head and manage lots of different relationships.
Basecamp (basecamp.com)
The problem this solves: Re-doing the same work again and again and checking in to see if people have done stuff.
Project management tracking
Templates for projects
Integration with a team
No free version, but a 60-day free trial (no credit card), $20/month
TimeTrade (coachingforleaders.com/timetrade) [affiliate link]
The problem this solves: Spending countless hours going back and forth with people on times to schedule with you.
You give TimeTrade calendar access (Outlook, Calendar, Google calendar) and it looks for free spots
You have a link and people can schedule and cancel automatically
Great for people who are outside your organization and don't want to have any detailed access to your calendar
Appointments show up automatically in calendar and by email
One downside – you need to watch what is free in your calendar
Free version is available, but I use the $49/year version
Check out http://coachingforleaders.com/timetrade [affiliate link] for a 30-day free trial
Lift (lift.do)
The problem this solves: Keeps you on track for the daily habits that are important to you.
Set habits in the system
Track when you complete them
Follow others and encourage others and get encouragement in return
Example: Wake up at 5am
It sends you little motivators by email on alerts on your phone
This version is entirely free
See screenshot below from my iPhone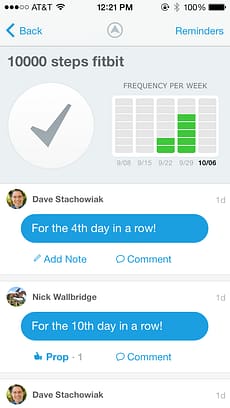 Instapaper (instapaper.com)
The problem this solves: Cool articles on the web distracting you from getting your work done
Set up an account and install an extension in your browser
See something you like? Hit the button on your browser and it saves it into your account.
Read it later on the device you want to use. I use the Instapaper app on my iPad.
I can then send it other places.
Instapaper account is free, but the apps are a few dollars, depending on the device you use. Or, you can read on the web.
Pocket is a another alternative, but I'm not clear on their business model.
Buffer (bufferapp.com)

The problem this solves: Staying engaged on social media without having to be on social media all the time
One of my goals this year – show up more online. But how, with limited time?
Fill your queue with relevant things for the people who follow you
Buffer will post them on your behalf at regular intervals
Great way to feature the work of others – I do this especially with Twitter
Free version available, but I use $10/month version
1Password (1password.com)
The problem this solves: Not having to track all those passwords in your life and also limiting the ability of hackers to get access to your life
Create unique passwords for every site you visit online
Keep them all in one place, protected by a master password
Login automatically from your browser
Syncs across devices using Dropbox or iCloud
Massive time saver and fantastic peace of mind
Just this week, Adobe announced they had a breach of accounts
$40-$80 depending on the version you buy
Community Feedback
Leave an audio message now
USA: (949) 38-LEARN
feedback@coachingforleaders.com
Twitter: #CFLshow
Manhattan Breakfast Meetup Cancelled!
Apologies to all that were planning to attend – check out the details on the show
I'm looking to chat with about 10 people to do a little R&D for a new project for #CFLshow community. Contact me if both of the below are true for you:
You've been a manager for less than 2 years.
You work for a company or organization of more than 25 people.
If the above sounds like you, send me an email to feedback@coachingforleaders.com with "R&D" in the subject line.
Congrats to Grammar Girl for her appearance on The Today Show this past week!
Thank you to Coca Cola Man for your very kind written review on iTunes. If this show has been valuable to you as well, please leave a written review on iTunes by visiting coachingforleaders.com/itunes
I publish an article each week that will give you a booster shot between shows on how to lead better by giving you actionable advice to improve your communications, human relations, or personal productivity. If you'd to receive it in your inbox, just go to coachingforleaders.com/subscribe. Plus, you'll get instant access to my video overview and downloadable guide on the ten leadership books that will help you get better results from others.