Has email taken over your life? If you're like me, is certainly can often. Today, I welcome David Sparks of MacSparky.com to teach us how to get better control of this communication medium.
Guest: David Sparks of MacSparky.com
Author of Email* and Paperless*
Co-Host of the Mac Power Users podcast
David and I speak about his new book Email and how we can use more effective workflows and planning to take control of email. You'll find his perspective helpful for considering actions you can take with your email.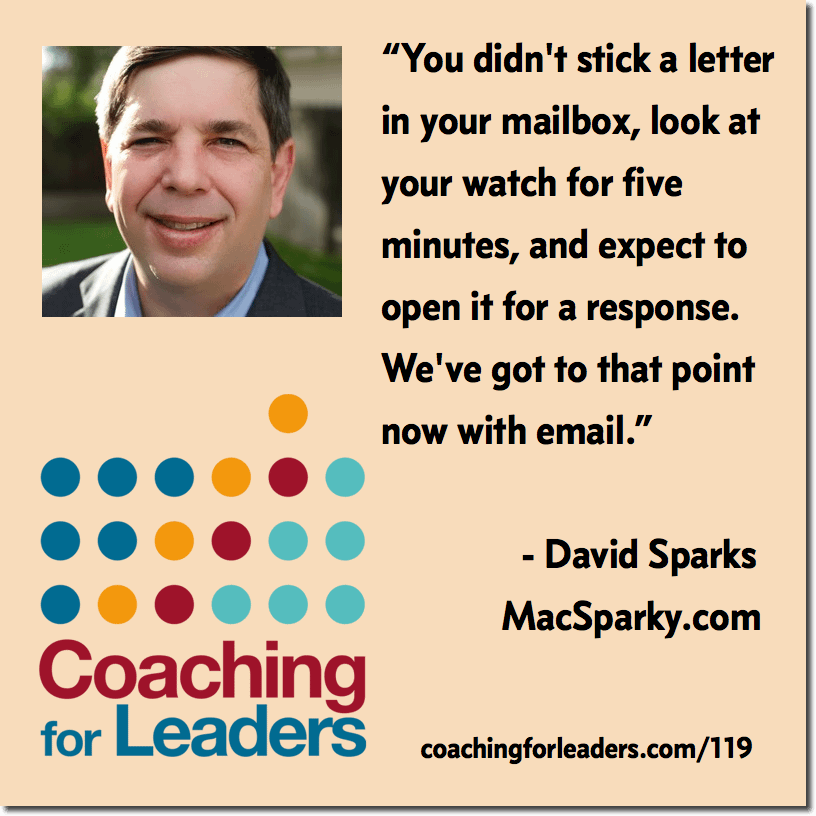 Community Feedback
CoachingforLeaders.com/feedback
USA: (949) 38-LEARN
Twitter: #CFLshow
David's book Email*
David's book Paperless*
Coaching for Leaders episode #120 is an all request show! Record your question at this link.
Almost 500 people are participating in my coaching plan on the Lift app on how to Become A More Respected Manager. Check it out at coachingforleaders.com/liftplan
Thank you to Halina Kavalenka, Paul Gallo, Vitaly Rubanenko, Jenny Jones, Chelle Ziegenfuss, Kian Ruddock, Debra Barrett, Alvin Tjitrowirjo, Jon Watts, Kyle Crecelius, Steve Nunez, Achintha Rodrigo, Jason Collins, Neal Quon, and Scott Phillips who've subscribed to my weekly update this past week.
Thank you to Bhaskar Nellipudi for your very kind written review on Stitcher. If this show has been valuable to you as well, please leave a written review on iTunes or Stitcher by visiting coachingforleaders.com/itunes or coachingforleaders.com/stitcher