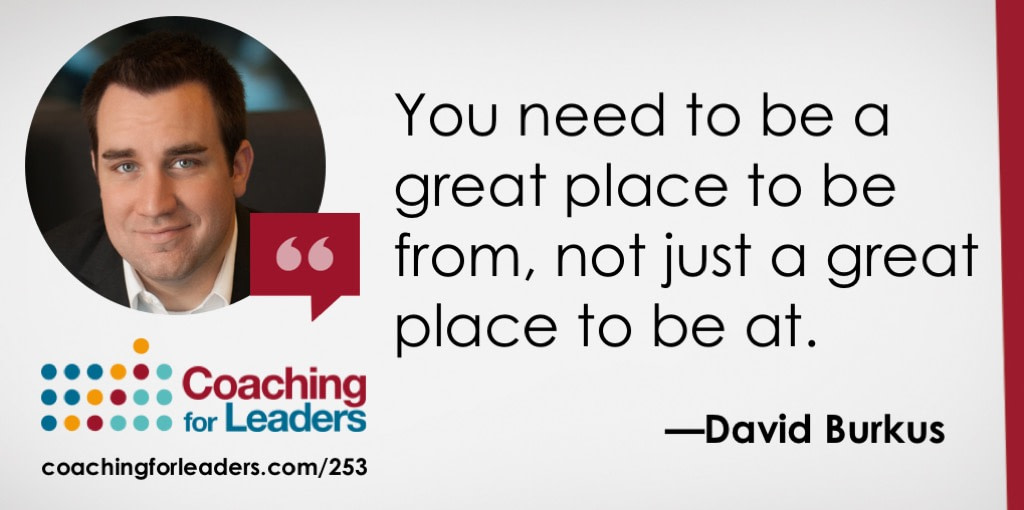 David Burkus:
On this week's episode, David teaches us how leading organizations are now using new management techniques.
Quotes
If you're not embarrassed by your work from five years ago, then you're not growing fast enough.
—David Burkus

You need to be a great place to be from, not just a great place to be at.
—David Burkus
Feedback
If you're not already subscribed to this show, please do so and you'll get new episodes every Monday. Just search for Coaching for Leaders on iTunes, Stitcher, or any podcast app you use and subscribe there.
Please join my weekly leadership guide. The leadership guide is delivered to your inbox each Wednesday and includes my thoughts and recommendations on the best articles, podcasts, videos, and books to support your development between shows. It also includes a brief overview and link to the full weekly show notes. If you, like me, tend to listen to podcasts while you're on the road or exercising, this will give you an easy way to follow up later on the links and resources we mention in every show.
As a bonus, when you join the weekly leadership guide, you'll get immediate access to my reader's guide listing the 10 leadership books that will help you get better results from others, with brief summaries from me on the value of each book. Download the 11-page reader's guide and 9-minute video of these book recommendations … plus, insight on the 2 books that I rely on weekly! http://coachingforleaders.com/subscribe
Community Member Spotlight: Anne Muthmann
Anne mentioned:
If you'd like to be considered for a future listener spotlight, visit http://coachingforleaders.com/spotlight
Thank You
If you would like to post a review on iTunes, it's a huge help in the growth of the Coaching for Leaders community. If you use iTunes, just visit http://coachingforleaders.com/itunes – and thank you in advance for your support!