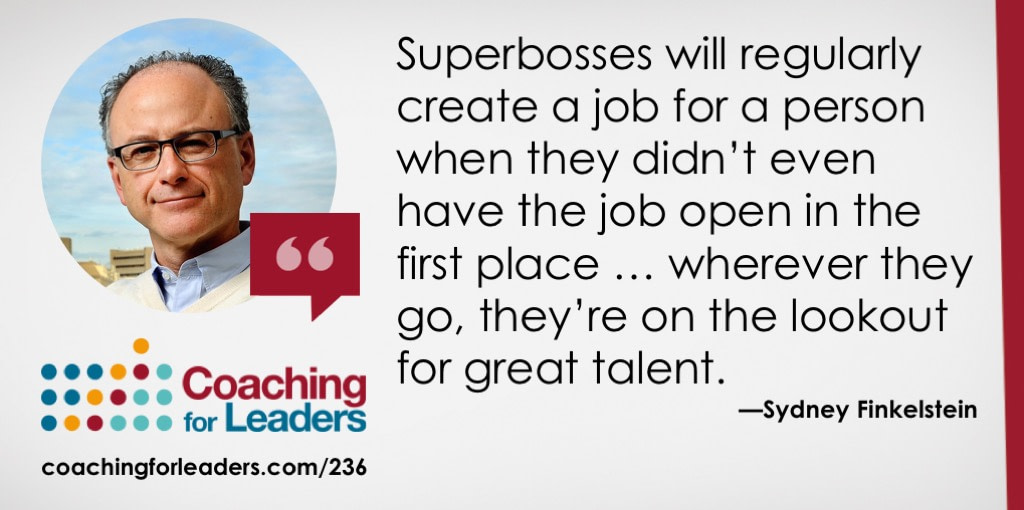 Sydney Finkelstein
Quotes
A superboss is a boss who helps other people accomplish more than they ever thought possible.
—Sydney Finkelstein

When you help other people get better on your team … the payoff to you is exponential, because you're now surrounded by superstars.
—Sydney Finkelstein

Superbosses will regularly create a job for a person when they didn't even have the job open in the first place … wherever they go, they're on the lookout for great talent.
—Sydney Finkelstein

Superbosses are not afraid of making a bad hire.
—Sydney Finkelstein

Superbosses are always looking for talent that is the absolute best, and and they know they need to look in places that the average person isn't.
—Sydney Finkelstein
Feedback
Want to be featured as a member spotlight on a future episode? If so, visit http://coachingforleaders.com/spotlight
Please join my weekly leadership guide. The leadership guide is delivered to your inbox each Wednesday and includes my thoughts and recommendations on the best articles, podcasts, videos, and books to support your development between shows. It also includes a brief overview and link to the full weekly show notes.
As a bonus, when you join the weekly leadership guide, you'll get immediate access to my reader's guide listing the 10 leadership books that will help you get better results from others, with brief summaries from me on the value of each book. Download the 11-page readers' guide and 9-minute video of these book recommendations at http://coachingforleaders.com/subscribe
Thank You
Thank you to Anthony Grillo and Mark Jansen for the kind reviews on iTunes. If you would like to post a review as well, it's a huge help in the growth of the Coaching for Leaders community. If you use iTunes, just visit http://coachingforleaders.com/itunes – and thank you in advance for your support!