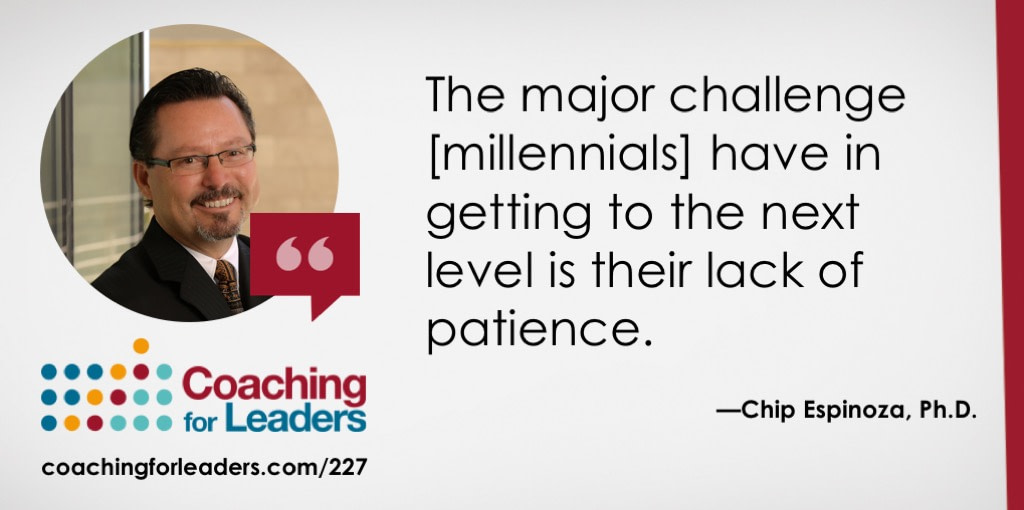 Chip Espinoza, Ph.D.
Chip Espinoza shares wisdom from his new book, Millennials Who Manage: How to Overcome Workplace Perceptions. Chip is the Co-author of [email protected]: The 7 Skills Every Twenty-Something Needs to Overcome Roadblocks and Achieve Greatness At Work and Managing the Millennials: Discover the Core Competencies for Managing Today's Workforce. He is also Academic Director of the Organizational Psychology program at Concordia University Irvine. More
Quotes
The major challenge [millennials] have in getting to the next level is their lack of patience.
—Chip Espinoza

It's not the people that are against us that are going to hold us back from achieving what we want; it's the people who love us the most.
—Chip Espinoza

The number one challenge of moving from a peer worker to being a boss is a redefinition of a relationship with their peers. The second greatest challenge is the fear of disappointing the person who promoted them.
—Chip Espinoza
Resources
Feedback
Please join my weekly leadership guide. The leadership guide is delivered to your inbox each Wednesday and includes my thoughts and recommendations on the best articles, podcasts, videos, and books, to support your development between shows. It also includes a brief overview and link to the full weekly show notes.
As a bonus, when you join the weekly leadership guide, you'll get immediate access to my reader's guide listing the 10 Leadership Books that Will Help You Get Better Results From Others with brief summaries from me on the value of each book. Download the 11-page reader's guide and 9-minute video of these book recommendations at http://coachingforleaders.com/subscribe
Thank You
Thank you to David in the UK, Tracy in China, Keith in Australia, and Annie, Hanif, and Craig here in the States for the kind reviews on iTunes. If you would like to post a review as well, it's a huge help in the growth of the Coaching for Leaders community. If you use iTunes, just visit http://coachingforleaders.com/itunes and if you use Stitcher, please visit http://coachingforleaders.com/stitcher – and thank you in advance for your support!