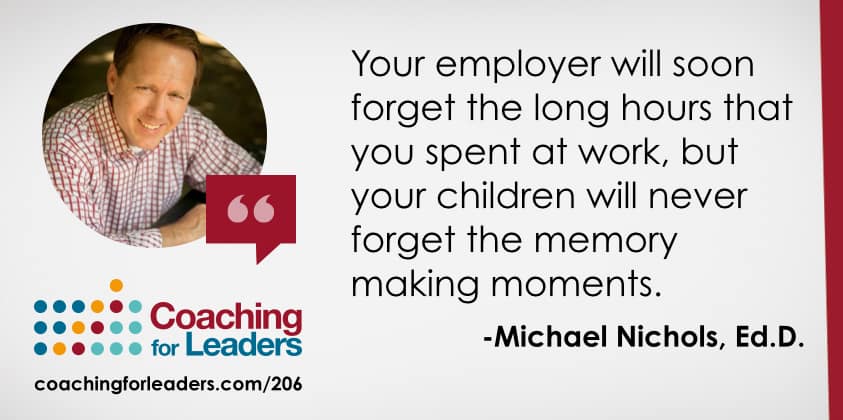 Realizations Michael had after dealing with his own overwhelm:
I could give more
I can grow on purpose
Every leader needs help
"Your employer will soon forget the long hours that you spent at work, but your children will never forget the memory making moments." -Michael Nichols
The Five Phases (video) (PDF) that Michael articulates in this episode to conquer overwhelm:
Purpose
Path
Plan
Prepare
People
The four things leaders are typically interested in getting better at:
Improving income/revenue
Leadership skills development
Becoming more effective/efficient
Leading better through change
Michael mentioned the Personal Life Plan Guide and The SIMPLE One-Page Business Plan as resources, as well as the Guidestone Executive Retreat Center.
Feedback
If you're not already subscribed to this show, please do so and you'll get new episodes every Monday. Just search for Coaching for Leaders on iTunes, Stitcher, or any podcast app you use and subscribe there.
Please join my weekly leadership guide. The leadership guide is delivered to your inbox each Wednesday and includes my thoughts and recommendations on the best articles, podcasts, videos, and books, to support your development between shows. It also includes a brief overview and link to the full weekly show notes. If you, like me, tend to listen to podcasts while you're on the road or exercising, this will give you an easy way to follow-up later on the links and resources we mention in every show.
As a bonus, when you join the weekly leadership guide, you'll get immediate access to my reader's guide listing the 10 Leadership Books that Will Help You Get Better Results From Others with brief summaries from me on the value of each book. Download the 11-page reader's guide and 9-minute video of these book recommendations…plus, insight on the 2 books that I rely on weekly! http://coachingforleaders.com/subscribe
Thank You
Thank you to dogofio in the United States and zimzom in UK for the kind review on iTunes. If you would like to post a review as well, it's a huge help in the growth of the Coaching for Leaders community. If you use iTunes, just visit http://coachingforleaders.com/itunes and if you use Stitcher, please visit http://coachingforleaders.com/stitcher – and thank you in advance for your support!