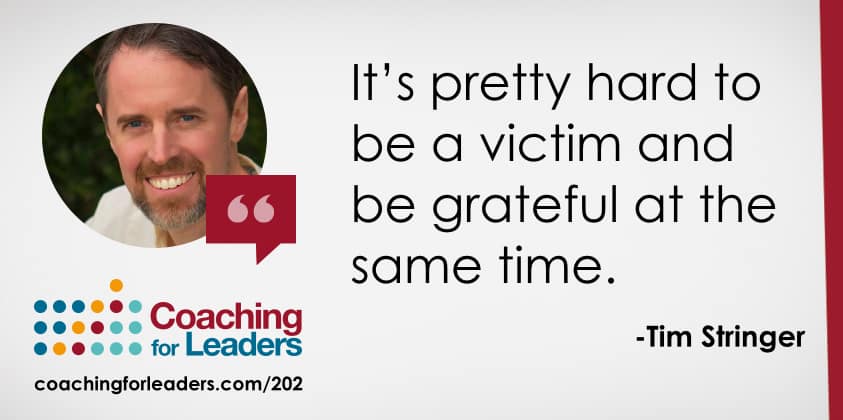 Tim appeared on two past shows:
4 Pillars of Holistic Productivity
1. Inner Reflection
Tim recommended The Way We're Working Isn't Working* by Tony Schwartz
2. Acceptance
"No matter how busy I am, I always have time to talk about how busy I am." -Tim Stringer (echoing a human truth)
"It's pretty hard to be a victim and be grateful at the same time." -Tim Stringer
3. Focus
4. Inspired Action
Tim mentioned the Day One app.
On Thursday, July 30th @ 10am PDT / 1pm EDT, Tim and I will be hosting a How to Step Into Action With Holistic Productivity webinar. You'll get:
Identify a strategic area for focus
Determine your first actions to create a positive shift
Connect and get inspired by other members of the community
If you agree to appear on video, reserve your free space at:
http://coachingforleaders.com/stepintoaction
Feedback
Please join my weekly leadership guide. The leadership guide is delivered to your inbox each Wednesday and includes my thoughts and recommendations on the best articles, podcasts, videos, and books, to support your development between shows. It also includes a brief overview and link to the full weekly show notes. If you, like me, tend to listen to podcasts while you're on the road or exercising, this will give you an easy way to follow-up later on the links and resources we mention in every show.
As a bonus, when you join the weekly leadership guide, you'll get immediate access to my reader's guide listing the 10 Leadership Books that Will Help You Get Better Results From Others with brief summaries from me on the value of each book. Download the 11-page reader's guide and 9-minute video of these book recommendations…plus, insight on the 2 books that I rely on weekly! http://coachingforleaders.com/subscribe
Please note that the show will be dark next week — see you in two weeks for the next Q&A show on August 3, 2015.