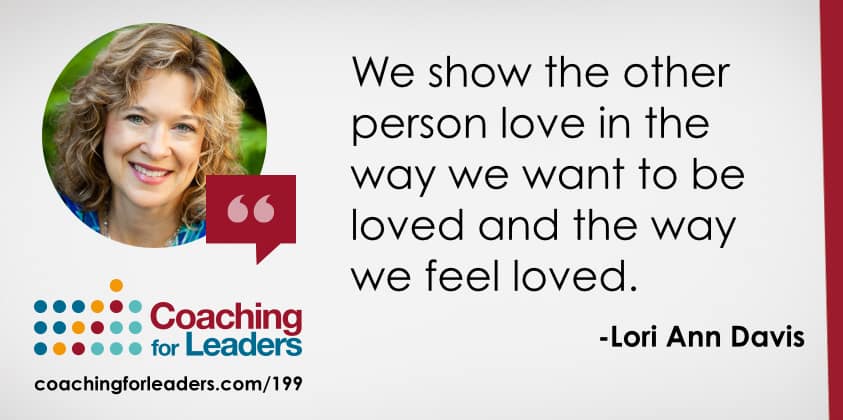 Dave mentioned the podcast StartUp
A few general patterns of both men and women:
Men:
More assertive
Communication is shorter and more direct
Problem solving main goal
Goal oriented
More independent
Women:
More tuned into emotions
Talk about the problem before acting to fix it
Need to be heard
Process oriented, ask more questions
More collaborative, build relationships
"We really would like the other person just to be like us." -Lori Ann Davis
"We show the other person love in the way we want to be loved and the way we feel loved." -Lori Ann Davis
Feedback
Please join my weekly leadership guide. The leadership guide is delivered to your inbox each Wednesday and includes my thoughts and recommendations on the best articles, podcasts, videos, and books, to support your development between shows. It also includes a brief overview and link to the full weekly show notes. If you, like me, tend to listen to podcasts while you're on the road or exercising, this will give you an easy way to follow-up later on the links and resources we mention in every show.
As a bonus, when you join the weekly leadership guide, you'll get immediate access to my reader's guide listing the 10 Leadership Books that Will Help You Get Better Results From Others with brief summaries from me on the value of each book. Download the 11-page reader's guide and 9-minute video of these book recommendations…plus, insight on the 2 books that I rely on weekly! http://coachingforleaders.com/subscribe
Community Member Spotlight
Submit your spotlight for consideration on a future show
Thank You
Thank you to Madelyn Sese and KentuckyTyler163 for the kind reviews on iTunes. If you would like to post a review as well, it's a huge help in the growth of the Coaching for Leaders community. If you use iTunes, just visit http://coachingforleaders.com/itunes and if you use Stitcher, please visit http://coachingforleaders.com/stitcher – and thank you in advance for your support!