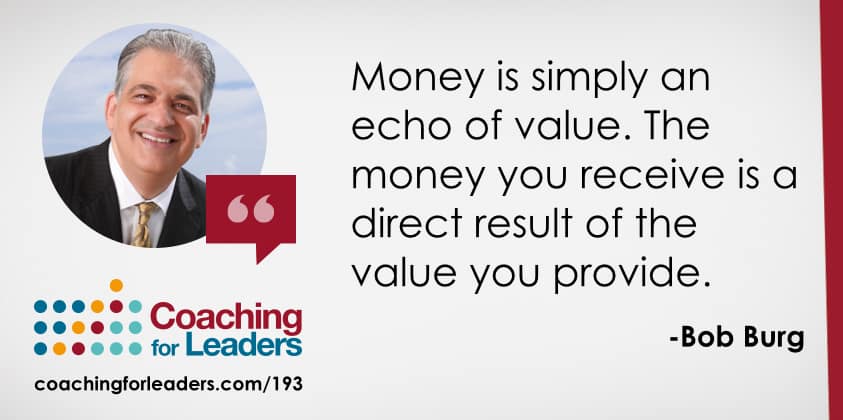 1. The Law of Value
You true worth is determined by how much more you give in value than you take in payment.
2. The Law of Compensation
Your income is determined by how many people you serve and how well you serve them.
Dave mentioned How to Win Friends & Influence People* by Dale Carnegie
3. The Law of Influence
Your influence is determined by how abundantly you place other people's interests first.
4. The Law of Authenticity
The most valuable gift you have to offer is yourself.
5. The Law of Receptivity.
The key to effective giving is to stay open to receiving.
Bob mentioned Influence: The Psychology of Persuasion* by Robert Cialdini
Feedback
Please join my weekly leadership guide. The leadership guide is delivered to your inbox each Wednesday and includes my thoughts and recommendations on the best articles, podcasts, videos, and books, to support your development between shows. It also includes a brief overview and link to the full weekly show notes. If you, like me, tend to listen to podcasts while you're on the road or exercising, this will give you an easy way to follow-up later on the links and resources we mention in every show.
As a bonus, when you join the weekly leadership guide, you'll get immediate access to my reader's guide listing the 10 Leadership Books that Will Help You Get Better Results From Others with brief summaries from me on the value of each book. Download the 11-page reader's guide and 9-minute video of these book recommendations…plus, insight on the 2 books that I rely on weekly! http://coachingforleaders.com/subscribe
Community Member Spotlight: Tom Trantow
Thank you to J F ey, Dave Leingang, The Mind Doctor for the kind reviews on iTunes. If you would like to post review as well, it's a huge help in the growth of the Coaching for Leaders community. If you use iTunes, just visit http://coachingforleaders.com/itunes and if you use Stitcher, please visit http://coachingforleaders.com/stitcher – and thank you in advance for your support!