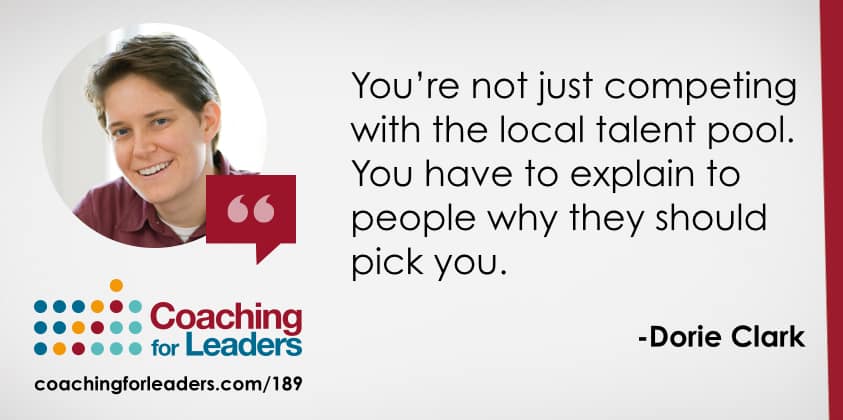 It's getting harder and harder for an individual's message to get out and be heard.
How to stand out as a thought leader:
Have valuable intellectual content
Build a following!
There is a three-step process people are following to gaining an audience:
One to one idea transmission (small mastermind)
One to many idea transmission (writing, speaking, etc.)
Many to many ideal transmission (others become ambassadors for you)
"If you are the only person, who at the end of the day, is still talking about your idea. That's a failure. You need to get other people talking about it." -Dorie Clark
Dorie mentioned her past article on Harvard Business Review: How to Reinvent Your Personal Brand
How do you figure out what you want to be known for:
Niche strategy – become a recognized expert in a narrow area and expand into related areas
Combining ideas/fields – bring together elements from two or more fields
Creating original research – information based on concrete knowledge from data or research (Dorie mentioned Nate Silver)
Tackling a big problem – bring something of value the resolves a major issue for lots of people
Creating a framework – build an explanatory system or device for your field (Dorie mentioned Robert Cialdini* and Dave mentioned Dale Carnegie*)
"One of the most important things to do early on is content creation." -Dorie Clark
There really aren't guarantees anymore in the work world.
"You're not just competing with the local talent pool. You have to explain to people why they should pick you." -Dorie Clark
Feedback
You can receive a trial to use Audible for 30 days, including two free books by visiting coachingforleaders.com/audible*
Please join my weekly leadership guide. The leadership guide is delivered to your inbox each Wednesday and includes my thoughts and recommendations on the best articles, podcasts, videos, and books, to support your development between shows. It also includes a brief overview and link to the full weekly show notes. If you, like me, tend to listen to podcasts while you're on the road or exercising, this will give you an easy way to follow-up later on the links and resources we mention in every show.
As a bonus, when you join the weekly leadership guide, you'll get immediate access to my reader's guide listing the 10 Leadership Books that Will Help You Get Better Results From Others with brief summaries from me on the value of each book. Download the 11-page reader's guide and 9-minute video of these book recommendations…plus, insight on the 2 books that I rely on weekly! http://coachingforleaders.com/subscribe
Community Member Spotlight: Sue Barber
Sue mentioned these past episodes:
To suggest future guests for the show, visit coachingforleaders.com/suggest
Thank You
Thank you to for the kind review on iTunes. If you would like to post review as well, it's a huge help in the growth of the Coaching for Leaders community. If you use iTunes, just visit http://coachingforleaders.com/itunes and if you use Stitcher, please visit http://coachingforleaders.com/stitcher – and thank you in advance for your support!