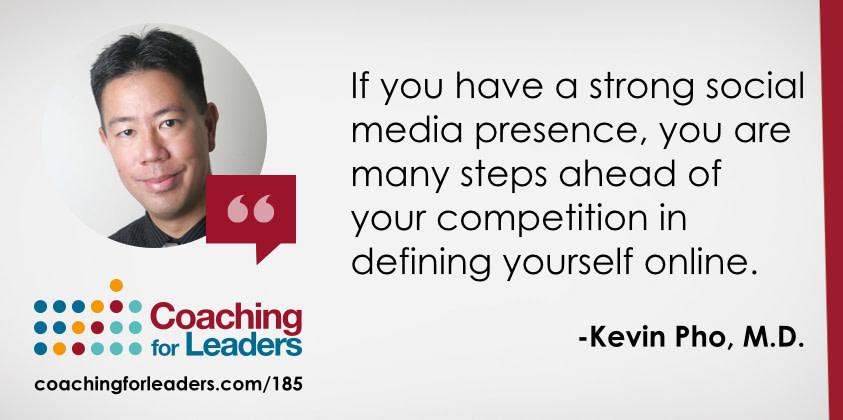 Social media is not a passing fad, but many people perceive it as such since the media tends to focus problem situations.
"Today, getting published and getting people to read your thoughts and read your articles is no more than a click of a button." -Kevin Pho
"If you have a strong social media presence, you are many steps ahead of your competition in defining yourself online." -Kevin Pho
"If you aren't proactive in establishing your online reputation, other sites, such as rating sites, are going to create content about you."
Three steps to creating your identify online from Kevin's book:
Curate
Connect
Make a difference
"Using social media to follow experts in your industry is a tremendous way to learn." -Kevin Pho
A strong social media presence can marginalize the rating sites.
Set up a Google alert to monitor mentions of yourself online.
Dave mentioned at the end of the show a previous episode on LinkedIn. Check out episode 101: How to Get the Most From LinkedIn.
Feedback
Please join my weekly leadership guide. The leadership guide is delivered to your inbox each Wednesday and includes my thoughts and recommendations on the best articles, podcasts, videos, and books, to support your development between shows. It also includes a brief overview and link to the full weekly show notes. If you, like me, tend to listen to podcasts while you're on the road or exercising, this will give you an easy way to follow-up later on the links and resources we mention in every show.
As a bonus, when you join the weekly leadership guide, you'll get immediate access to my reader's guide listing the 10 Leadership Books that Will Help You Get Better Results From Others with brief summaries from me on the value of each book. Download the 11-page reader's guide and 9-minute video of these book recommendations…plus, insight on the 2 books that I rely on weekly! http://coachingforleaders.com/subscribe
Thank you Suzie, for suggesting Kevin as our guest!