Bonni and I respond to questions from the Coaching for Leaders community on accountability, how to re-enter the corporate world, and more.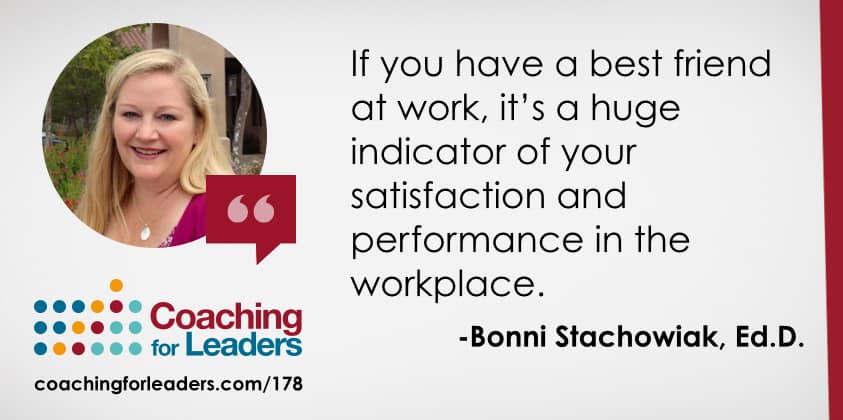 Question from Brian
I presently struggle with keeping the balance between friend and boss as we work closely together. All three of us are in cubicles next to each other. While this allows us to be very close knit (almost as much as the camaraderie in the Army, but not quite) I know I have already blurred the line more than I should have. It was easy to "keep your distance" in the military because you always have your rank whether you are in uniform or not. You could be a friend and a Sergeant at the same time. This has proven to be my biggest challenge as a civilian leader.
Question from Sarah
I recently found your podcast and have been an avid listener ever since. I am about to re-enter the corporate world in what I think must be my dream role! So very excited (nervous, anxious, ecstatic ) and so have been arming myself with the tools and tips of your many episodes. My question is – what would be your first priority when assuming a senior executive role in a large organization and inheriting a team hand picked by the previous incumbent who has been laterally moved now due to poor performance. I envision there are going to be some very disgruntled team members loyal to my predecessor, and while I want to make a good first impression. I also want to be clear that I am not interested in historical politics and am there to lead them positively forward.
Question from Rachel
I am struggling with a staff member who is supposedly bullying other people and being extremely rude. She knows I am watching her and is perfectly delightful when I'm around. I have many staff members reporting that she completely changes when I'm not around.
Question from Paola
We have one training initiative (an international one), where employees should change behavior. My question is: how can I make the biggest impact as a trainer to a team of 70 people to make sure, this changes take place?
Feedback from Geoff
When you give task list recommendations, you might want to consider mentioning Wunderlist as a simple, low/no-cost, yet reasonably powerful solution for cross platform task management. Although I dearly love OmniFocus, my job requires me to use a PC at the office. Having another computer or an iPad always nearby wasn't ideal, so I've switched much of my task tracking to Wunderlist, which syncs between my Macs, iPhone, iPad, and work PC (as a Chrome web app, which works even on a locked-down PC with no admin rights).
Feedback
Thank you to the following people who joined the weekly leadership guide this past week:
Dan Stevens, Andreas Fogelkvist, Nancy Byrd, Cat Valentine, Emmanuel Owusu-Boakye, Greg Myers, Mike Figliotti, Robert Cowie, Manpreet Khaira, Ryan Atchison, Derek Rafferty, Chris Fine, Luís Estanqueiro Lé, Kristof Molnar, Ron Atkinson, Daniel Escobedo, Penny Lyall, Lindsay Wallace, Brandon Spaeth, Eric Durbin, Nitin Patel, Allison Crotwell, Christopher Henderson, Myra Cherchio, Roman Kalous, Rebecca McQueen, Dominic Alletto, Jane Lowes Ciordas, Kyle Rogers, Rudra Murthy, David Denton, Michael McClellan, Kevin Casto, Jana Heranova, Yvonne Huynh, Andy Willingham, Kuang Lilan, Andrew McLean, Gary Graca, Jeff Dunham, Diane Novak, Dana Bean, Dan Li, Maurice Savage, Michelle Meyer, Linda Celestino, Sushant Srivastava, Jose Paulino, Ade F, Syed Yusainee, Joy Walk, Egle Druskinyte, Daniel Morales, Nadeen Halls, James Mohler, Wayne Hodder.
As a bonus, when you join the weekly leadership guide, you'll get immediate access to my guide on the 10 Leadership Books that Will Help You Get Better Results From Others. Download the 11-page reader's guide and 9-minute video of my top leadership book recommendations…plus, insight on the 2 books that I rely on
weekly! Visit http://coachingforleaders.com/subscribe