It's one thing to put together a project management plan and determine who should do what when. It's entirely another to lead a project. On this show, some practical strategy tips for project management.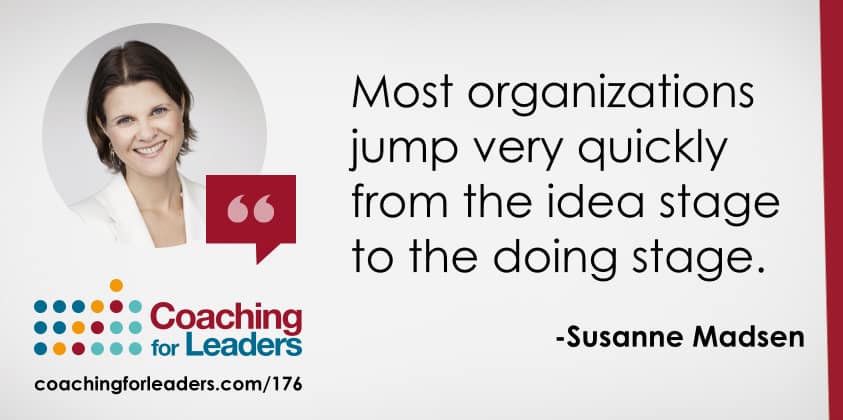 Susanne Madsen is an internationally recognized project leadership coach, trainer, speaker and consultant. Susanne specializes in helping project managers transform into leaders.
"Most organizations jump very quickly from the idea stage to the doing stage." -Susanne Madsen
Project definition: it's key to determine the value the project offers to the organization
Be strong enough to show weakness and ask the dumb questions
Two problems in managing risk
Not properly dealing with expected risks
Paying little or no attention to unexpected risks
Connect with Susanne on Twitter or LinkedIn
Feedback
Please join my weekly leadership guide. The leadership guide is delivered to your inbox each Wednesday and includes my thoughts and recommendations on the best articles, podcasts, videos, and books, to support your development between shows. It also includes a brief overview and link to the full weekly show notes. If you, like me, tend to listen to podcasts while you're on the road or exercising, this will give you an easy way to follow-up later on the links and resources we mention in every show. Thank you to the following people who joined the weekly leadership guide this past week:
Maysa Z, Mohamed Sherif, Melissa Sevcik, Ester Cate, Will Sullivan, Darren Munday, Jeff Kline, Elisabeth Hartwig, Sudhir J, Jaime Linden, Meredith Begin, Gerald Macgregor, John Kim, Larissa Thurlow, Nicole Mytych, Rodrigo Lopes, Barbara Stewart, Christopher Balcer, Ellee Lee, Pablo Tovar, Tim Binder, Vicki Childs, Laura Sloan, Pip Davie, Craig Rix, John Pineiro, Justin Casanova, Jerry Knox, Marc Mawhinney, David Copeland, Truls Luraad, Dawnel Snyder, Tony Dawson, Jacquie Drake, Doug Brickey, and Darren Peck.
As a bonus, when you join the weekly leadership guide, you'll get immediate access to my guide on the 10 Leadership Books that Will Help You Get Better Results From Others. Download the 11-page reader's guide and 9-minute video of my top leadership book recommendations…plus, insight on the 2 books that I rely on weekly! Just visit http://coachingforleaders.com/subscribe
Thank you to Rijul Kochar and Dayla21 for the kind reviews on iTunes. If you would like to post review as well, it will be a huge help for all of us to grow the Coaching for Leaders community. If you use iTunes, just visit http://coachingforleaders.com/itunes and if you use Stitcher, please visit http://coachingforleaders.com/stitcher – and thank you in advance for your support!