Bonni and I respond to your questions on leadership resources and other topics that are top of mind for the Coaching for Leaders community.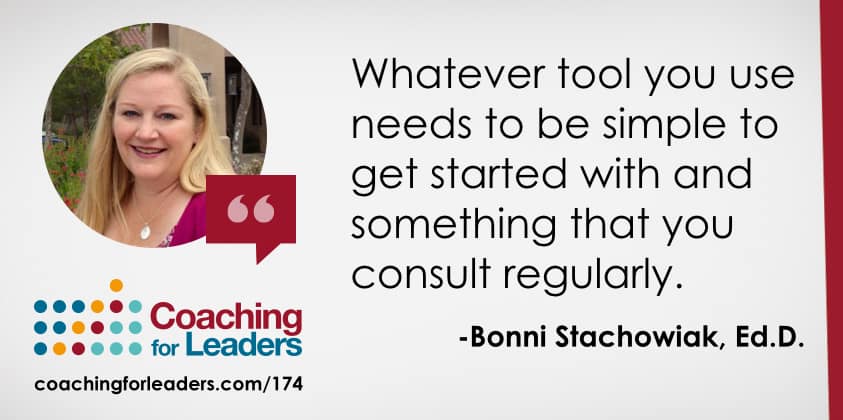 Question from Michelle:
I've recently taken on a Training post…it's a new post and so I'm making things up as I go along. In episode 30 you recommend that Managers attend the same training as their team. I'm organizing a whole range of training courses in 2015 and at first I agreed with you that the Manager should attend with their team. The feedback I've had though is that if the Manager attends then people won't ask all the questions they should ask to seek clarification. This maybe a cultural point rather than a general training point. Are there some types of training that need the Manager to be present and others where it's better than they are not present? For example : if it's about changing behavior then it's right that they should attend and if it's about learning something that's new (new skills to do the job they already do) then the Manager shouldn't be present.
Question from Amy:
I enjoy listening every morning on my way to work and have applied MANY of your tips to my job. I've been through so many podcasts, I'm curious if you could help me with one of your recommendations. You talked about a planner you use that can be specialized — what recommended company/website was this? I'm looking to start the New Year off right! Thanks for your advice!
Question from Brenda:
I am a retreat coordinator at a camp where I work with many different churches and Christian organizations. Most people I work with come 1-2 times a year and come and share their camp space with 2-5 different churches and organizations. I am looking for a way to not only personally connect with the people I work with, but also give them the opportunity to get to know each other as other camp rental leaders and be able bounce ideas off each other and give this group unity by coming to camp together. I also want to build this same unity and community with other retreat coordinators across the US within a online group. But keep the two groups separate from each other. I have seen this done with Stay-at-homes moms on Facebook, but really do not want to use Facebook for this. Would LinkedIn be a good website to use to for this purpose? Is there another social media or website that I should explore that you know of that would work better? What have you found to be the best way to grow your community with Coaching for Leaders?
Audio Question from Hujefa

Question from Lisa:
Quick question – have you ever done a podcast about how to handle a mistake at work? I have made a mistake that has many upset. I scheduled a meeting for next week to discuss and although I've already apologized internally, I'm looking for suggestions on how to handle the meeting. I don't think I want to focus at all on what I "shoulda" done but rather what to do to help alleviate the situation.
Question from Noushin:
I was wondering if you can suggest a program for executives who would like to improve their writing skills for communicating with the investors, CEOs, etc.
Feedback
For more information on the 5 Days to Your Best Year Ever course from Michael Hyatt, please visit:

http://coachingforleaders.com/best2015*
I've joined Michael as a formal affiliate for this program, so if you use that link, he will pay us a commission to thank us for introducing the course to you.
As a special bonus for you, if you decide to register for Michael's course and use that link, Bonni and I are putting together a special podcast that we'll air in mid-January on our 2014 achievements and 2015 planning – and just some overall coaching we have on goal-setting.
Once your register, forward your receipt to us at feedback@coachingforleaders.com – that's how we'll know to send you the special bonus audio from Bonni and me – and we'll deliver that to you in mid-January to help keep you on track for your best 2015.
Here's how to learn more:
Please join my weekly leadership guide. The leadership guide is delivered to your inbox each Wednesday and includes my thoughts and recommendations on the best articles, podcasts, videos, and books, to support your development between shows. It also includes a brief overview and link to the full weekly show notes. If you, like me, tend to listen to podcasts while you're on the road or exercising, this will give you an easy way to follow-up later on the links and resources we mention in every show. Thank you to the following people who joined the weekly leadership guide this past week:
Jeff Harris, Hendra Teja, Leonardo Paulillo, Athenea Machiavelo, Rudy Asuncion, Miroslav Jandecka, Eddie Williams, Andy Webb, Matt Shirel, Todd Sneathen, Jimmy Svensson, Safwan Haddad, Mike Harvey, Douglas Meyer, Raquel Berkshire, Angela Mestre, Davi Oliveira, Michael Lavery, George Wilson, Ryan Albert, David Ritter, Robert Goode, Robert Briggs, Ellen, and Matthew Teghtmeyer.
As a bonus, when you join the weekly leadership guide, you'll get immediate access to my guide on the 10 Leadership Books that Will Help You Get Better Results From Others. Download the 11-page reader's guide and 9-minute video of my top leadership book recommendations…plus, insight on the 2 books that I rely on weekly! Just visit http://coachingforleaders.com/subscribe