Bonni and Dave address questions related to strategic skills and other topics of interest to the Coaching for Leaders community.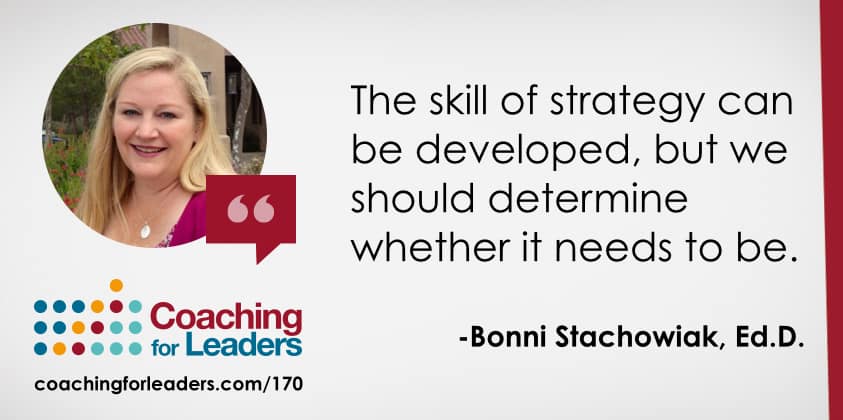 Audio question from Susan on how to develop strategic skills.
Question from Mark
I just wanted to let you know I have been listening to the coaching for leaders podcast since somewhere around episode 100. Recently an opportunity came by to become team leader of the engineering department I worked in. Listening to the podcast for a while gave me enough mental support to take the step! Thank very much. I find that there are certain pro's and con's of assuming a leadership position coming from within the team instead of coming from outside the department of even outside the company. Maybe you can address this in an upcoming Q&A show.
Dave also suggested a listen to the beginning of episode 120, with a more detailed response to a similar question
Audio question from Diana
Question from Guto
I listen to your programs daily – Coaching for Leaders and Carnegie Coach – and this has helped me a lot to improve as Manager and Coach. I have a training project and wanted a your tips. The idea is to make a leadership development program, and the topic is: Lead yourself. As the program will mix coaching with training, I thought to use some coaching tools such as wheel of life, personal SWOT analysis, and mission & purpose. However the module requires 4 hours of training. My program so far has given two hours of training. What do you recommend to do more as a way of self-knowledge to train leaders to make a difference in business and in their teams?
Feedback
Thank you to Abdenour Hamiti, Kate Beatty, Kathleen Jameson, Jesse Robinson, Steve Stachowiak, Suzen Frost, Mike Dolan, Al Kou, Ashlyn Ours, Christiana Moore, Julie Smith, Robert Lowell, Anthony Daly, and Latasha Christian.
Receive the 10 Leadership Books That Will Help You Get Better Results From Others, including 2 books that I rely on weekly. You can subscribe at http://coachingforleaders.com/subscribe