Are you always hiring the perfect candidate, or will you hire the best fit? Yes, there's a difference and today you'll discoverer a new perspective on finding the right person for your team.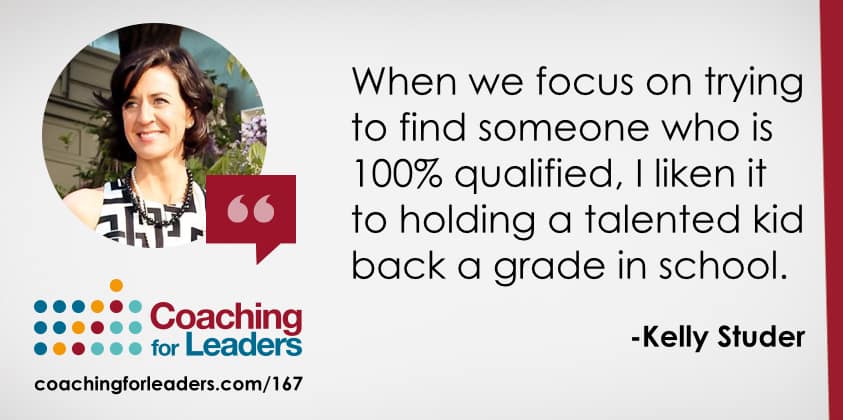 Kelly Studer
Career Stylist at KellyStuder.com
The 70% Principle for the Perfect Hiring Fit by Kelly Studer
Kelly and I discussed the HBR Ideacast on How Google Manages Talent
Dave mentioned episode #153 with Bill Bliss on How to Start with Succession Planning
"I got a bit of a reputation for being a tough, scary interviewer, and I learned over time that that wasn't necessarily the best approach." -Kelly Studer
Share some of your own vulnerability and have a real conversation about some of the work they may be involved in.
A great starting point is StrengthsFinder 2.0 Check out episode #89 with Steven Dosier on the Value of the StrengthsFinder Assessment.
"The only thing worse than training someone and losing them is not training them and keeping them." -Zig Ziglar
Feedback
Thank you to weekly update subscribers Henry Thornhill, Steve Warner, Ray Torres, Heidi Schwartz, Shailesh Mali, Jane Kerrigan, Paula Coviello, Jeannette Cummings, Jochen Spalink, Luiz Fernando Vianna, Brian Hillsinger, Jose Salazar, Duane Garrett, Allison Tse, Ethan Gilliam, Jose Manuel Alvarez, Chris Lottridge, Joe Thornton, Belinda Edge, Roxanne Flick, Donna Schilder, Alex Ivanov, and Jeff Roberts.
Receive the 10 Leadership Books That Will Help You Get Better Results From Others, including 2 books that I rely on weekly. You can subscribe at http://coachingforleaders.com/subscribe