The working world is very different than it was a generation ago, and all of us must adapt to be successful. Today, how promote yourself (and others) through intrapreneurship with Dan Schwabel, author of the New York Times bestseller Promote Yourself*.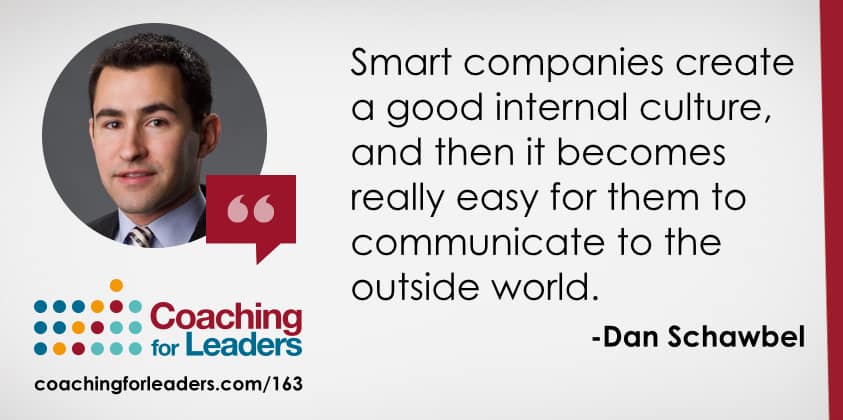 "Smart companies create a good internal culture, and then it becomes really easy for them to communicate to the outside world." -Dan Schwabel
Practical Action or Advice
Bring reverse mentoring into your next mentorship conversation or program
Ensure that senior leaders are engaged with you next initiative before proceeding

Thank you for supporting the Carnegie Coach podcast, a sister show to Coaching for Leaders
A new, daily show hosted by Dave Stachowiak
One principle each day from Dale Carnegie's library
The show will air Tuesday, Wednesday, Thursday, and Friday.
Less than 10 minutes per show!
Nothing is changing with Coaching for Leaders
Feedback
Thank you to weekly update subscribers Bill Wild, David Campbell, Scott Greer, Bonnie Cronin, Paul Monteath, David Otto, John Ballentine, Armando Sanchez, Katrina Wallace, Barbara Etienne, Julia Martin, Liam McKey, Ali Qahtani, Jen Macmillan, Mattias Järnhäll, Andrew Easton, Drew Lickteig, Kenny Adair, James Austin, Ashley Lewis, Daniel Hauff, and Amy Hayes.
Receive the 10 Leadership Books That Will Help You Get Better Results From Others, including 2 books that I rely on weekly. You can subscribe at http://coachingforleaders.com/subscribe
Thank you also to Barbara for leaving a written review on iTunes. If you've been listening to this show for a bit and feel like you can provide an honest review, kindly visit iTunes or Stitcher and leave a written review for the show. Thank you in advance!