None of us can be great at everything and neither are our organizations. On today's show, three key elements to consider for forming an effective alliance with another leader or organization.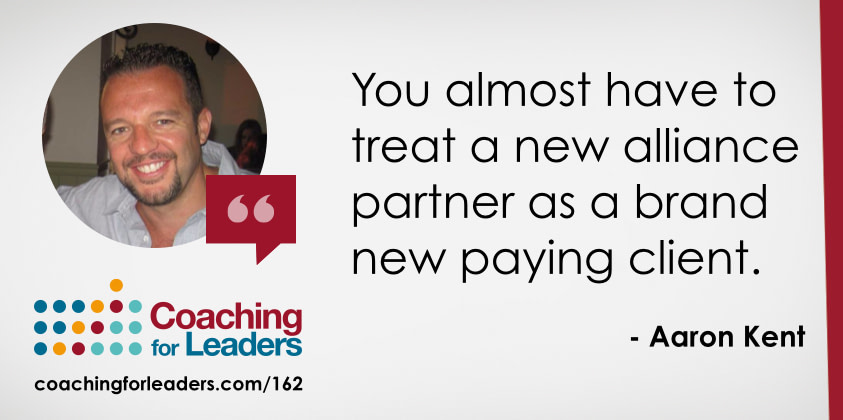 Aaron was last on the show on episode #35: You Don't Have to Be a Trainer to Know How to Hire One.
Find Industry Overlap
In the same world as you, but not in a competitive place with you
Each party brings insight and resources that wouldn't be available to the other
Focus on what you are best in the world at, and form alliances in other areas
Aaron mentioned the book Good to Great by Jim Collins*
Clear and Immediate Financial Value Overlap
Committing Resources to the Relationship and Sustaining it Over Time
It's easy for an alliance to lose importance when it's not with a paying customer
Think of an alliance partner like you would a paying client
Dedicate a person or resource directly to the alliance

Announcing the Carnegie Coach podcast, a sister show to Coaching for Leaders
A new, daily show hosted by Dave Stachowiak
One principle each day from Dale Carnegie's library
The show will air Tuesday, Wednesday, Thursday, and Friday.
Less than 10 minutes per show!
Nothing is changing with Coaching for Leaders
Feedback
Thank you to weekly update subscribers Mauro Sousa, Ricky Loubscher, Matthew Ericson, Jon Haraldsson, Michael Fusco, Allan Buus, Marisol Sanchez, Leana Polston-Murdoch, Bob Moore, William Ramirez, Richard Tademy, Jr., Pam Stephens, Adam Liu, Jenny Qu, Donella Hines, Julia Wilson, Enrique Ponce, Edson Magtanum, Dhruval Amin, Nic Powers, Nicolau Teixeria, Steve Turner, Bill Rogers, Emily House, Simon Dickson, Matt Rogers, and Eluert Dano.
Receive the 10 Leadership Books That Will Help You Get Better Results From Others, including 2 books that I rely on weekly. You can subscribe at http://coachingforleaders.com/subscribe
Thank you also to John Bordin for leaving a written review on Stitcher. If you've been listening to this show for a bit and feel like you can provide an honest review, kindly visit iTunes or Stitcher and leave a written review for the show. Thank you in advance!