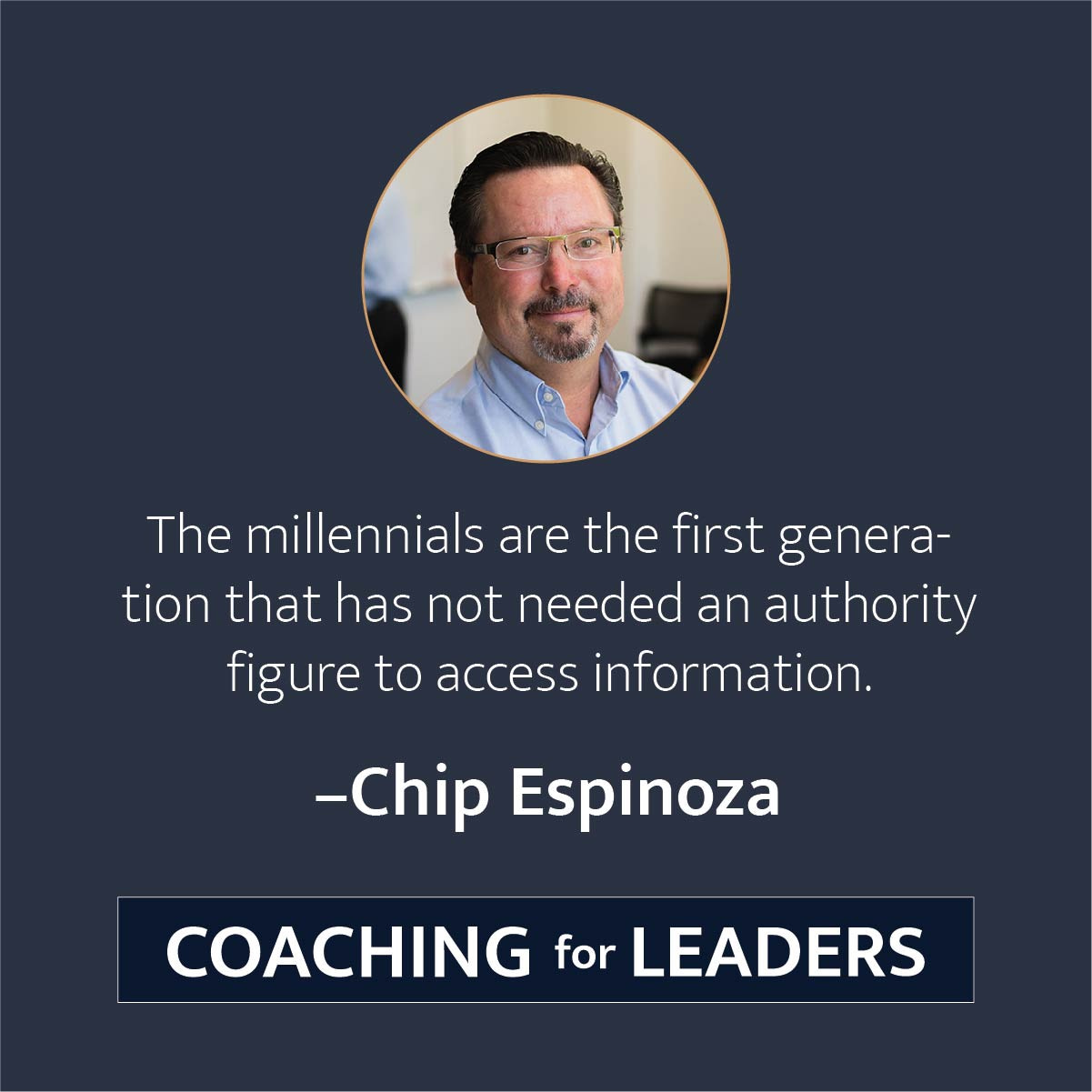 Have you struggled with the generation gap between you and today's younger employees? Do you find millennials to be a challenge to lead? You're not alone and today, some proven principles and practical actions you can take to engage the millennial generation.
Guest: Chip Espinoza, Ph.D.
Who are the millennials?
They were born between 1980-2002 range.
These are many of our newer employees in organizations.
"The millennials are the first generation that has not needed an authority figure to access information." -Chip Espinoza
There is a dynamic in the workforce of a generation that doesn't know how to reach up working with a generation that doesn't know how to reach down.
"The people with the most responsibility need to adapt first in an organization." -Chip Espinoza
"Ambiguity is the millennial kryptonite." -Chip Espinoza
This generation is used to experiencing success and might not have run into failure much before.
They also assume that everything is negotiable.
Avoid getting caught up in defensiveness of a millennial who might be receiving positive feedback.
Millennials are relationship oriented.
Give feedback in a way that's not formal.
Maintain the strength of the relationship.
Feedback must be timely.
Have a conversation with them instead of a conversation about them.
Build a relationship with people!
Take the online quiz Chip mentioned at this link
Practical Action
Have a conversation and build a relationship.
Check out Coaching for Leaders episode #2 to discover the 4-step FROM model for doing this
Feedback
Chicago area dinner meet-up will be on Thursday, September 18th, 6:00-7:30 p.m. in Bollingbrook, Illinois. Contact me if you are in the Chicago area and interested in attending.
Thank you to new weekly update subscribers Ivan Turk, Katherine Mazur, Malcolm Hall, Manjul Saxena, Niki Pappaas, Sajit Vasudevan, Ioana A, Wendell Mangabat, Leonardo Baumworcel, Belinda Micu, David Wetmore, Sam Esfahani, Gilbert Joseph, Deirdre Fike, Santiago Lanzuela, Tushar Rawalji, and Aimee Montgomery Wilson.
Receive the 10 Leadership Books That Will Help You Get Better Results From Others, including 2 books that I rely on weekly. You can subscribe at http://coachingforleaders.com/subscribe