Bonni and I tackle questions from the Coaching for Leaders community on staying motivated and many other topics.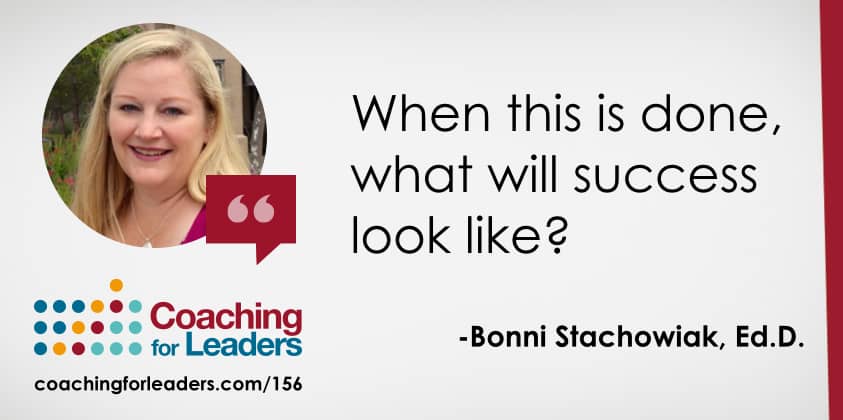 Question from Gabriel [Audio]
Question from Torrey: I would like to know if you have a group on book reads or know of any groups I can join to get advice about good reading for leadership? For example which of Peter Drucker's books should I read?
Question from Busakorn: I was wondering if you could advise a great book for selling skills?
Question from Torrey: I would like the partners to be motivated enough to complete their reporting and liquidations with a concern for quality and timing, and not have to constantly ask and remind them. I want them to WANT to complete their reporting and do a good job, but right now they do not seem too concerned about it. How can we motivate them to improve their performance?
Question from anonymous: I had decided a few weeks ago that my time with my company has expired and it was the moment to move on. I have a second interview coming and while the change scares me, I think it's needed. My health and marriage are affected so change should be good. My reason for leaving is because of people and I cannot figure out a way to deliver the message without sounding whiny. I don't want to burn any bridges at all but I also need to be firm and not allow my boss to convince me to stay. Do you have suggestions?
– Bonni recommended Michael Hyatt's podcast on 7 Actions To Take Before You Quit Your Job
Question from Armando [Audio]
Question from Paola: As a very structured person I am quite good organized when it comes to clear and specific tasks. But to be honest I feel kind of lost when I have to do projects or strategic work with no clear way, structure or tasks. Can you provide some ideas on that?
– Dave recommended Basecamp for project management
– Dave uses and recommends MindNode (Mac*) (iPhone and iPad*) for mind mapping
– Bonni's question to stakeholders: "When this is done, what will success look like?"
Feedback
Bonni's podcast is going strong! If you know a university professor who wants to improve their teaching skills, suggest they check out Teaching in Higher Ed (iTunes) (Stitcher)
Chicago area dinner meet-up coming Thursday, September 18th, 6:00-7:30 p.m. Contact me if you are in the Chicago area and interested in attending.
Thank you to new weekly update subscribers Steve Evans, Kristy Yeadon, Matthew de Klerk, Anish Lalchandnai, George Dumitru, Greg Atkinson, Elie Ekstein, Don Swain, Jacob Adair, Petr Skacilik, Yasmin Sheikh, David Zobler, Mark Skiera, Steve Granger, Wanda Booth, Bhaanu Madhineni, Luciano Teixeria, Nicole Dauteuil, Craig Ariano, Steven Georgeson, Tom Melly, Anusha Wenkatesan, and Isabella Echeverry.
Receive the 10 Leadership Books That Will Help You Get Better Results From Others, including 2 books that I rely on weekly. You can subscribe at http://coachingforleaders.com/subscribe

A special thank you this week to Torrey Peace and Neer Learner for the kind review on iTunes. I'd be honored if you would take a moment to leave a written review about the show as well. Either visit http://coachingforleaders.com/itunes to leave a review on iTunes or http://coachingforleaders.com/stitcher to leave a review on Stitcher.