What do you want to be doing 5 years from now? It's the first Monday of the month, and we tackle that question and more on today's question and answer show.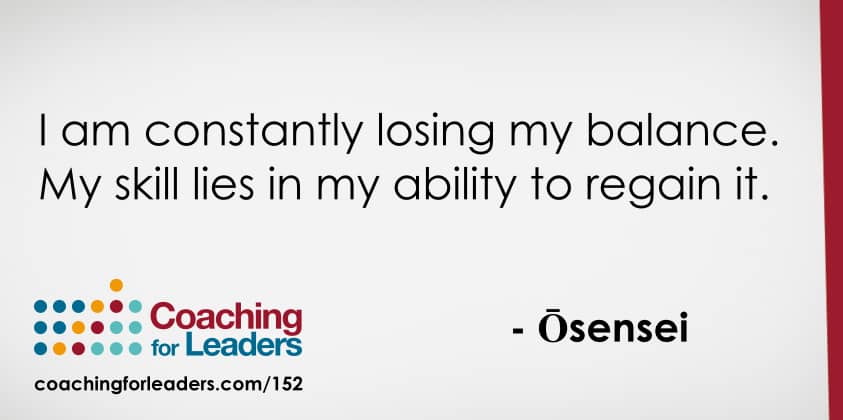 Bonni mentioned the This American Life show titled Trends With Benefits, citing a disability story from Hale County, Alabama.
Question from Aaron
During a one-on-one meeting my boss asked me where I wanted to go in my career, and I didn't have an answer for him. More concerning was that I didn't have an answer for myself. He recommended that I have a five year plan, and he gave me a few ideas to considers. With so many paths – both inside and outside my company – where do I begin?
Question from Birger
"'After observing O Sensei, the founder of Aikido, sparring with an accomplished fighter, a young student said to the master, 'You never lose your balance. What is your secret?' 'You are wrong," Ōsensei replied. 'I am constantly losing my balance. My skill lies in my ability to regain it.'"
Also see Coaching for Leaders episode #123 with John Corcoran
Question from Mike
I have started to set expectations and coaching within role, but I am finding it very difficult to get any engagement with anything I do. It feels like I am the outsider and they would quite like to leave it that way. I have looked for quick wins and found a few but again they seems to be disengagement, a different perspective may be good. What your thoughts?
Question from Danielle
I just started my job and am really excited to hit the ground running with a lot of on-going projects. One theme in particular that is highly important and consistent in my current assignments is the concept of Customer Retention Strategy. I just need to know (1) In your personal/professional experience, have there been any particular practices or techniques you have implemented that have proven successful and (2) are there any resources/materials you may suggest that would prove useful for my research? (e.g. books, articles, videos)
Feedback
Thank you to Tim Stringer, Mark Schroeder, Andrew Martin, Luke Hamill, Auda Okutani, Andrea Collins, Darren Stehle, Tom Trantow, Elena Dumitrescu, Adi Ramakrishna, Javier Citalan, Mischelle Smoot, Kathleen Fardeen, and David Welch.
Receive the 10 Leadership Books That Will Help You Get Better Results From Others, including 2 books that I rely on weekly. You can subscribe at http://coachingforleaders.com/subscribe
Thank you to JMW0428 from the US and Eveliina from Finland for the kind review on iTunes. If you'd like to leave a review for this show, please do so on iTunes or Stitcher.