It's a pretty set routine at our house most evenings.
Luke gets a sippy cup of milk a few minutes before 7pm. After he finishes it, I usually carry him upstairs to get his pajamas on. Then it's time to brush his teeth.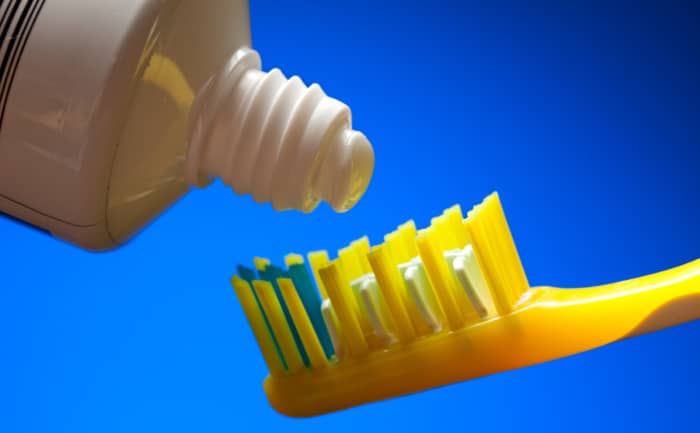 There was a time when I was the tooth brushing guru. Luke could have been featured on commercials for the American Dental Association. If there had been a symposium on brushing a toddler's teeth, I'd have been the keynote speaker.
No longer.
A few weeks ago, I noticed that when I mentioned the words "brush" and "teeth" in the same sentence, Luke started vanishing behind the door. Gradually, he's begun to fight more during brushings too. While I always get the job done, quality control has suffered.
Since I'm normally on bedtime duty, Bonni has less practice brushing his teeth than I have. So, I was a bit surprised when she mentioned in passing what an angel he'd been during recent brushings when I had some late client events. I was puzzled.
Last week, I stopped and watched her brush his teeth one night and immediately realized my mistake.
Bonni started by letting Luke brush his own teeth. When he lost interest, she stepped in to get the spots he missed. She let him do it again after a few seconds. He was involved at every step. She didn't even have to hold his arms down.
Since I had previously never let Luke hold his toothbrush, I tried the same thing the next night. It's amazing how much that kid learned about brushing in 24 hours.
1. People change, so you change too
My directive style of brushing worked great 3–4 months ago, but it doesn't today. Luke has grown and is taking more ownership over his actions. That's exactly what I wanted to happen, of course. I just didn't think to change what I was doing.
The people you lead are going to change too. Sometimes we see that as a negative – but that's exactly what's supposed to happen. Effective leaders produce followers that grow and become leaders themselves. And, that means they need to be led differently. The best leaders do the most adaptation over time.
Want people to change? You change first.
2. Stop and watch other leaders
I wasn't smart enough to know what I was doing wrong, but I did think to watch what Bonni was doing since I knew she was getting better results.
Nobody has a monopoly on wisdom. People who can get beyond themselves for at least a little bit each week will inevitably discover better ways of doing things. The best leaders know their strengths and limitations and will take time to discover more about both.
3. Give people ownership over their work
By any measure, I know how to brush teeth better than Luke…and will get the job done faster and more effectively just doing it myself. And, I'd eventually terrify him if I keep along that path.
By lots of measures, you probably know how to do the job better and faster than most of the people you influence or manage. And, they'll eventually disengage or quit if you continue to do things only your way. Effective leaders have the patience to set aside some efficiency and perfection in the short-term in order to get better long-term results.
Many parents already know this. Most managers often forget.
[reminder]Which of these three things could you do today in order to get more enthusiastic cooperation?[/reminder]