It's happened again. Despite your best efforts to avoid it, you're stuck on an online meeting, listening to the guy who takes 15 minutes to explain anything.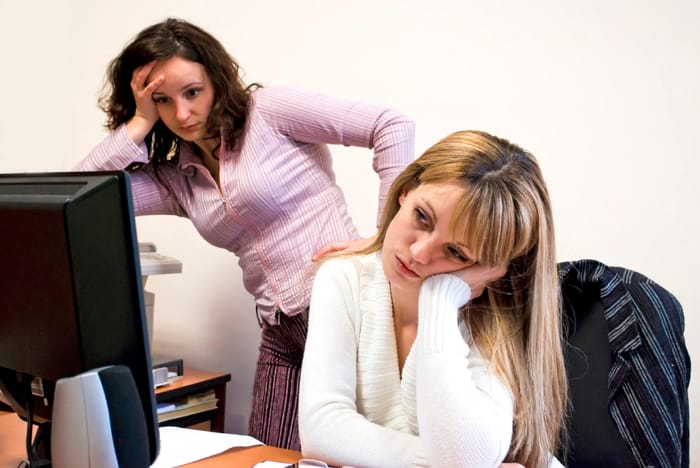 When someone finally gets a word in, he listens a bit, but suddenly interrupts when he realizes that he forgot, "One other detail." Five minutes later, he's still talking and you're thinking of all the better things you could be doing.
When we run into this, the default response for many of us is to complain about the person or strategize on how to fix them. The question I'm often asked is:
How can I get this guy to be more concise?
The bad news? Not much, unless:
They are fully aware of the problem.
They really want to get better.
Rarely are both of those things true. I've seen a lot of leaders waste time and resources trying to "fix" people.
Here's the better news: you're asking the wrong question.
You're more likely to move the needle with individuals if the organization as a whole values concise communication. When that's the case, more people will take action to support it. Here are four ways to lead your team in concise communication:
1. Center People On The Audience
Most people, when preparing a presentation, report, or briefing open up a blank PowerPoint and ask themselves, "What should I put in this presentation?" They'll also pose this question to colleagues, and you.
It's the wrong question. When you hear it, it's an immediate opportunity for coaching, even if you are a peer or subordinate to the person asking.
A much better question is, "What does your audience need to hear?" Once the strategy is centered on the needs of the audience, that provides the framework for what needs to be said. If it doesn't address an audience need, its extraneous.
When the answer to that question isn't clear, the best leaders empower people to find an answer to that question, before doing anything else.
2. Call Out Meeting Hogs
You can't (and shouldn't) step into every interaction, but if you're running a meeting, you set the tone. When someone starts going on and on, coach by saying:
This doesn't sound like detail everybody needs. So we can keep to our agenda, what's the bottom line we all need to know?
Be kind, but firm. After hearing this in a few meetings, most people will show up with more concise messages.
Of course, this assumes you have an agenda. If not, start here: four practices for leading an effective meeting.
3. End Meetings Early
On its face, this may seem unrelated to conciseness, but it speaks volumes for team culture. Leaders who fill every moment of every standing meeting miss an opportunity to demonstrate they are curating what's most important.
Of course teams need to meet to produce the best work, and that time should be used well. When you occasionally end a meeting early or skip it all together, you demonstrate to everyone that you value concise communication too.
4. Employ Style Standards
Virtually every global business brand has standards for the use of logos, colors, fonts, and graphics in communications. Every academic institution of note uses a popular style guide for formatting of documents to ensure consistent formatting and ease for readers.
You can also set the expectation with your team on concise communication. Key standards for high profile activities can be articulated, such as:
Customer reports may be issued up to five pages.
Emails to our suppliers are 500 words or less.
We address all planned items on the meeting agenda.
Notice that these standards describe what to aim for, not what to avoid. Of course there will be exceptions, but you set the tone for the standard to be met in most situations.
When All Else Fails, Try This
Even the healthiest culture of communication won't always influence the worst offenders. If you've tried the above and still run into trouble, here's 6 habits to keep people from wasting your time.
Set The Precedent
Which of the above would best support concise communication on your team? Post your response in the comments below.