Ten years ago, I had just been hired by Dale Carnegie to work with clients as a facilitator and instructor. One of my first assignments was facilitating a 45-minute workshop for a group of managers at one of our client organizations.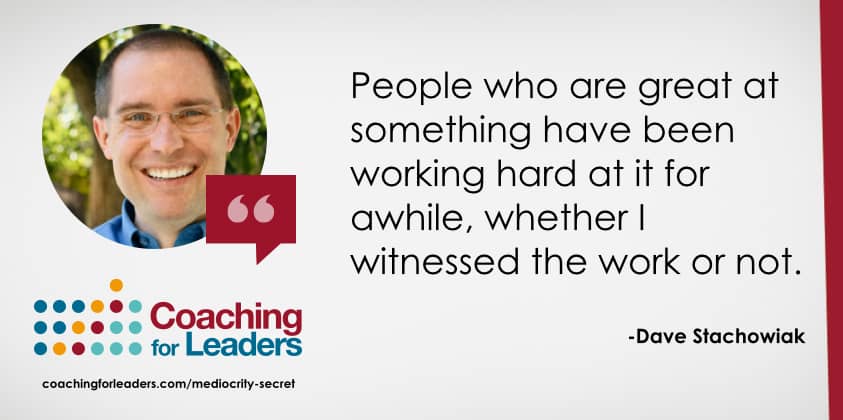 I prepared extensively to make sure that the client's time was well used and that they received the expected results. I talked through the workshop with more a experienced instructor, several times. I practiced my delivery again and again. I felt as ready as I could be.
When the day came for the workshop, I was nervous. As I was walking to the front of the room, I wondered why on earth they wanted me, a new instructor, to facilitate this workshop.
I followed my plan precisely, did my best to engage everyone in the room, and mostly covered everything we planned in the timeframe allowed.
I felt panicked the entire time.
When the workshop was over, the client offered praise for a job well done (and they hired us back many times after that, so I believe the praise was genuine).
But I didn't feel good at all. I'd worked ten times harder than our more senior instructors would have, for lesser results. I'd didn't hit every objective I wanted to hit.
Mostly, I was just happy to be finished with it.
It would have been easy to say, "I'm just not a training person." And of course, I wasn't, at that time. I hadn't done it much before then.
Today, I turn down more instruction opportunities than my schedule allows.
That's one reason this recent article in the Atlantic caught my attention. In it, the authors argue that we have a math problem in America because when kids show up in school, the mediocre math students don't see all the hard work that's already been done by parents at home with the students who are vastly better at math. It's easy for average math students to conclude, "I'm not a math person."
The authors back up their article with tons of research that aligns with my experience as well:
If I want to get better at something, I need to work hard at it.
People who are great at something have been working hard at it for awhile, whether I witnessed the work or not.
I wasn't there to see the 20+ years of experience some of the senior instructors had put in who mentored me in those early client engagements. Of course they had more confidence, better results, and less preparation time.
I can't think of anybody I know who has been wildly successful with a particular skill set (including leadership, people skills, and communication) without consitent, hard work and willingness to make peace with mediocre results early on.
So, what's the dirty, little secret about mediocrity?
You need it.
It's the first step on the path to excellence. If you haven't experienced at least some mediocrity, you'll probably not on that path.
I know today that I need to be willing to put up with mediocrity for awhile before I get good at anything. And, I have to work even harder, for longer, to turn good into excellent.
[reminder]What's a excellent skill you have today that you needed to be mediocre at for awhile?[/reminder]