Almost everyone I know has engaged in difficult conversations in the workplace…but what do you do when that difficult conversation needs to happen with an audience, during a presentation?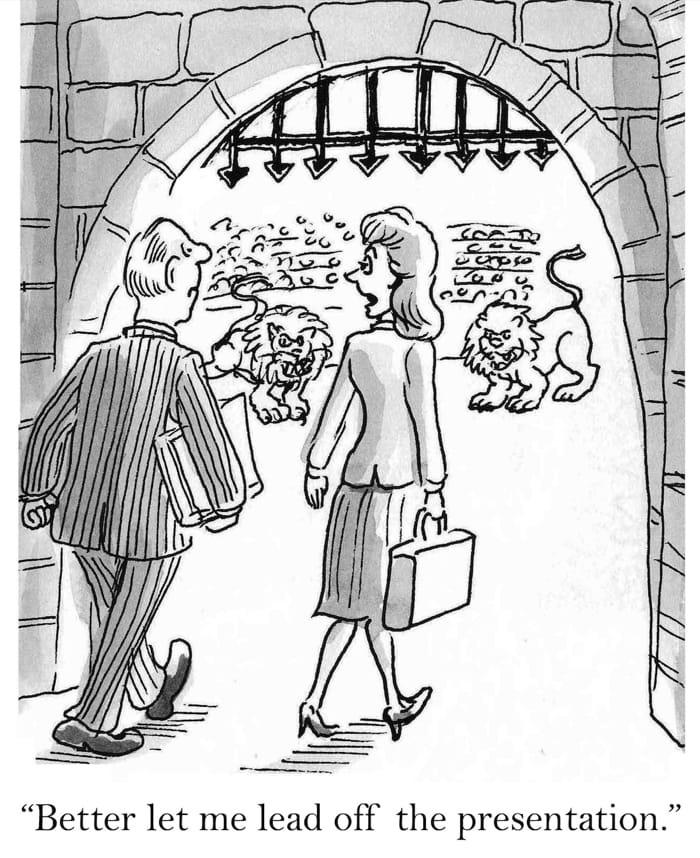 Virtually every time I conduct a workshop or training session on presentation skills, the topic of handling hostile audiences comes up. After a decade of coaching people and also having the privilege to see up close how the best presenters handle these situations, I've noted five actions which work consistently well with hostile audiences:
1. Communicate regularly
One of the most common mistakes made by presenters is assuming that the presentation itself is the most important place to focus energy. While important, it's equally critical to keep regular communication going with the customer, stakeholder, or leadership team that will be on the receiving end of the presentation.
The best presenters lay the groundwork for a productive dialogue with stakeholders well before the formal presentation. I've seen it happen several times in my career where a presenter had a brilliant presentation for an audience whose business reality had changed in the intervening time.
Brief check-ins with stakeholders prevent this kind of disconnect. Whenever I'm giving a major presentation to any audience, I dialogue about the content with stakeholders well in advance and schedule regular check-in points in the weeks and days leading up to the event.
2. Eliminate surprises
There is perhaps no greater presentation faux pax than surprising an entire group of people with bad news.
Not only do you deprive them of the opportunity to react to bad news privately, but you eliminate any chance they might have had to think through how they might respond. This is especially challenging for leaders in the audience, who will suddenly be scrutinized by everyone for their immediate reaction.
Seasoned presenters know that the best kind of surprise is none at all. When bad news is coming, make every effort to alert key stakeholders as soon as practical, well in advance of the presentation. A heads-up allows your audience to process the bad news in their own way and save face during the presentation itself. Plus, you give them the opportunity to focus on next steps during the presentation, instead of simply expressing anger.
3. Appeal to a shared goal
Even in the most contentious of situations, you can find agreement on a broader goal. Virtually nobody wants to be paralyzed with inaction, so effective presenters will work to appeal to a goal that everyone can agree to, in spite of a contentious conversation.
This is most effectively done at the start of a difficult presentation, to frame the goal for the discussion. It may sound something like this:
I believe that everyone is aware that we are here today to address some difficult news, and like you, I'm committed to ensure that we work towards resolving this issue for our customer.
Almost everyone can agree to that starting point and it indicates that the presenter is focused on moving the conversation forward to address the issue proactively.
4. Address the elephant in the room
I saw a cartoon recently where a weeping elephant was depicted sitting in a psychologist's office chair saying, "I just stand in the middle of rooms and nobody pays any attention to me."
While not quite as bad as surprising your audience with bad news, delaying discussion about it only annoys people more. If project A, B, and C are on the presentation agenda and there's a huge issue with project C that everyone already sees coming, start there. Nobody will pay much attention to what you say about A and B anyway.
I've seen presenters attempt to delay bad news (or stick to a standard agenda) and then run out of time before getting to the biggest issue. Not the way to win friends and influence people.
5. Meet the audience where they are
Despite our best efforts to the contrary, there's always the chance that someone critical didn't get the bad news in advance or (even more common) something the presenter assumed was rather mundane ends up being an unexpected, hot-button issue.
As soon as its apparent that the audience is processing something different than the presenter anticipated, effective presenters will stop, ask questions, and hold off on the rest of the agenda until they are certain the audience has worked through the issue. After all, the purpose of any presentation is to serve the audience's interests first, not the presenter's.
If you're a hostile audience and implement these five actions above, you'll be a lot more likely to resolve the issue quickly and move onto the work everyone needs addressed.
What actions have you seen a presenter take to effectively handle a hostile audience?