Everyone has an unfair advantage. The thing that separates them from the crowd. The thing that maybe they don't even deserve — but for whatever reason, they've got it.
And if they seize it, virtually nothing can stop them.
Coaching for Leaders has grown because of a few of my unfair advantages:
I've struggled with many of the same things the audience does.
I good at (and love) finding wisdom that helps people.
I'm darn consistent at keeping a schedule.
You have unfair advantages too. Things that if you recognized and grew would make you — and perhaps your entire organization — virtually unstoppable.
In this week's guide, perspective on identifying and creating your unfair advantage.
The 5 People You Meet…
Years ago I read the book, The Five People You Meet in Heaven*. It's the first time I recall hearing the concept of five people representing a core perspective of your life.
There must be something to the concept of five people, because when I was in the audience last week hearing a talk by James Fowler, author of Connected*, he cited that number as about the average number of people that heavily influence our lives through friendship.
And then there's the quote from Jim Rohn:
You are the average of the 5 people you spend the most time with.
So it seems to make sense to spend a lot of time thinking really, really hard about who those five people are in your life and how you create and grow those relationships.
Done well, those five relationships can become your unfair advantage. Done poorly, they hold you back.
That's why a recent episode of Beth Buelow's podcast caught my attention. On her show The Introvert Entrepreneur, she had a great chat with Geoff Woods on how to find the perfect mentor. I will be no surprise that you'll hear the number "5" there too.
Intelligence Doesn't Equal Influence
A question I often post to clients when we're talking about influence is this:
Is the best idea in the room always the ones that get traction in your organization?
Almost always, people say no. The ideas that get traction are the ones that get presented well, which may or may not have been the best ideas.
Of course, intelligence is a factor in influence…but it's only one factor. Raw talent isn't generally an unfair advantage. After all, you'll always find people smarter than you.
Recently, Jeff Goins concluded that talent was only one of the three factors that help creative people succeed. The other two have a lot more to do with your network. Here's his brilliant analysis of the unfair truth about how creative people really succeed.
How Louis C.K. Got Funny
Louis C.K., has made my laugh really hard a few times. This appearance awhile back on Late Night with Conan O'Brien still cracks me up.
Humor aside, learning to be funny is serious business. Only a tiny percentage of stand-up comedians ever make it big. Those that do figure out a way to get way better than all the rest.
Louis C.K. struggled for fifteen years before he learned a hack from George Carlin that made all the difference.
He told everyone exactly what he did in a 2010 appearance at Carlin's memorial service. Just as you'd expect from a video of Louis C.K. talking about George Carlin, there's a lot of bad language, but the lesson Newport captures in his corresponding article is worth it:
If it's easy to do, you're not getting better.
Side note: You'll almost always find awesome professional development lessons in stories about comedians (and that's no joke).
Read Dorie's Book
If you can't find the framework or inspiration for your unfair advantage, create it.
Dorie Clark was on the show earlier this year. I was reminded of her book this past week when recommending it to an applicant for the Coaching for Leaders Mastermind.
She researched the most successful people out there and determined five ways you can figure out what you want to be known for. It's a perfect roadmap to create your unfair advantage.
It's appropriately titled with two words: Stand Out. If creating your unfair advantage is top of mind right now, here's my two word suggestion: read it*.
Monday's Show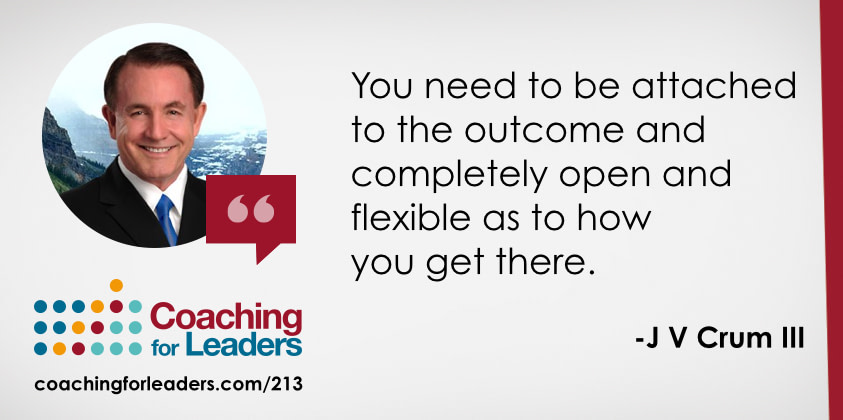 213: How to Translate Vision Into Results
One way to discover your unfair advantage is to get around successful people and find out how they did it. That's exactly why I was glad to welcome J V Crum III on this week's show.
J V has a strong track-record behind him and has build a platform around teaching people how to create wealth, in a conscious way. He taught us his five-step formula for creating wealth. J V is also the author of Conscious Millionaire: Grow Your Business by Making a Difference* and host of the Conscious Millionaire Podcast.
The full audio and show notes are posted on the Coaching for Leaders website.
Finally, speaking of results…
For the first time in the history of Wrigley Field, my Chicago Cubs clinched a postseason series there last night.
The Cubs unfair advantage? Their fans. #GoCubsGo
Is this week's leadership guide helpful? View comments from others and add your thoughts here.