The end of June nears. In a lot of places, vacation season is starting. Time for traveling, relaxing…
Stopping.
In today's guide, considerations for how and why to stop and rest.
The Inbox Filleth
There are a few principles I picked up in my high school physics class:
Objects in motion tend to stay in motion.
Objects at rest tend to stay at rest.
Your inbox refills at the speed you empty it.
OK, that last one wasn't high school (just every day since).
The mere act of quickly emptying an email inbox causes everyone to write back. Handling work more efficiently often means that more work shows up.
Someone once pointed out to me that even after we die, our inbox keeps filling. Lovely thought.
That's why obsessing over getting everything done before vacation can be counter-productive. Scott Edinger perfectly articulates a mantra I plan to follow this summer: don't obsess over getting everything done before a vacation.
Your Vacation, Promoted
When I was about 12 years old, our family was in the midst of a great summer vacation. We arrived at our hotel room on the next leg of the trip to find flowers and a gift awaiting.
The board of directors of my dad's company had voted him in for the biggest promotion of his life. Even as a kid, I found the timing ironic.
Turns out he may have been onto something. Harvard Business Review asks, are the people who take vacations the ones who get promoted?
The short answer: Yes.
CTRL-AND-DELETE
One way to control the stack of emails awaiting after vacation is to hit the delete button.
That's what Michael Hyatt did last summer on vacation. His auto-responder to senders? If you want a reply, send the email again when I return — and BTW, the one you just sent was already deleted.
He writes about this on this site. I don't necessarily recommended this approach. Hyatt runs his own business. Your employer may not take well to lots of email being deleted.
But it does make me wonder…
If someone with the profile of Michael Hyatt can get away with deleting an entire month of email, probably the rest of us can put down the phone for a bit, yes?
Compassion and Family
After losing his first wife and daughter in a 1972 car accident, U.S Vice President Joe Biden committed to being a dad who was present for his sons. He famously rode Amtrak home from Washington almost every night for decades, to be able to spend mornings and evenings with them.
You may have heard that he just lost his son Beau to cancer.
Last month, before his son passed away, he gave a commencement address at Yale, speaking on compassion and family. Set aside politics for ten minutes and read the speech. Almost everyone will benefit from what he said.
I welcome your thoughts and comments.
Monday's Show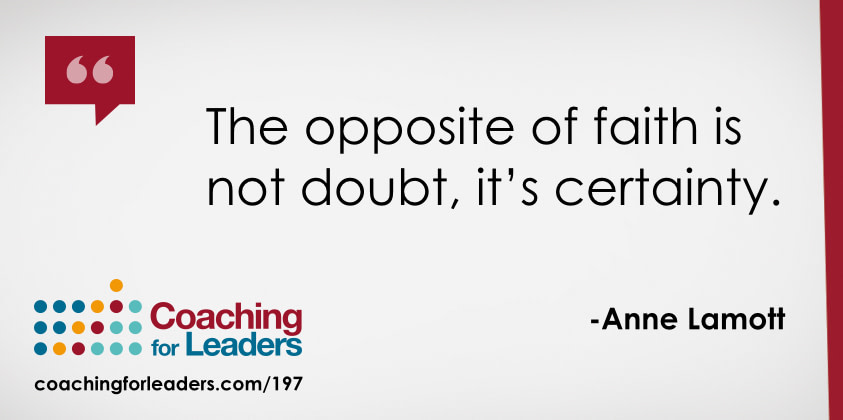 197: What This Show is About
About once a year, I take a step back from a typical episode and reflect on the show as a whole. In this week's episode, I responded to a listener question about my belief in guests — and shared perspective on why I interview people and what Coaching for Leaders is really about.
The full audio and show notes are on the Coaching for Leaders website. If you missed it, here's the four words that sum it up:
Yes, you can lead.