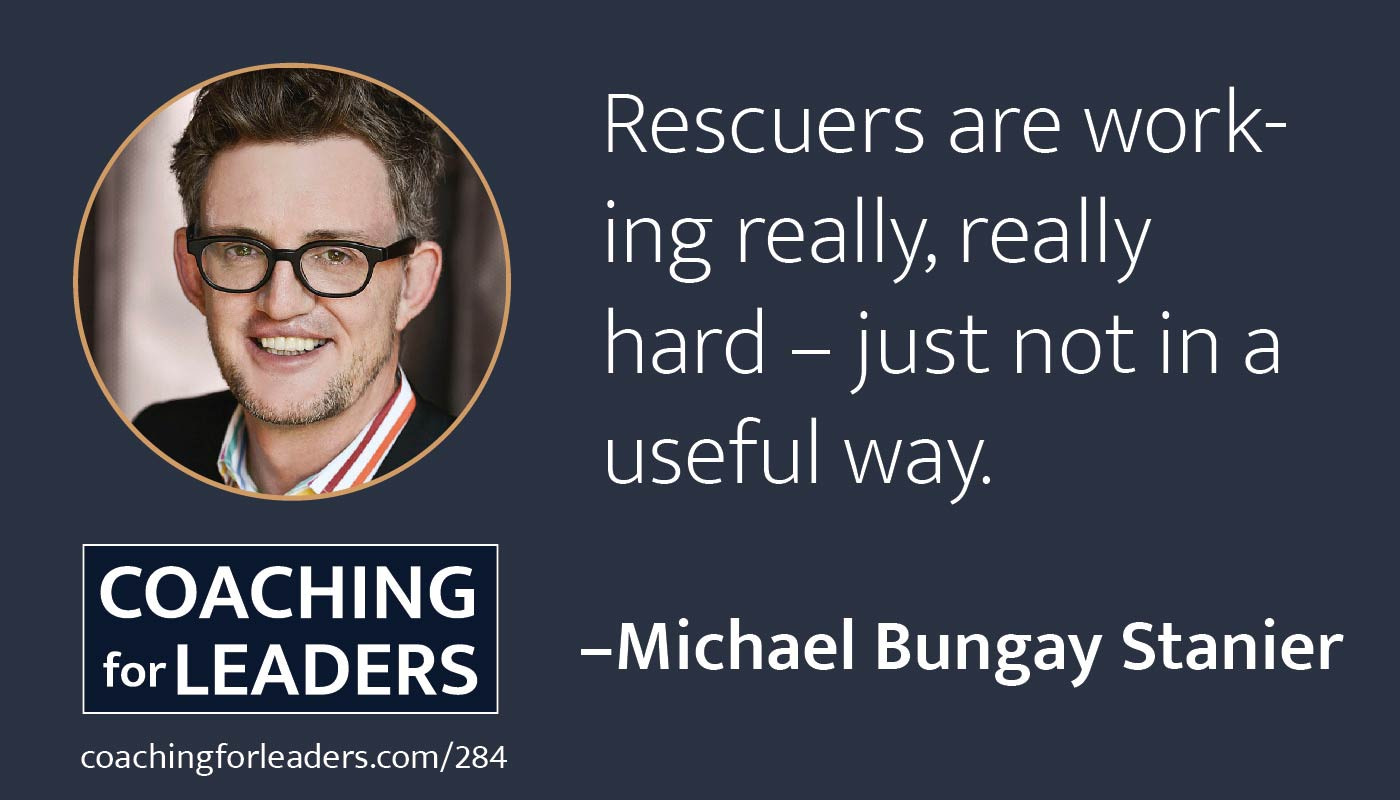 Monday's Episode
284: The Way to Stop Rescuing People From Their Problems: Michael Bungay Stanier returned to the show this week to teach us how to stop rescuing people from problems. He is the bestselling author of the books Do More Great Work* and The Coaching Habit: Say Less, Ask More & Change the Way You Lead Forever*.
Key Points
When things get difficult, there are three roles people might fall into:
The victim
The persecutor
The rescuer
How to bust out of a victim role:
Figure out what's really going on.
Take a deep breath.
Think, "And what else?"
How to bust out of a persecutor role:
Assume positive intent, that people are trying their best.
Ask yourself what you want in the situation, and make sure you've communicated it to others. Then ask the others what they want.
How to bust out of a rescuer role:
Ask the victim, "How can I help?" or "What do you want from me?"
Resources Mentioned
Related Episodes
New MemberCast
MemberCast 3: Take Action on What You Learn: I recently interviewed listener Milica Simovic about how she turned about her leadership skills in a year, using what she discovered on the podcast. If you aren't already a member on the website, you'll need to activate your free membership to listen.
Quick Reads
How You Answer This Interview Question Reveals Your True Character: I love this question from past guest Adam Grant. A great addition to your list of questions for almost any interview.
Why this CEO says everyone should work at McDonald's at least once: I'm biased, since it was my first job — but I couldn't agree more. McDonald's taught me how to be proactive in my work…and never stand around with nothing to do.
The Difference Between Coaching And Therapy: If you've ever wondered, here's some helpful perspective from my friend Tom Henschel.
Audio
Dan Roam Draws His Way to the Truth: Speaking of Michael Bungay Stanier, here's a recent episode he aired on his own podcast with Dan Roam on how to use visual imaging (and drawing) to get a message across. I especially liked the discussion about how to do this for visions.