Fast announcements before this week's guide:
Applications to the Coaching for Leaders Academy just opened for a brief window until Monday, April 17th. Details on the Academy and application are at this link.
I'm hosting a live, virtual forum this week via HD videoconference on the best lessons from Q1 of the podcast. There are still seats available here.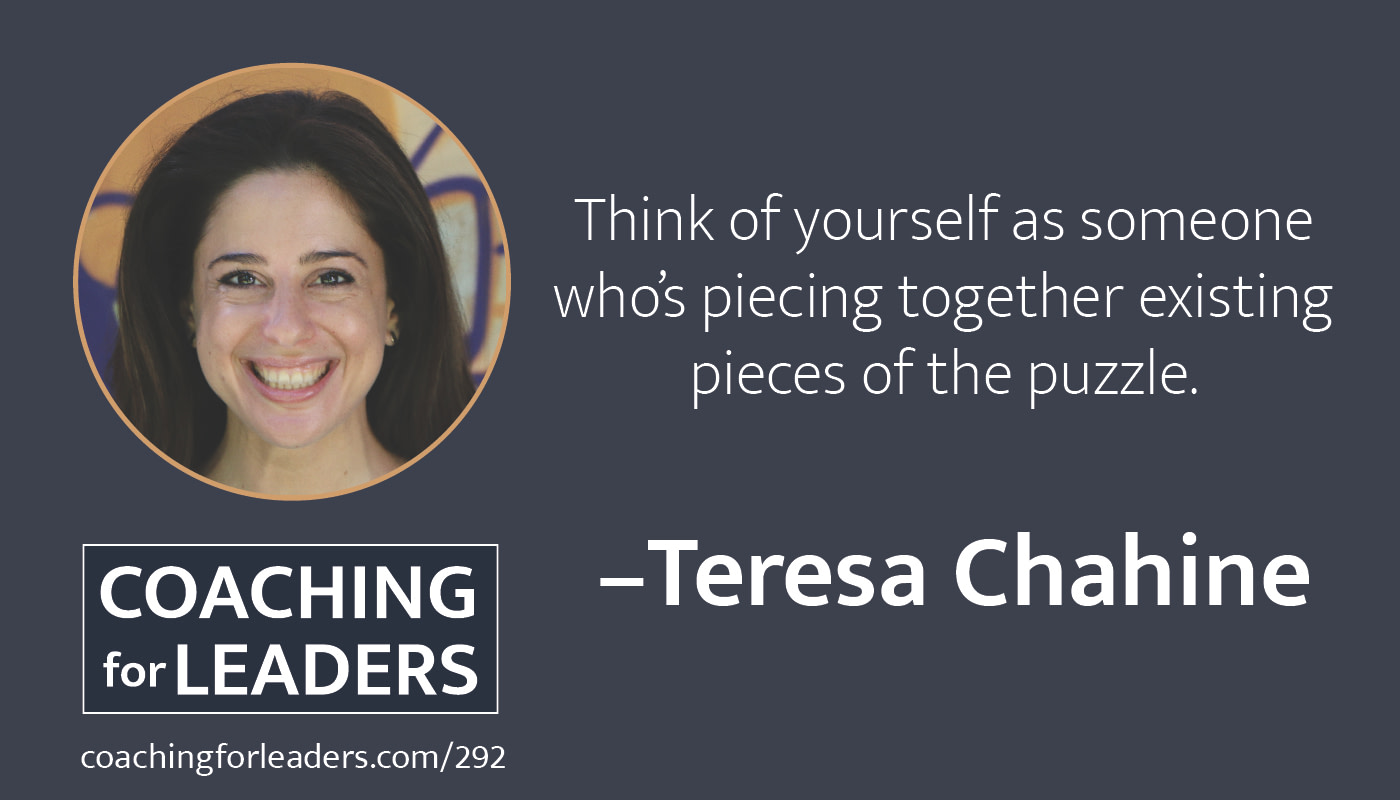 Monday's Episode
292: How to Solve a Really Big Problem: Teresa Chahine is the social entrepreneurship program leader at the Harvard School of Public Heath. She's the author of Introduction to Social Entrepreneurship* an joined me on this week's show to teach us how to approach problems productively.
Key Points
Find the root cause of problems to make sure your solution is not just a band-aid.
Many leaders make the mistake of reinventing the wheel.
Find local leaders and build solutions with them.
Don't try to solve a problem on your own, work with the people who are impacted by the problem.
Think of research as a form of action.
People are more likely to be satisfied with a solution if they feel like they were a part of it.
Resources Mentioned
Related Episodes
Next Week
Lisa Cummings is joining me on the show next week to discuss how to lead through strengths. She's the CEO of a company by the same name and also hosts the Lead Through Strengths podcast.
Quick Reads
Could Time-Blocking Replace Your To-Do List?: Of particular note in this article is that the most high-performing people don't run their days off to-do lists.
Avoid Disastrous Decisions With These Four Meeting Practices: Past guest David Marquet pulls four lessons from a major accident. I especially like his advice to ask, "Tell me more."
To Be a Genius, Think Like a 94-Year-Old: No, you are not too old. Here's why.
Don't Look for a Great Idea. Look for a Good Problem: Great reinforcement of this week's episode. Most successful leaders I know have been willing to tackle really big problems.
Is Swapping Date Night for Meeting Night the Secret to a Happy Marriage?: Yes, but still read this one from past guest Adam Grant.
In-Depth Reads
The Arrival of Artificial Intelligence: There's been a lot of talk of this in the news recently. Ben Thompson frames the debate and shows why we should care.
Books
The 4 Disciplines of Execution: Achieving Your Wildly Important Goals*: Just reviewed this powerful book from Chris McChesney, Sean Covey, and Jim Huling. Chris will be a guest on the show in the coming weeks.