Before graduating college, I had an offer in hand to work for a large bank in suburban Chicago.
The salary was good. Career advancement was certain. They even sent cookies with the offer.
I could probably have lived with my parents awhile and saved money. It was the good, safe choice most of my friends were taking.
And I couldn't get excited about it.
Instead, I took a job running an after-school education center for kids, for lots less money. My brother and I packed my truck and hit the road for California.
It was the road less traveled: scary, exciting, uncertain, and completely out of my comfort zone.
It ended up being the second best decision I ever made.
I've not always taken the road less traveled…in fact, perhaps less often than most. Yet, at that critical moment in life, it made all the difference.
In today's guide, finding joy in going down a different road than expected.
Be Creative in Two Easy Steps
I recently stumbled across an article telling everyone to stop trying to be creative.
As someone who generally wants to be more creative, it caught my attention. The research shows that when people set an objective and try to meet it in a creative way, the original objective is almost never met.
In some studies, literally nobody hits their original objective. Yet, people often create amazing things — just different from what was planned.
Want to be creative? Here's what to do:
Start with an objective.
The key word? Start.
Failure as Data Collection
Bonni recently welcomed science evangelist Ainissa Ramirez to her Teaching in Higher Ed podcast. While the episode was about making learning fun, it was her perspective on failure that caught my attention.
Scientists have a really nice way of viewing failure:
Data.
It's information for them about what's not working. It's how they explore. It's what leads to discoveries (few of which are possible, without failure).
Reaching a dead end road is actually the starting point for most of us. Ramirez has a great story and message to go along with it: "If we think of failures as data collection, they lose their sting."
Readers are Learners
About this time every year, I look at my annual reading goal and start to feel guilty that I haven't read more (I've fully completed 6 of the 15 book goal I had for this year).
For a long time, I've bought into the "leaders are readers" phrase — and the befit that the best leaders and constantly reading and racking up their book count.
In 2015, there are tons of others ways to learn that are just as good, and in some cases better, than reading. Like many in the Coaching for Leaders community, podcasts, courses, blogs, instructional videos, masterminds, and mentors are huge sources of learning for me too.
Yet, most of us don't track those the way we do with books. At the end of the day, the goal shouldn't be book count, it should be what was learned.
That's why a recent episode of The Lede podcast caught my attention. Jerod Morris and Demian Farnworth discuss why the phrase 'leaders are readers' should die.
iHire
There are as many ways to approach the hiring process as there are people being hired. Research is all over the map on the effectiveness (or not) of job interviews at predicting future performance.
That doesn't mean it's not worth learning from what the best do in their hiring.
Angela Ahrendts is one of the best — and does a few things differently. When she become CEO of Burberry, she led a team that tripled the value of the company.
Ahrendts was recruited by Apple CEO Tim Cook for a gigantic role: leading all of Apple's retail stores worldwide. Her skill at assembling great teams is one reason she's there, so her four areas of focus in the hiring process are worth noting.
Monday's Show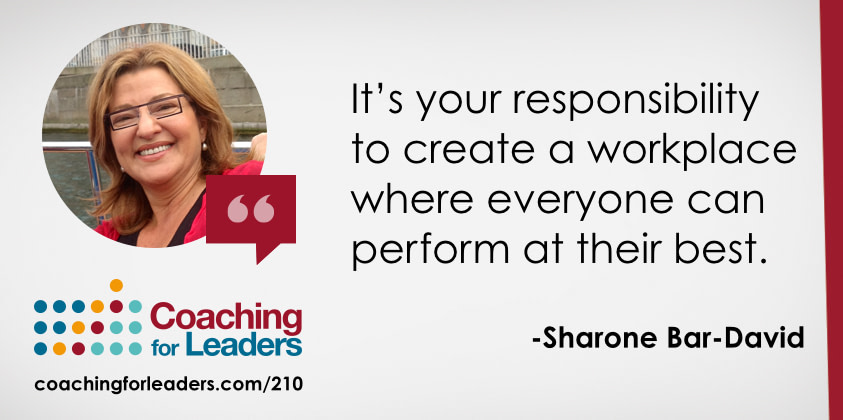 Sharone Bar-David, author of the book Trust Your Canary: Every Leader's Guide to Taming Workplace Incivility*, joined me on this week's show.
We discussed how to tame workplace incivility and why well-meaning terms like "we're like family here" can be troublesome. You can find the show notes and the six beliefs from her book posted on the Coaching for Leaders website.
Is this week's leadership guide helpful? View comments from others and add your thoughts here.