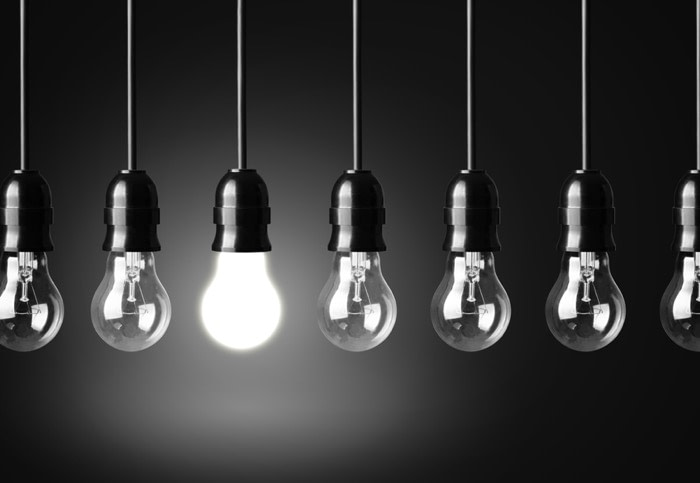 When I first read The Fifth Discipline* by Peter Senge, I began to appreciate the real power of one idea, if applied in the right place. A new approach at a key leverage point can provide a substantial shift.
In this issue, an examination of how one new idea can produce better results.
Pizza or Entertainment Solutions?
When I first saw this 4-minute video by Dan Heath a few years ago, I knew I'd be forwarding it to every leader going forward who was working on a mission statement. It sets the stage for a mission statement that doesn't just hang on a wall.
The key idea is to avoid ambiguous language. Simply using concrete language in your mission statement will help your employees and customers get way more excited about what you do.
He's not the only one that thinks this way. Andrew Carton at Wharton tells why you should be using concrete language in goal-setting.
Touch the Keys
This past weekend I attended this free webinar that was hosted by my friend Tim Stringer of Learn OmniFocus. Regardless of what software you use to manage your productivity, one concept made a substantial impact on how I've thought about behavior change in the past few days.
Psychiatrist, classical musician, and author Kourosh Dini presented the session and spoke of the advice he received when learning to play piano. An instructor insisted that even if he could not find the time to practice on a particular day, that at the very least he stop for a moment to touch the keys on the piano.
This is almost the exact same advice Tony Stubblebine gave when he appeared on the podcast to talk about how to form new habits. The data collected by Coach.me showed that people who set a goal to do something difficult for a lengthy amount of time, such as meditating for a half hour, often fell off the wagon quickly. Those who started with smaller, more doable goals, like mediating for only two minutes, often went on to make it a regular practice.
What's a new habit you can start today by simply "touching the keys?"
Goodwill vs. Pleasing
Most of us who care deeply about leadership have a genuine desire to help people. Some of us can fall into the trap of doing things for others simply because we are asked, even if we have little desire to help.
That's why I found this article in Psychology Today helpful. Susan Biali's second point on the distinction between goodwill and pleasing is especially powerful. When requests come my way, I challenge myself to consider if this is something that I genuinely want to help with or that I'm only considering because I feel obligated.
Ask yourself: "Do I genuinely want to help in this situation?" Here's even more inspiration from Lifehacker how to stop being a people pleaser.
zsorry
The problem with saying "no" is that it takes times and mental energy to think through the reasons you're not going to do something. Often, it seems easier in the moment just to do it than go through the mental energy of explaining why you can't make the time.
While I love hearing from people who listen to the podcast, I also get requests to spend time with people to provide leadership advice. Although I love helping, I couldn't possibly say yes to every request or I'd never get work done or have any sense of life balance.
To make it easy to get over the mental hurdle or saying no when I need to, I created a keyboard shortcut awhile back for an email template. When I type "zsorry" into an email, this automatically populates into the reply. It frees me up for having to think through a "no" every time, while still giving people options for other ways I can help.
I use the Mac app TextExpander for this (on a PC you can use Breevy) and then just change a few words where appropriate. I use these templates for lots of other common emails too – and the software reports that I've saved 56 hours of typing since installing it.
Be conscious of where to automate and where personal attention is more appropriate. Automation shouldn't be used to escape helping people – quite the opposite, in fact. I use automation to be more efficient with my time so ultimately have more if to spend with those who deserve it most: family, colleagues, clients, and friends.
Wisdom
A final thought from W. Somerset Maugham on how to approach your work and life:
Only a mediocre person is always at his best.
I welcome your thoughts at this link.
---
Monday's Show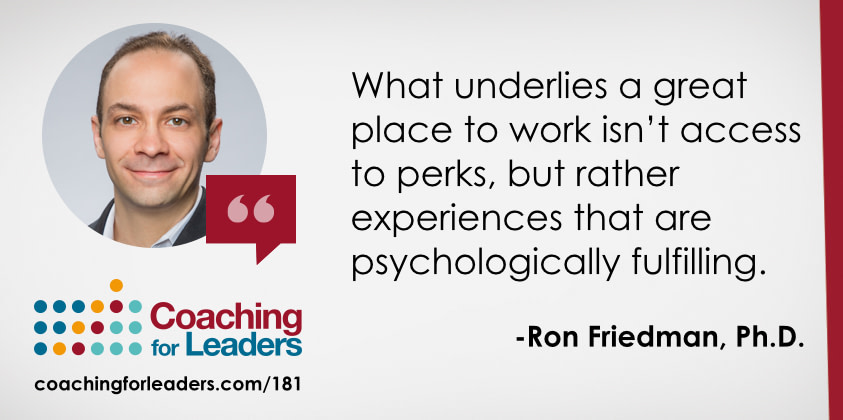 181: Create the Best Place to Work
This week, I welcomed Ron Friedman to the show to talk about his new book, The Best Place to Work: The Art and Science of Creating an Extraordinary Workplace*. Among some of the new ideas that he's found in the research that make a big difference are practices like exposure to sunlight. Here are the notes and full audio from our conversation.