In theory, when there's a holiday in the work week (as there was for us here in the United States on Monday), it should be a time of rest and reflection.
The unspoken reality for a lot of people is that it still feels like a full five days of work, spread over fewer days. I've even heard stories of people avoiding taking their vacation time, just to skip the inevitable onslaught of work before and after the time off.
It's one of many ways that stress shows up in our professional lives each day. That's why this week's episode zeroed in on one way to reduce daily stress: meditation.
This Week's Show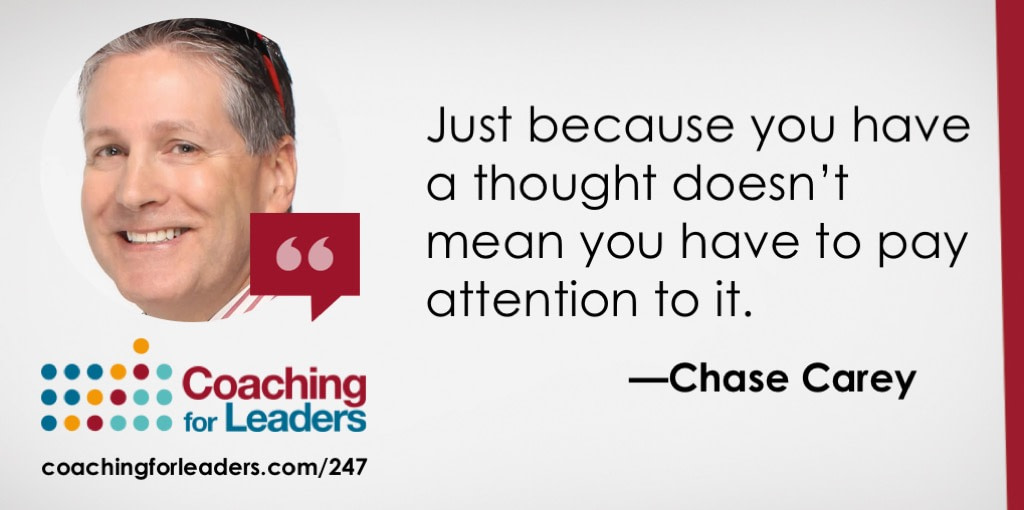 247: Reduce Stress With Meditation
Chase Carey joined me on this week's episode to teach us a bit about the practice and benefits of meditation. As a former executive, Chase brings a practical perspective on how to get the benefits of meditation, without making massive life changes.
Also check out his book Chasin' Meditation* and the full audio and show notes posted on the Coaching for Leaders website.
Quick Reads
The Trick to Managing People Smarter Than Yourself: I love this article by Chris Lema and the title says it all. My favorite part: "Believe and trust that others are smarter and that it's fine not to be the smartest person in the room. Get comfortable with the reality and then move on."
Why Successful People Take 10 Years to 'Succeed Overnight': Virtually every story I've about real success follows the same pattern that Ramit Sethi describes in this Inc. article. I especially resonate with the domino strategy and the treadmill of disappointment.
Why Being Transparent About Pay Is Good for Business: David Burkus is the author of Under New Management* and is an upcoming guest on the podcast. In this Wall Street Journal article, he details one of the findings from his book: the value of disclosing salary information.
Transformation Tourism: Most people are perfectly happy being tourists. Seth Godin reminds us that for real transformation in our lives and careers, we need to go further.
Edwin Land's Deep Research: Many of you enjoyed Cal Newport's recent appearance on the show to discuss his book, Deep Work*. In this article by him, Cal highlights an example. While I'd advocate for changing your clothes more often than Edwin Land did, it's hard to dispute his results.
From My Desk
3 Simple Practices to Be a More Caring Person: Human nature often gets in our way. A funny moment with one of our kids reminded me of this awhile back…and what I do to get better at caring.
Just For Fun
A Runner, After Injury, Starts From Zero as a Swimmer: A fun read in the Wall Street Journal about Cristina Mariana-May, CEO of Banfi Vintners. I'm a runner too, so I liked her story about exercise, eating, and balance. Plus, I couldn't help but notice her playlist at the end (thanks Cristina).