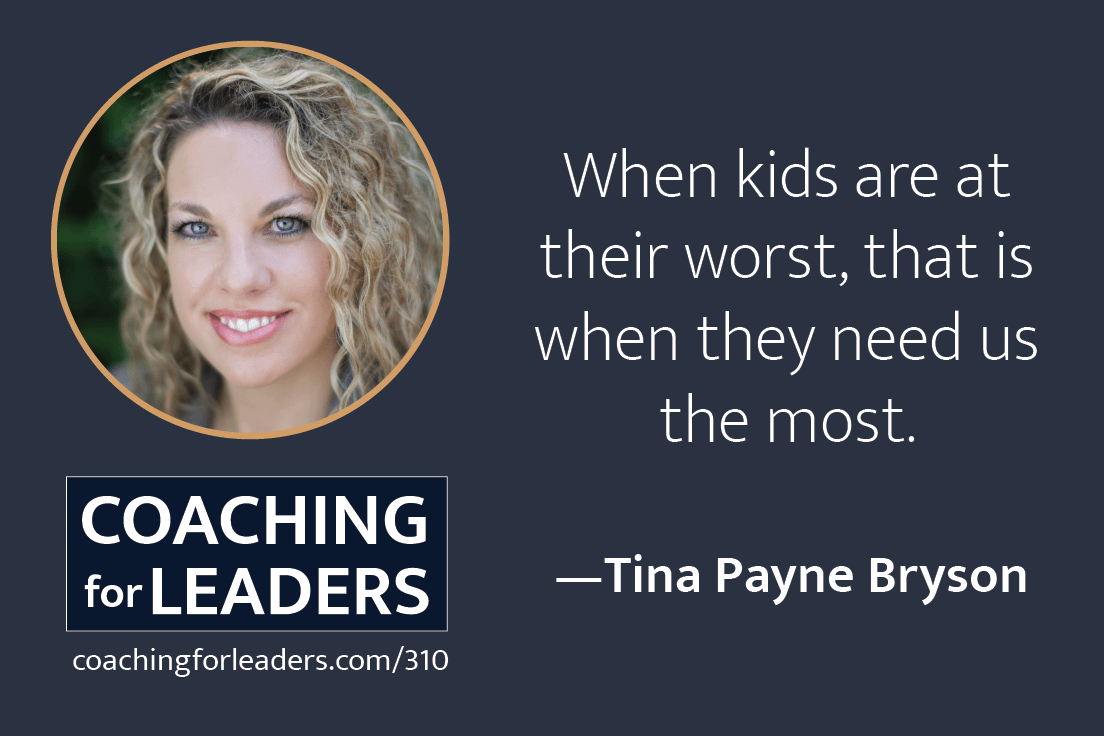 Shortly after Barack Obama became President, I saw an interview he gave about his early days in the job.
Most of us will remember that American was in the midst of the greatest economic crisis since the Great Depression — first among countless, immediate issues on the President's desk at the time.
The interviewer asked him where he entertained the most doubt. He didn't hesitate in his answer: parenting.
I thought the comment rather flippant at the time. After all, how could someone navigating such complexity say that being a parent was honestly where he entertained the most doubt?
That was before we had children.
Five years into parenting, the comment makes strikes me as more authentic than ever — and almost always the area of life where I also entertain the most doubts about my leadership abilities.
When I came across No Drama Discipline* for the first time, it changed my view of how to handle discipline with our kids. Tina Payne Bryson joined me on the podcast this week to teach us how we can be better leaders and teachers for our children.
In the spirit of leading kids well, the resources in this week's guide will help you gain more confidence (and heart) with all our children.
Weekly Guide: Related Episodes
Weekly Guide: Articles
How to Dissolve an Argument Like A Pro (Without Raising Your Voice): Beth Garrison, one of our Academy members, is an expert in behavior analysis and organizational development. Words of wisdom from her on empathy and calmness.
Ask Kids "What Did You Fail at Today?: We work in our house to give as much attention to effort as we give for accomplishment. This question can help.
Have Smartphones Destroyed a Generation?: Fascinating article baked by incredible research findings.
What If Everything You Knew About Disciplining Kids Was Wrong?: Lines up beautifully with No Drama Discipline.
How to Cut Children's Screen Time? Say No to Yourself First: Yet another version of "lead yourself first." I have a 6pm calendar alarm on my phone to put it away.
The Bedtime Pass Helps Parents And Kids Skip The Sleep Struggles: Haven't needed this one yet, but I'm keeping it in my back pocket…just in case.
Weekly Guide: Video
Bridging the Gap Between Science and Spirituality: This 3-minute video by No Drama Discipline co-author Dan Siegel captures the complexity of the brain.
Weekly Guide: Books
Last Child in the Woods: Saving Our Children From Nature-Deficit Disorder*: This book changed how I view the critical role of nature in our children's development. It's a big reason we're out camping regularly.
Raising Cain: Protecting the Emotional Life of Boys*: A difficult read, but a powerful and necessary perspective for parents of boys.
Weekly Guide: More
Dave's Parenting Library: I make a regular habit to collect valuable parenting articles. Here's the link to my entire library.
Meet Me: Orange County
Orange County Meetup Tomorrow: I'm hosting a free meetup tomorrow, right here in Orange County. Come meet me and other local listeners. See details and RSVP here.
Next Week
Kwame Christian of the Negotiate Anything podcast joins me to field some tough situations that our listeners are navigating.