A few months ago, I hired a guitar teacher for weekly lessons. The results of learning guitar sound great: playing songs for our kids, embracing my creative side, stretching my boundaries.
After a few months, I'm keenly reminded why I first quit guitar a decade ago:
It's painful to be bad at something.
In today's guide, four realities of learning.
That's All I Need
You'd be hard-pressed to identify a more successful comedic career than the one of Steve Martin. All told, he spent 18 years doing stand-up.
He's said that one of the lowest points in his career, when he most doubted his potential for success, came after his 16th appearance on the Tonight Show.
Here's what he says about his success over those 18 years:
Ten of those years were spent learning, four years were spent refining, and four were spent in wild success."
Think about that. Not ten weeks. Or ten months.
Ten years. Learning.
Garr Reynolds captures 13 of Steve Martin's best quotes from his bestselling memoir*.
Reality #1: Real results take real time.
Bads and Grads
It's prime season to get graduation party invites. This reminds me that I competed to give the student graduation speech at my university. To say it went badly would be generous.
I've written previously about the speech and why it reminds me that I don't love learning. Still don't. (None of this, however, will stop me from eating other people's graduation cake).
Reality #2: "Love of learning" is often just a love of knowledge acquisition.
Sight Unseen
I've been a Dale Carnegie instructor for over a decade. The organization itself has been going strong for over 100 years. We continually hear from people who have life-changing experiences in the courses.
The real brilliance of Dale Carnegie's work is that when people attend courses, they are required to take action with what they've learned. Yes, we teach them the Carnegie principles, but the focus of the development is on application.
The people out there having amazing career successes are acquiring knowledge, for sure — but they're putting just as much time into taking action on new knowledge. Seth Godin reminds all of us to spend less time seeing and more time doing.
I also completely relate to what Jeff Goins says: if you want to influence people, start by being willing to ask.
Reality #3: Most of us prioritize acquisition of knowledge over application of knowledge.
The World Will Change
Speaking of graduation, I was fortunate to grow up in a family that believed in (and could afford) higher education. There was never any real question that I was going to college. It was apparent to many of us that a college education was the best preparation for career and life.
No doubt that's been true in the past. For the most part, it's true today.
May not be true tomorrow.
If you asked me five years ago if my kids should go to college, I wouldn't have hesitated with my "yes." Today, my answer is the same (for now), but I'm also confident that other great options will emerge by the time the question is relevant for our children.
Dorie Clark captures this and other coming changes in a forward-looking article published by the World Economic Forum. Projects like Minerva are just one example of how the landscape is already changing.
Reality #4: Many of us participate in popular learning activities without doing any real examination of other options that may produce better (or more cost effective) results.
I welcome your thoughts and comments.
Monday's Show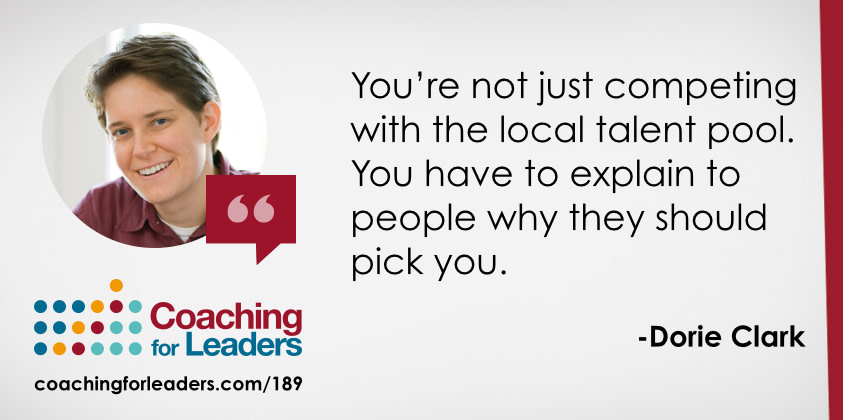 189: How to Stand Out With Dorie Clark
If you need evidence that the rules have been rewritten on how to stand out, Dorie Clark is who you should listen to. She joined me on Monday's show to discuss Stand Out*, her new book that launched this week.
She painted a detailed picture for how to stand out in today's marketplace, using the conclusions from her research of those who've done it best. The full audio and show notes with Dorie's points are posted on the Coaching for Leaders website.