Sometimes a sentence or two says more than an entire book. This week, here are six quotes to help you lead and why they're relevant:
Ralph Waldo Emerson
Who you are stands over you and thunders so I cannot hear what you say.
Many people will take you at your word early in the relationship. Most people will also give you the grace for an honest mistake (in fact, getting comfortable admitting when you're wrong is a core trait of an effective leader).
However, actions speak way louder than words. Emerson contends that if you actions don't align with your words, they ultimately drown out what you say. Agreed.
Mother Teresa
Find your own Calcutta.
It's widely reported that when admirers and would-be missionaries reached out to Mother Teresa and begged to come join her in the slums of Calcutta, her response was the above.
She wasn't intending to be rude. Certainly the people she served could have used more help. She was challenging people to address the needs right under their noses in their part of the world, rather than just being captivated by the attention of her ministry.
There's a temptation for all of us to worship celebrity leaders, or the management fad of the day, or trends that are getting a ton of attention. Mother Teresa challenged all of us to seek the opportunity right under our noses. It might not be fun, or exciting, or popular — but something that nobody else is able (or willing) to do.
If you don't see needs for leadership or service in your home, backyard, organization, or community, you're probably not really looking.
Albert Einstein
I never teach my pupils. I only attempt to provide the conditions in which they can learn.
A couple of times a year, I teach an education and training class in a masters program of nursing. Mind you, I'm not a nurse and have zero medical training.
However, my job isn't to be a nursing expert — it's to create an environment where the participants can dialogue about what they already know from their experience and then help them integrate it with new material they are seeing in the class.
I resonate a lot with Einstein's advise of providing conditions for people to learn. Under the right conditions, people will drive their own professional development much better than anyone else could dictate.
Seth Godin
The cost of being wrong is less than the cost of doing nothing.
Years ago, I attended a retreat with a number of colleagues and we were tasked to complete an exercise as a team. We ultimately failed to achieve the task. Too much time was spent discussing the strategy, leaving no time for its execution.
The lesson from the day was clear: not making a decision is making a decision to do nothing. And nothing is almost always worse than something.
Michael Porter
All great strategies require you to not do things. You can't meet every need. You have to decide what you're not going to do.
The Coaching for Leaders Facebook page is already queued up for deletion. Almost 500 fans were on it, but the interaction level was very light and I was spending time each week on it which could be spent in better ways to serve the listening community.
Identify things that aren't producing results for your organization or you and stop doing them.
Easier said that done.
Lao Tzu
A leader is best when people barely know he exists, when his work is done, his aim fulfilled, they will say: we did it ourselves.
This has always been one of my favorite leadership quotes. Lao Tau perfectly captured that leadership isn't about the leader. Genuine leadership isn't driven by fame or fortune. The best leaders create space for others to do great things in the world.
I welcome your thoughts and comments.
Monday's Show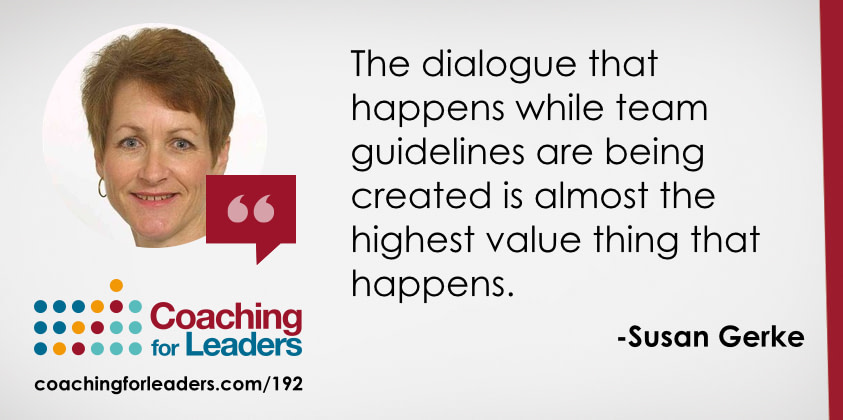 192: How to Create Team Guidelines
My friend Susan Gerke joined me for the forth time on this week's show to discuss creating team operating guidelines. She's one of the best facilitators I know and author of the GO Team training series, along with David Hutchens.
Starting or inheriting a team? This framework is your place to start and I've captured the full audio and show notes on the Coaching for Leaders website.