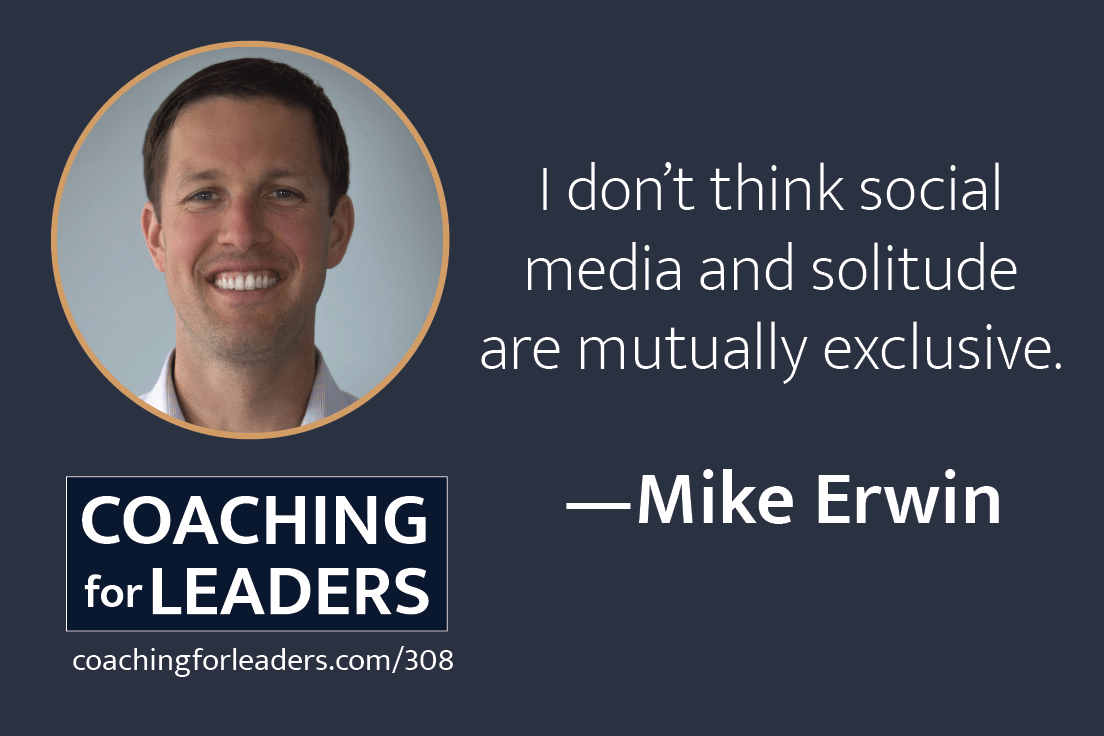 There's the temptation to listen to this week's episode with Mike Erwin, co-author of Lead Yourself First: Inspiring Leadership Through Solitude*, and hike off into the wilderness for several days. While I'm a big fan of nature (and got deep into it a few times this summer) it's not the place for most of us to start with solitude.
More likely we'll all benefit from solitude as a more regular practice in the typical weeks and months of our lives — when we're attempting to do the best work for our organizations and families.
In that spirit, I encourage you to make a time for a small moment of solitude this week. Perhaps it's a short bit of writing you do just for yourself. Perhaps, like me, it's locking up the iPhone somewhere else for an hour or two each day.
Solitude is less about where you are and more about what you stop doing. This week's guide below provides even more ideas.
Weekly Guide: Related Episodes
Weekly Guide: Articles
Being Busy Is Killing Our Ability to Think Creatively: Perfectly aligns with the message from Mike Erwin on this week's episode.
Malcolm Gladwell on Why We Shouldn't Value Speed Over Power: Past guest Adam Grant interviews Malcolm Gladwell on the value of results over speed.
Technology is Impairing Our Ability to be Alone, Research Shows. Here's How to Reap the Benefits of Solitude: Great feature of Mike Erwin's work in a recent Washington Post article.
A 69-Year-Old Mont Who Scientists Call the 'World's Happiest Man' Says the Secret to Being Happy Takes Just 15 Minutes a Day: I saw Matthieu Ricard speak years ago — and he's got such important things to say to most of us.
Are Helicopter Parents Ruining Summer Camp?: Yes, is the short answer — along with a reminder that solitude is important for kids too.
Weekly Guide: Audio
CFL233: Engage in Deep Work, with Cal Newport: Past guest Cal Newport is the leading voice I know of leveraging solitude in our work. This past conversation will show you how to do the same.
Forest Bathing: A Retreat To Nature Can Boost Immunity And Mood: Another way to seek solitude in the midst of the urban noise many of us live with daily.
Weekly Guide: Inspiration
Steve Bartman Receives World Series Championship Ring: Some fringe Cubs "fans" reacted stupidly to an unfortunate incident years ago. The Chicago Cubs just extended an olive branch in an effort to put closure on years of harsh scapegoating. It's a reminder to all of us to guard against these behaviors in our organizations.
Meet Me: Orange County
Orange County Meetup on August 17th: I'm hosting a FREE meetup right here in Orange County next month. Come meet me and other local listeners. See details and RSVP here.