The image above is not moving, even though it looks like it is.
Many fear sharks and spiders, but the mosquito is the deadliest animal on the planet.
People drive to avoid the fear of flying, even though driving is statistically more dangerous (by a lot).
Today, challenges to our traditional assumptions that improve our thinking and well-being.
When Did You Know When You Were Rich?
That question was posed earlier this year to a rich investor. His answer included this:
I bet we all in this room live about the same. We eat about the same and sleep about the same. We pretty much drive a car for 10 years. All this stuff doesn't make it any different. I will watch the Super Bowl on a big screen television just like you. We are living the same life. I have two luxuries: I get to do what I want to do every day and I get to travel a lot faster than you.
Years ago, I read The Millionaire Next Door*. The comments above reminded me of the book, since the research shows that wealthy people don't often live the lives we perceive they do.
Speaking of which, you've likely heard of this investor. His name is Warren Buffet — and his full comments are here.
No, Mommy is Working
While we've made gains here in the States on gender equality, we're still battling many cultural perceptions around how we all view gender at home and work.
More than a few times I've heard, "Must be Mommy's day off," when running errands with our kids on a weekday. (Ironically, almost always from a woman.)
I've made plenty of wrong assumptions myself over the years.
Professionally, most leaders I know support gender equality and equal opportunity, but get bogged down the in complexity of organizational politics and culture. Good intentions often get muddled with mixed messages — and then the issue gets framed as men vs. women.
That's why I found a recent article in Harvard Business Review helpful. Avivah Wittenberg-Cox says leaders shouldn't view gender as a "women's issue" but instead be trying to reframe gender balance as an issue that unites men and women, rather than driving them apart.
If the nobler reasons aren't motivation enough, money has a way of talking too.
The Tail End
Once in awhile, someone uses graphics so well that it's stunning.
Maybe it's because I'm not that much older than the author or maybe it's because it's the holidays, but an article I read over the weekend changed my perspective. The money line:
You may be 30% of the way through life but 90% of the way through many of your best relationships.
Need the motivation to make the most of your time with loved ones this holiday season? Read this one to the end.
Why Michael Hyatt Has My Visa
After four years of producing Coaching for Leaders, a decade in the training industry, and two graduate degrees in this field, you might think I wouldn't need any help with goal setting.
But knowledge doesn't equal action.
That's why for the last three years at this time, I've pulled out my Visa card and purchased Michael's annual Best Year Ever course. My rationale to Bonni when I bought it the first year was this:
If I invest in it, I'll actually follow through.
It's 16 days until the New Year. If you already know exactly where you're headed in 2016, you're way ahead of the pack.
But if you're like most of us, join me before the early bird deal ends tomorrow on the 5 Days to Your Best Year Ever course* (and forward me your receipt to get in on the live, face-to-face webinar I'm hosting on February 6th).
Lots more details in the bonus episode I aired last week.
Monday's Show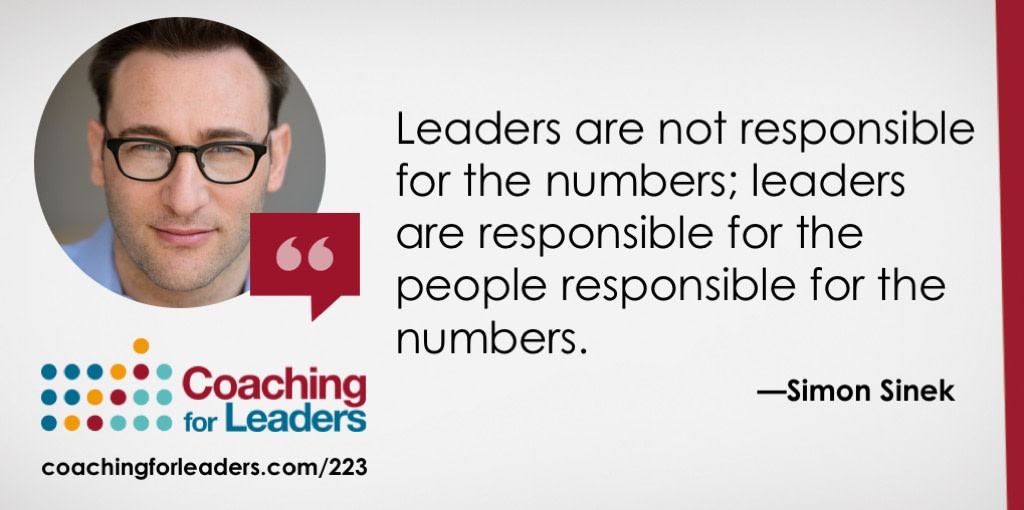 223: Start With Why Featuring Simon Sinek
I've had more requests to interview Simon Sinek than anyone else this year. This quote from our chat on this week's show still has me thinking:
If your kid has a bad report card, you don't put him up for adoption, you get him a tutor. If someone has performance issues at the company, you don't fire them, you coach them.
His books Start With Why* and Leaders Eat Last* will get you thinking even more. All the quotes, audio, and show notes are posted on the Coaching for Leaders website.