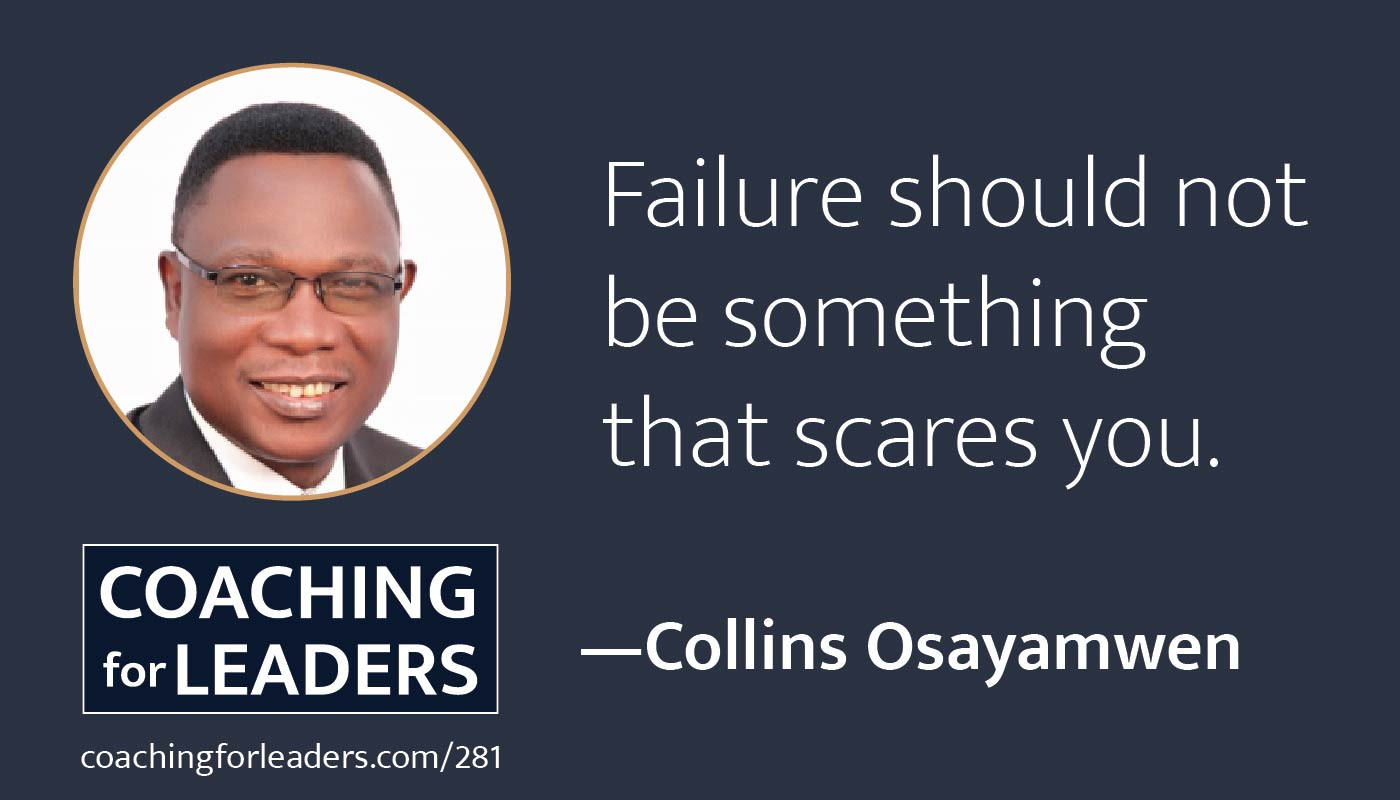 Monday's Episode
281: How to Overcome Obstacles: Collins Osayamwen is the Managing Partner/Senior consultant of SheltercareFM Consult based in Nigeria. He appeared on this show this week to teach us about the mindset we need to overcome obstacles. Collins was the International Facility Management Association's Distinguished Member from 2011-2012 and now serves on IFMA's board of directors.
Key Points
Ask yourself some key questions:
Are you happy doing what you are doing right now?
Will you be happy doing it for the rest of your life?
What legacy are you leaving for your children?
Failure can redirect you into new directions that are better than before.
Don't start a career just because of the money or because people tell you to, only do it if it's your passion.
Related Episodes
Quick Reads
An Unlikely Journey Into Management and Leadership: If you find yourself in a bad leadership situation, there's still a ton you can get from it. Academy member Brett McCarty has the right attitude and some solid recommendations.
Elon Musk Takes Customer Complaint on Twitter From Idea to Execution in 6 Days: And Musk could easily hide behind the, "But we have a large, bureaucratic organization," excuse. How quickly is your organization responding to customers?
Long-term strategy: Don't be a jerk: Seth Godin always finds the right thing in just a few sentences.
After years of intensive analysis, Google discovers the key to good teamwork is being nice: Almost exactly the same message as the prior article, but this time from years of data collected by Google — a place that knows more about good data than pretty much any other organization in the world.
Monday Vision, Daily Outcomes, Friday Reflection: Want a clear results system that delivers? This three-step process shows you how to start fresh each day and each week.
Books
Write Your Book on the Side*: Past guest Hassan Osman just released this book. It's a fabulous guide if you've been thinking about writing a book to enhance your professional presence. And, it's just 99 cents on Kindle for a few more days.
Thank You
Thank you for all the kind notes of support many of you sent during the recent Coaching for Leaders Academy launch. We had a wonderful response and I'm conducting lots of interviews now for new Academy groups that will be starting shortly.
Your kind support continues to sustain the entire Coaching for Leaders platform for the long-run. If you sent a personal note in the last week or two, I'm still catching up — and I look forward to thanking you personally.