Do you have the same book stack I do?
You know the one. The virtual or real (both in my case) stack of books that you already bought, will probably someday read, got as a gift, liked the cover, didn't quite donate the last time you went to the library, etc.
That stack.
You're going to get to it, right? Someday? Maybe?
I generally stick to writing or discussing books that I've either read, studied, or interviewed the author.
But today, books that are currently in my stack that may be of value for you to know about too:
As a student of human behavior, I'm fascinated by the difference makers of what moves us forward vs. what keeps us doing what we've always done — even when we know it's holding us back.
That's why there have been a few pasts shows on creating new habits (CFL115 & CFL217). Turns out there's a New York Times Bestseller on this topic that Bonni is reading right now. She said the magic words to me just this week: "It's as good as The Checklist Manifesto."*
Why it's in my stack today: Just found out about it from Bonni days ago.
I already interviewed Cal Newport about his new book (next week's show) but despite the fact that I've studied it a bit, I haven't read it fully.
While I review every book of authors I interview, I don't read every book. Two reasons for this:
Practical: I'd have time for nothing else.
Strategic: I find it helpful to have often not read books when I interview the author, so I came to the conversation from the same place the listening audience does.
That said, this one I will read fully.
Why it's in my stack today: The interview inspired me to read it fully, since most everything I do professionally these days involves deep work. It's one of the next ones on my list.
The Dip by Seth Godin*
Most new jobs or responsibilities start out as exciting…even fun. Occasionally, you even feel like you landed the dream job or customer project.
And after awhile, reality sinks in. Your motivation level plummets. Obstacles appear you had no idea were ever there.
How do you know when to quit and when to stick it out?
Apparently that question is answered head-on in this book from Seth Godin. One gem from the review: "The old saying is wrong — winners do quit, and quitters do win."
Why it's in my stack today: I've gotten the "should I stick it out?" question lots of times over the years. Yet, I didn't even know this book existed until last week — and that Seth Godin wrote it (perhaps one of the most forward-thinking business authors alive).
I heard an interview with David Rock right about the time this book came out and was captivated. I immediately knew I needed to read it.
That was 2009.
Since then, I've heard tons of references to the book, most recently from Jacqueline Farrington on CFL224. Apparently, it provides a fabulous foundation for what we can all do to leverage our brainpower.
Why it's in my stack today: Been there since 2009, so what's another month, right?
One on the personal side:
Good parenting is a blend or art, science, and gut instinct. While it's easy to get overwhelmed with advice, I try to find one good book a year to take in.
Maybe it's the cover on this one, or the fact that it was featured on NPR, or the alignment on Amazon next to one of my other favorite books on parenting* — but it looks good.
Why it's in my stack today: It's 12 hours of audio on Audible and it looks very comprehensive (translation: may not be a page-turner). Haven't worked up the motivation yet, but I really dig these kids we've got, so it will likely happen soon.
How to Actually Read More
While the stack will never go away, mine cycles more quickly than it used to since I started using Audible for most of my reading.
Audible may work for you, too — especially if you find yourself on regular commutes, long flights, or continually buried in unfolded laundry. Here's a free 30-day trial to Audible that comes with two free books.*
Monday's Show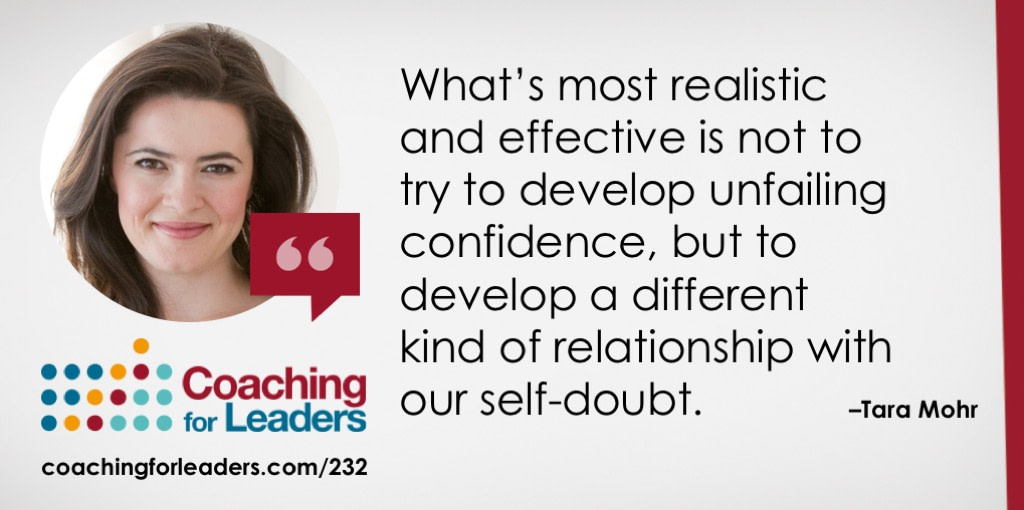 232: How to Manage Your Inner Critic
Speaking of good books, Tara Mohr was on the show this week to tackle a topic that almost all of us struggle with: managing our inner critic. She's the author of Playing Big: Practical Wisdom for Women Who Want to Speak Up, Create, and Lead.*
I've heard from several men and women in our audience this week about how much the enjoyed Tara's wisdom and her stories, especially about submitting her writing to the New York Times. The full audio and notes are posted on the Coaching for Leaders website.