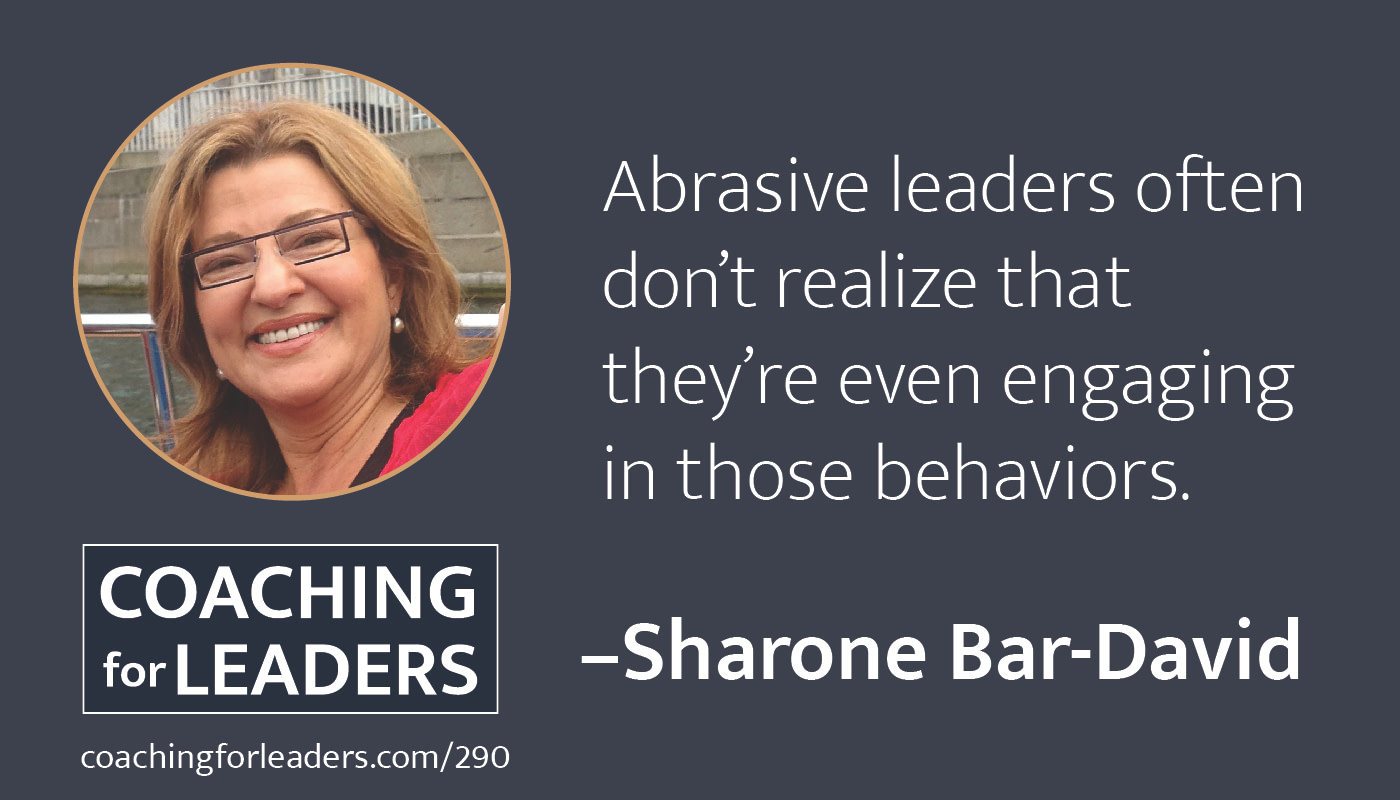 Monday's Episode
290: How to Manage Abrasive Leaders: Sharone Bar-David, author of Trust Your Canary: Every Leader's Guide to Taming Workplace Incivility*, joined me this week to discuss how to manage abrasive leaders.
Key Points
Abrasive leaders often don't realize how they're acting, or if they do, they don't realize the negative affects.
One of the greatest myths is that you can't do without someone — everyone is replaceable.
The three steps of SBD:

State the Expectation – What values or behavior you expect?
Behavior – What are the behaviors that are of concern?
Desired Behavior – How do you want the person to act?

360 reviews are good for diagnosing a problem with an abrasive leader, but not for solving it.
Resources Mentioned
Related Episodes
Next Episode
Bonni and I return for the monthly question and answer show. Submit your question for consideration next week or for the first question and answer show the first Monday of every month at http://coachingforleaders.com/feedback
Quick Reads
Want to Be More Productive? Sit Next to Someone Who Is: Yet more evidence supporting this Jim Rohn quote: "You are the average of the five people you spend the most time with."
You're a completely different person at 14 and 77, the longest-running personality study ever has found: Goes against what a lot of us have been taught. Whether true for everyone or not, a reminder that we can make choices to change.
Audio
How to Use Strategic Gifting to Get Ahead: Past guest John Corcoran recently interviewed a business gifting expert on his Smart Business Revolution podcast. I took away lots of great ideas — especially why to avoid putting your company's name/logo on things you give away.
Video
Whoops the Monkey: Daniel Pink shares a 2-minute lesson from Kim Scott on how to encourage self-criticism at work. And it involves a stuffed monkey (shhh, don't tell my daughter).
Just For Fun
Want to live past 100? These centenarians share their secrets: A key sentence from this one: "Few smoke, nearly all of the men are lean, and centenarians have high levels of the 'good cholesterol'".