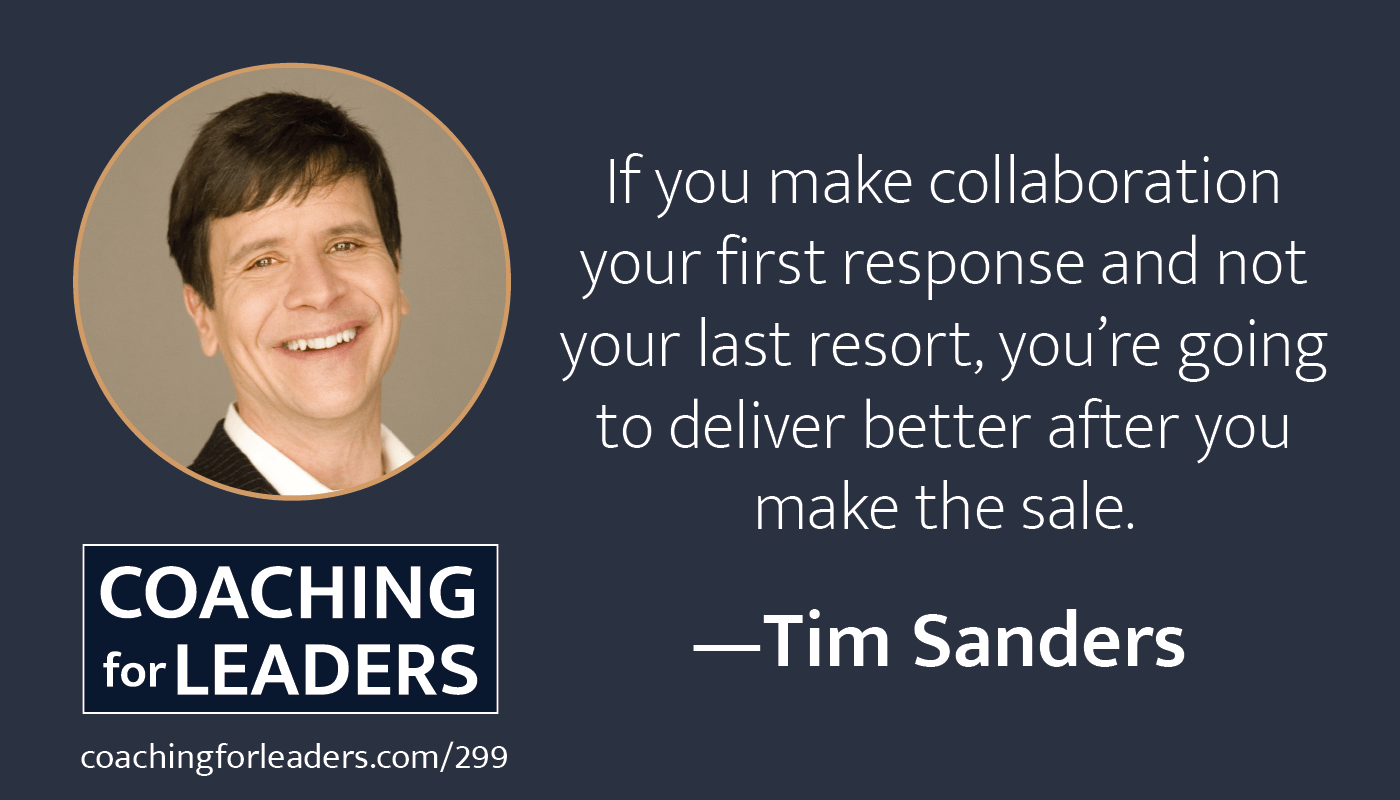 Many years ago, I started a new job in sales. A few weeks into the job, a senior member of the sales team offered to start mentoring me.
I was grateful for offer of help and we sat down for 45 minutes one afternoon and talked through sales strategy. He told me how to set appointments and offered some advice on what he'd learned to structure initial meeting agendas.
But it was the last two minutes I really remember.
The meeting ending with him telling me that the first time I put his methods into practice, I was to hand over to him two of the new sales contacts I'd just made — presumably to thank him for being so generous with his time.
It was the last time I accepted any "mentoring" from him.
In the past (and in some places, still today) these situations were typical among sales professionals. The lone wolf / "everyone in it for themselves" approach has long been the orientation of sales professionals and sales teams.
No longer, says Tim Sanders, this week's guest and author of the new book Dealstroming: The Secret Weapon That Can Solve Your Toughest Sales Challenges*. Tim and I discussed how the sales environment has changed and why smart leaders are now approaching top-line growth strategy as a team.
Moreover, Tim has long been a leader and advocate for a lot more love in the workplace, and we talked extensively about his lovecat philosophy from his other bestselling book, Love Is the Killer App* (one of my all-time favorites).
Be sure to take Tim up on the free resources he's offered to all of us.

Weekly Guide: Articles
Mean Bosses Make Themselves Miserable, Too: You know the old story of how the schoolyard bully always ends up being the kid with the lowest self-confidence? Turns out it doesn't end when we're kids.
(BTW, if you or others struggle with effective uses of power, this episode with Dacher Keltner is worth a listen.)
Why Are Maker Schedules So Rare?: Are you running a manager's schedule or a maker's schedule? Past guest Cal Newport describes both and challenges us to consider which would we should be using.
The Psychological Importance of Wasting Time: Before you dismiss this article, I should point out that when David Allen was on the show (the world's top productivity guru) he made a compelling case for daydreaming.
Why It's So Hard to Admit You're Wrong: Dale Carnegie said, "When you're wrong, admit it quickly and emphatically." Here's the reason behind it.

Weekly Guide: Audio
Personal Boundaries at Work: Tom Henschel just aired this episode with advice on how to talk to people at work about what's going wrong in other areas of your life. If you're struggling with this, it's must-listen.

Weekly Guide: Inspiration
Dr. King's Beyond Vietnam Speech: Tavis Smiley interviews Bryan Stevenson on this important speech by Martin Luther King, Jr. Stevenson's bestseller Just Mercy* was the most compelling book I read last year.

Weekly Guide: San Francisco
FREE Meetup on June 29th: Are you in the San Francisco Bay area? I'm hosting a free, live meetup in South San Francisco when I'm in town the evening of Thursday, June 29th. Although the event is free, seating is limited to 30 listeners. See details and RSVP here.

Next Week: Episode #300
Stay tuned for a special episode next week to celebrate 300 shows. I'm stepping aside for a week to welcome a special, guest host. Guess who?