Academy
Are you a manager, executive, or business owner who is ready to accelerate your leadership skills? Do you find yourself seeking objective perspective that you can't find internally? Do you wish for a team of trusted advisors who'd provide regular coaching for the toughest situations and decisions?
Ready to Become a Stronger, More Successful Leader Who Can Inspire Others, Drive More Growth, and Enjoy the Rewards of Your Hard Work?
My name is Dave Stachowiak, the host of the Coaching for Leaders podcast.
And I haven't always been successful in my career…
After I graduated from a great university, I had a bit of early career success. But I ran into headwinds once I got into leadership roles.
I was passed over for a more significant leadership position in my first organization. Twice!
Later, my first year's performance at Dale Carnegie was so bad, I offered to resign.
But the worst part was that I didn't feel like I was meeting my potential.
So I starting taking action.
I identified some of the problems I was having, and narrowed them down to 3 big things:
I wasn't changing my behavior enough. Even though I knew exactly what I should have been doing, it was difficult to implement it in my day-to-day experience, and my organization (and career) were suffering as a result.
After graduate school and more certifications were complete, seeking help got harder. I knew more support would help, but after I finished formal schooling and training, it got a lot harder to get the mentoring and coaching that seemed easier on paper.
And I didn't have enough experience. Even if I wanted to ask someone else in my organization for help, they only had a limited range of ideas and strategies. I simply couldn't wait to rely on just my own experience. I needed better perspective sooner.
So, I needed a next step…
I wanted to find a way to accelerate my growth.
And I did.
Best of all, it came down to one simple concept:
Access to Experienced Leaders
Specifically, mentoring from a group of experienced leaders who came from various backgrounds, industries, and schools of thought.
People who could give me perspective with years of experience in a shorter amount of time.
It worked. Really well.
Today, my entire career is focused on helping leaders accelerate their skill development.
My own results were impressive too. In fact, I've sold millions of dollars in training and educational programs, written articles read by thousands of everyday leaders each week, and I've earned rave reviews teaching graduate courses in education and leadership.
I also created a top leadership show as rated by Apple Podcasts, I've been recognized by Forbes as one of the 25 Professional Networking Experts to Watch, and I've received multiple, international business achievement awards from Dale Carnegie, the worldwide leader in workplace performance improvement.
And thanks to this platform I've created with our listeners…
The Coaching for Leaders podcast has been downloaded over 30 million times to help leaders accelerate their careers, reach new limits, and accelerate their development. Today, the show is the #1 search result for both leadership and management on Apple Podcasts in the United States.
Now I'm inviting you to join with us to accelerate your leadership development, too.
Coaching for Leaders Academy is your chance to learn from successful leaders from all different backgrounds and get access to years of perspective in just 8 months.
Dave provides content that is timely, relevant, and thought-provoking. Not only do I consider Coaching for Leaders my own personal development tool, I also recommend it to everyone I know."

– Heather Porter, Human Resources Director
Coaching for Leaders Academy is Your Chance to Learn from Successful Leaders from All Different Backgrounds and Get Years of Perspective in Just 8 Months
Coaching for Leaders Academy gives you access to experienced leaders to get continual feedback and improvement, real-time support, mentoring, and more.
Best of all, each Academy session is a 90-minute collaboration with a small cohort of experienced leaders who can broaden your horizons and share years of experience that you can collect and use for yourself, all in just eight months.
Coaching for Leaders solves many of the problems I was facing earlier in my career:
You gain accountability and new challenges to help you apply the knowledge you already have. If you've been feeling like your education and training hasn't always been enough in practice, this is your opportunity to accelerate your own behavior change.
You get constant feedback, support, and mentoring from people who are personally invested in your success. From your fellow leaders to me, Dave Stachowiak, you'll get a huge range of input from people who are excited to see you succeed.
And the key to accelerating your career? Getting years of perspective in just 8 months. You'll be surprised at just how much you can discover when you work with this cohort of successful leaders from all different backgrounds, and you in turn are supporting us with own knowledge and experience, too!

So here's how it works:
We begin by utilizing your results from the popular CliftonStrengths (StrengthsFinder) assessment to support leveraging your talents in real-time problem solving.
We work together to create a 2-3 year leadership vision to give you a new, laser focus.
You dialogue with your colleagues and me, Dave Stachowiak, two to three times a month, during 90-minute online sessions to accelerate progress on the key focus areas from your vision.
Plus, you'll participate in discussing the most useful books and models that offer deep insights into leadership results, honest feedback from colleagues who aren't limited by your organization's mindset (and aren't bound by internal politics), and real-time help, advice, and guidance through our dedicated membership portal.
Here's How Intimate Access Gives You a Big Advantage.
Remember participating in classrooms, training courses, and certification programs where the syllabus or training manual dictated the entire experience?
Many leadership programs rely on large numbers of participants to be cost effective – and follow a lock-step content agenda that doesn't allow time to address the immediate situations that experienced leaders struggle with daily.
With Coaching for Leaders Academy, you get one-on-one guidance with a dedicated cohort of just 6-7 experienced leaders who are all personally invested in your success.
When you're surrounded by leaders who know you and your daily challenges, you get the kind of personal guidance and feedback all of our members seek.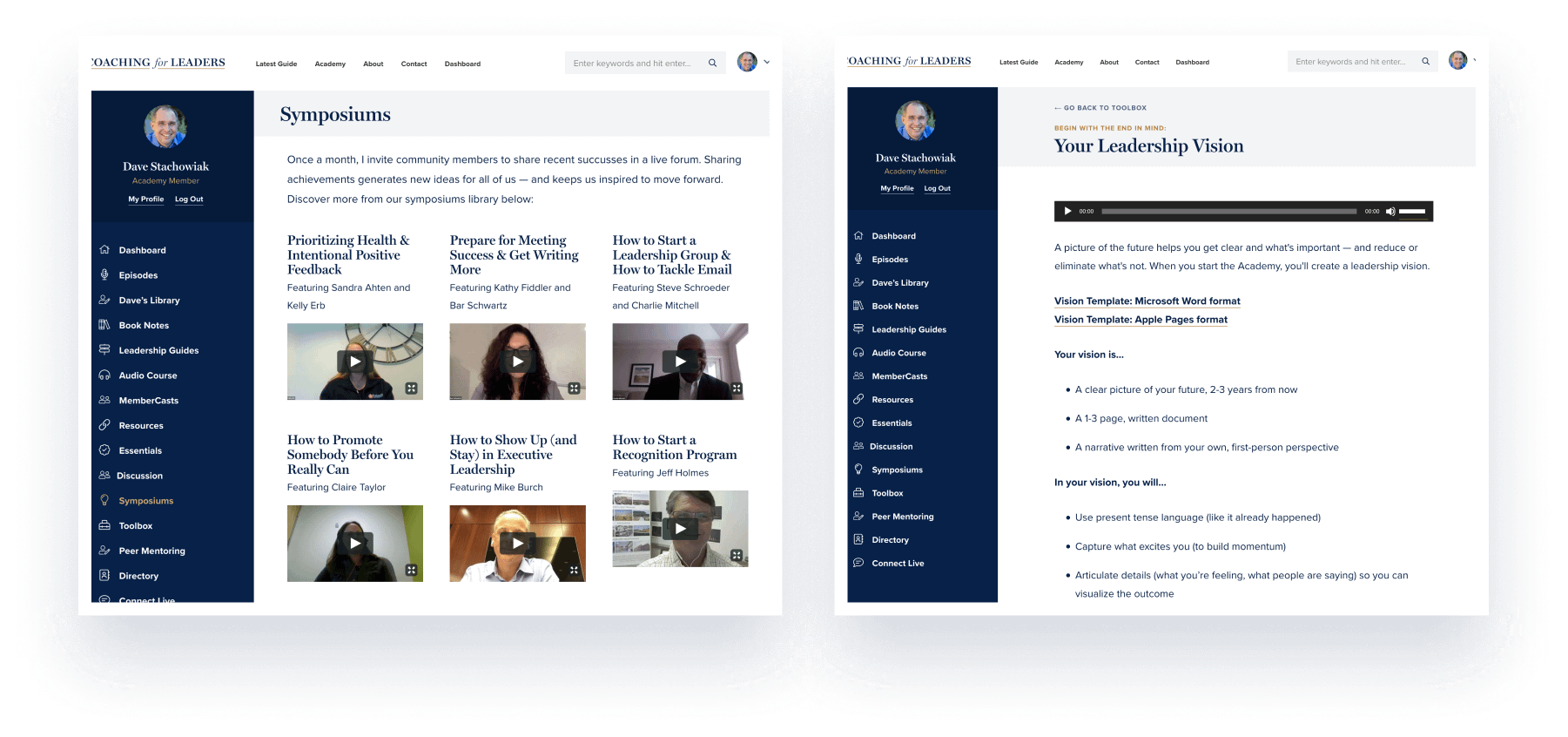 Personal support from people who want to see you succeed.

Real-time, live, collaboration… not canned videos and lectures. Discover tried-and-true strategies that are being put into action today, not content from several years ago.

Get a practical, actionable plan that you can see working in your own organization.

Best of all, Coaching for Leaders Academy costs just a fraction of the price of graduate degree program. The $6,500 USD tuition includes full access to the Academy and all our live community events. Many of our members receive support from their organization on funding.
Here's How Coaching for Leaders Academy Has Helped Transform Leaders:
Coaching for Leaders has been indispensable to me as a leader. The content Dave produces is insightful, actionable, and highly relevant to my leadership role. Not only do I take something of value from each of his offerings, I routinely share his material with my team, colleagues, and family members. Dave is a skilled facilitator and what I have learned from his style of facilitation and coaching is valuable in and of itself. This experience has been a highlight of my development in the past several years."

–Courtney McBean, Executive Director
Dave has done an excellent job of curating a group of people who are different enough to provide valuable perspective and insight, but also similar enough to understand and empathize with the challenges I've brought before them."

–Mike Burch, Chief Operating Officer
I found Coaching for Leaders when I was transitioning to a new position, managing a big team and leading interdisciplinary academic research projects. Dave's engaging personality and friendly voice drew me in; however, during my first several sessions I felt like an impostor since my role was not in the corporate world. I quickly learned that my specific area was not relevant. Dave provided transferable knowledge and resources that enhanced my mindset and skills as a manager and leader, and prepared me to take a big leap in my career. I leave every session feeling smarter and better connected to leaders and resources to enhance my career and advise others. Having access to Dave and the resources he has provided through the Coaching for Leaders podcast, website and community is like having on-demand access to a world-renowned leadership institute."

–Yashoda Sharma, Program Director
I've found Dave's wealth of knowledge and professional network to be an invaluable developmental resource. In just a few months time, I have learned how to have tough conversations, better time management, and how to embrace failure as part of success."

– Tyler Nethercott, Vice President of Product Development
Coaching for Leaders is a resource I stumbled across about a year ago when seeking leadership advice. I've read a lot of books, articles, and listened to other podcasts, but this one really stuck with me. The content is very approachable and has helped me immensely as it covers a wide array of topics. Another amazing resource has been the Academy. Dave is thoughtful, supportive, and knows how to ask the right questions. He is incredibly knowledgeable and it's valuable to be able to learn from someone with such a broad and deep understanding of leadership."

– Gemma Aguilar, Founder & CEO
Dave is a sincere coach who genuinely listens and opens the door to find the possibility on my own. It is amazing to learn about my ability with his coaching and notes/insights he shares as well as this amazing community."

– Lirah Lim, Sector Leader
I have enjoyed the group of people I have met and getting to spend time with them and learn is one of the highlights in my week. I have gained a safe community of people who I can share my challenges and wins with."

– Chris Nare, Chief Operations Officer
Coaching for Leaders Academy Is Not for Everyone.
Seriously.
This program is designed exclusively for managers, executives, and business owners. If you don't have the experience of directly managing others, the Academy isn't yet the right fit for you.
Here are a few other requirements for every member of Coaching for Leaders Academy:
You must be a manager, executive, or business owner (i.e. you have direct reports) in a business that generates at least $500,000 USD or equivalent in annual revenue OR you must be a manager, executive, or executive director (i.e. you have direct reports) of a government agency, NGO, or non-profit that receives at least $500,000 USD or equivalent in annual funding.
You must be willing to commit to the entire, 8-month program. (Of course, you expect other leaders to make that same commitment to you.)
You must be willing to give coaching, mentoring, and advice to other members during our live sessions. Remember: we're here to support each other and accelerate everybody's development.
There are also guidelines and values we'll ask you to agree to on your application.
One last thing:
You agree to attend a minimum of 13 out of 16 total live cohort sessions via video-conference. You'll be able to select your schedule preferences when you apply, but you must be able to make this commitment.
If you don't take your membership access seriously, you can't expect to get the results you want.
But if you put a sincere effort into Coaching for Leaders Academy, you will become a more confident, empowered leader.
Here's What Coaching for Leaders Academy Will Cost.
Annual tuition for the Coaching for Leaders Academy is $6,500 USD. The majority of our members receive funding support from their organization, since investment makes them more valuable leaders.
After your apply, we'll provide you with a guide to support you in your request for organizational funding — unless of course you choose to invest personally.
Apply by Sept. 25th
Apply Today – and Accelerate Your Leadership to New Levels with the Proven Strategy of Coaching, Collaboration, and Accountability.
Once you apply for membership at Coaching for Leaders Academy, your application will be reviewed by me personally.
I'll determine if your experience and goals are a good fit for the Academy. If so, we'll book a brief, one-on-one video conference where we'll review your qualification and intended outcomes, so we can determine together if you're the right fit for the Academy.
If you are, I'll determine the right spot for you in one of our small cohorts of 6-7, supportive leaders. I facilitate every Academy session personally over the eight month program.
It takes just a few minutes to complete your application.
So don't delay. You've put years of dedication and hard work into your career. Now, it's time to accelerate your leadership development with the guidance of other supportive leaders and me.
The Coaching for Leaders Academy will help build your skills, get regular feedback, and consistency improve as a leader.
Plus, you'll build genuine relationships with other leaders who are:
Personally invested in your success (and never have to compete with you).

Unrestricted by your organization's politics or hierarchy.

Willing to give you honest, direct feedback unlike anything you get from those who work with you daily.
Together, we can develop the skills you want so that you can improve the results you get from yourself, the people you lead, and your entire organization.
When You Apply, We'll Send You a Guide to Help You Request Your Organization's Financial Support for Your Academy Membership.
I've seen firsthand just how much value Coaching for Leaders Academy can deliver to the people and organizations that invest in it.
With this PDF guide, you'll be able to dialogue with your organization and determine their support for your participation.
After all, any organization's biggest asset is its people.
When they invest in you, they're opening new doors to new possibilities. The guide will explain everything your organization needs to know in order to make the investment you deserve to accelerate your leadership development.
The results are beyond my expectations by far. I'm really attached to the group and I enjoy every minute I spend with them."

– Romain Ehrhard, Chief Technology Officer
I'm Inviting You to Accelerate Your Leadership Skills.
When you invest in yourself, you give yourself an edge. You transform the course of your career.
So don't wait to accelerate the hard work you're already doing.
Apply today, and discover if the Coaching for Leaders Academy is the right fit to help you move forward and produce even better results for others — and you.