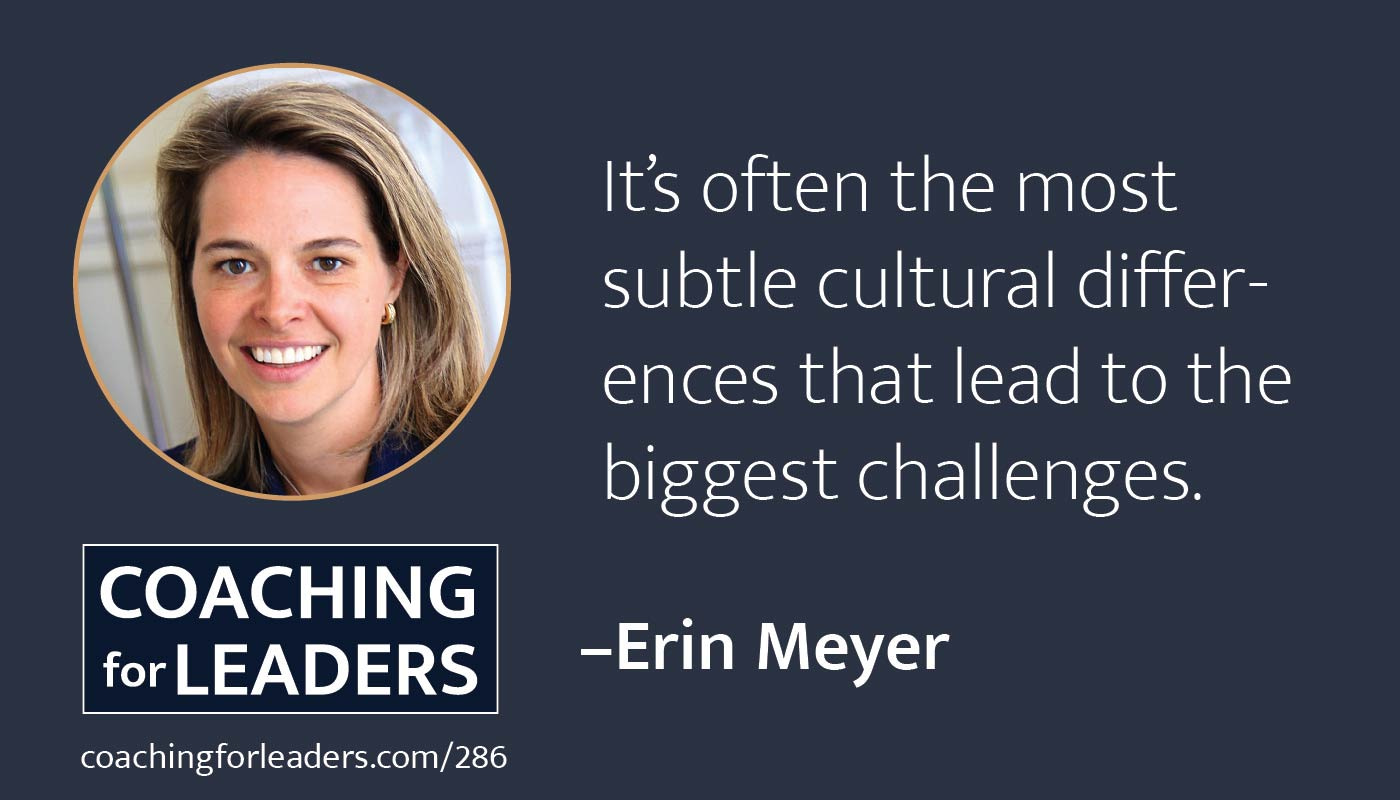 Monday's Episode
286: How to Influence Cross-Culturally: Erin Meyer appeared on this episode to teach us how to influence cross-culturally. Erin is a professor at INSEAD and the author of the bestselling book The Culture Map: Breaking Through the Invisible Boundaries of Global Business*.
Key Points
It's more helpful to know how cultures compare to one another on specific issues than it is to just describe a specific culture.
Different cultures have signals that mean different things.
Historically homogenous cultures tend to be less explicit in their communication styles, with much more communication implied.
Americans tend to be very direct except when giving negative feedback, and many people from other cultures find this confusing.
Remember to: be curious, be humble, listen before you speak, and learn before you teach.
Resources Mentioned
To access the behavioral culture map showing how 55 countries map to the 8 behaviors, complete the below:
Select the '7 day Premium Access" option
Enter this coupon code when requested: CFL7DAYSFREE
To complete the free culture map personal assessment and find out how you as an individual fall on the 8 behavioral culture map dimensions, simply visit this link:
http://erinmeyer.com/tools/self-assessment-questionnaire/
Related Episodes
Quick Reads
How To Give And Receive Feedback Across Cultures: More from this week's guest Erin Meyer on something that tends to look different across lots of cultures: giving feedback.
How To Succeed In A Cross-Cultural Workplace: Past guest Dorie Clark details even more lessons from Erin Meyer on navigating cross-cultural differences.
Mark Cuban Says This Will Soon Be the Most Sought-After Job Skill: Like being creative? Know how to think critically? Mark Cuban says you've got a leg up in the long-run over the technical folks.
Audio
Teach People How To Help You: I was recently interviewed by Jamie Newman on the Your Best Manager podcast. Jamie did a great job chatting with me about my best manager, why you need to teach people how to help you, and lots more I don't often get to say on Coaching for Leaders.
Video
How Sure Are You?: Rather than asking people, "Are you sure?" this one-minute video from past guest David Marquet challenges us to use better language. Here's how to give others the opportunity to share what they know.
People Come Before Money: Every time I hear Simon Sinek speak, I'm more inspired by his vision for how we all could work better. This seven minutes perfectly captures why.
Books
The Coaching Habit: Say Less, Ask More & Change the Way You Lead Forever*: Michael Bungay Stanier was on the show just a few weeks ago. He just announced that the Kindle version of his fantastic coaching book is on sale through Friday for 99 cents. That's a steal. Every leader should own this book*.