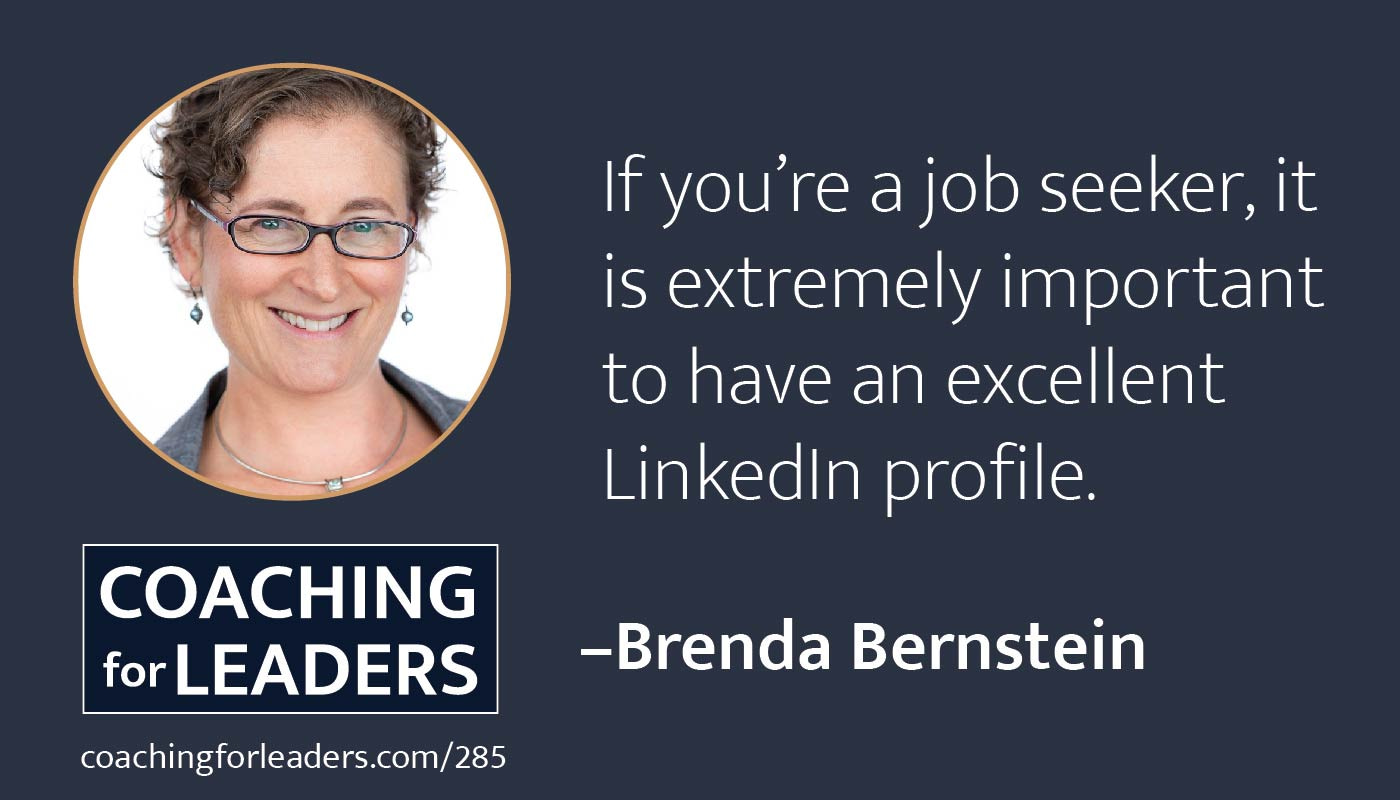 Monday's Episode
285: How to Vastly Improve Your LinkedIn Profile: Brenda Bernstein joined me on the show this week to teach us how to improve our LinkedIn profiles. She's the author of How to Write a KILLER LinkedIn Profile*, a book that held the #1 best-seller spot in Amazon's business writing skills list for over 2 years.
Key Points
LinkedIn profiles are very important for job seekers.
Your headline is the most important place to have keywords.
Don't include your company name in your headline unless it has cachet.
In your experience section, emphasize your current job and make sure it has the best description.
Think of three key words you want to come across in your profile photo.
Make sure you have a 100% completed profile to get boosted by LinkedIn's algorithms.
Write your summary in first-person.
If you have a very uncommon or unclear job title, it's okay to write one that people would understand, so long as it's accurate.
Recommendations are important because they're the only way on LinkedIn to really prove who you are and what you've actually done.
When you request a connect, don't just use the standard one, write a custom request.
If you want to practice writing a custom connection request, Brenda's advice was to connect with her on LinkedIn. I'm always thrilled to hear from listeners in our community, so please connect with me too.
Resources Mentioned
Related Episodes
Quick Reads
Psychologists Explain Why Name-Dropping Basically Always Backfires: Most of us have done this at one time or another. Here's the case for avoiding it.
How a Shift in Mindset Can Help You Lead Better: Loving Brett McCarty's thoughts on the distinction between "direct report" and "direct support."
Forget About Setting Goals. Focus on This Instead: I still set goals, but more and more I've shifted to what this article advocates — getting focused on inputs.
Audio
Secrets to Preventing Employee Turnover: This is a fabulous chat between Tom Henschel and Eric Cacciatore. While a podcast episode aimed at restaurant owners, everyone who manages part-time staff will benefit.
Inspiration
Little Caesars Founder Quietly Paid Rosa Parks' Rent for Years: We're often remembered most by what we did for others.
Just For Fun
Plan To Straighten Out Entire Life During Weeklong Vacation Yields Mixed Results: The Onion always delivers.