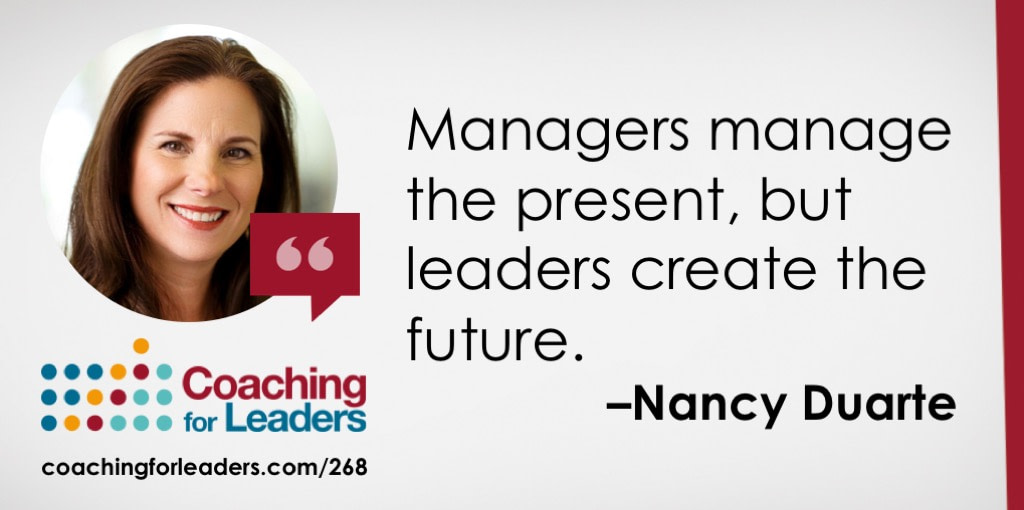 Monday's Episode
268: Ignite Change Through Storytelling: Nancy Duarte (web) (Twitter) and Patti Sanchez (Twitter) joined me to speak about Illuminate: Ignite Change Through Speeches, Stories, Ceremonies, and Symbols*.
Key Points
Change is the reality for every leader and organization.
Empathy for others is key at every stage of the change process — and in all communication.
Stories are a powerful tool for teaching.
Ceremonies help create buy-in for major transitions.
Resources Mentioned
Related Episodes
Quick Reads
The Best Headspace for Making Decisions: Leaders often face a constant barrage of decision-making. New research challenges some of our traditional thinking.
100 Blocks a Day: How are you using your time each day? Here's a printable grid that will provide a ton of clarity.
Seamstress to the (Literal) Stars: I liked this article about Jean Wright, because it reminded me how both vision and preparation can pay off big time for our careers.
In-Depth Reads
How Taking a Gap Year Can Shape Your Life: Lynda Gratton appeared on the show earlier this month to discuss The 100-Year Life*. We spoke briefly about gap years — here's how some people have used them.
Video
The Truth About Your Calling: It's 33-minutes, but if you are searching for you calling, 33-minutes is probably worth the investment, yes? (Oh, and it's not about finding your calling, as Seth Godin will explain.)
Just For Fun
Cubs Advance to World Series: A shout-out to all my fellow Cubs fans around the world. We waited 71 years for this. #GoCubsGo