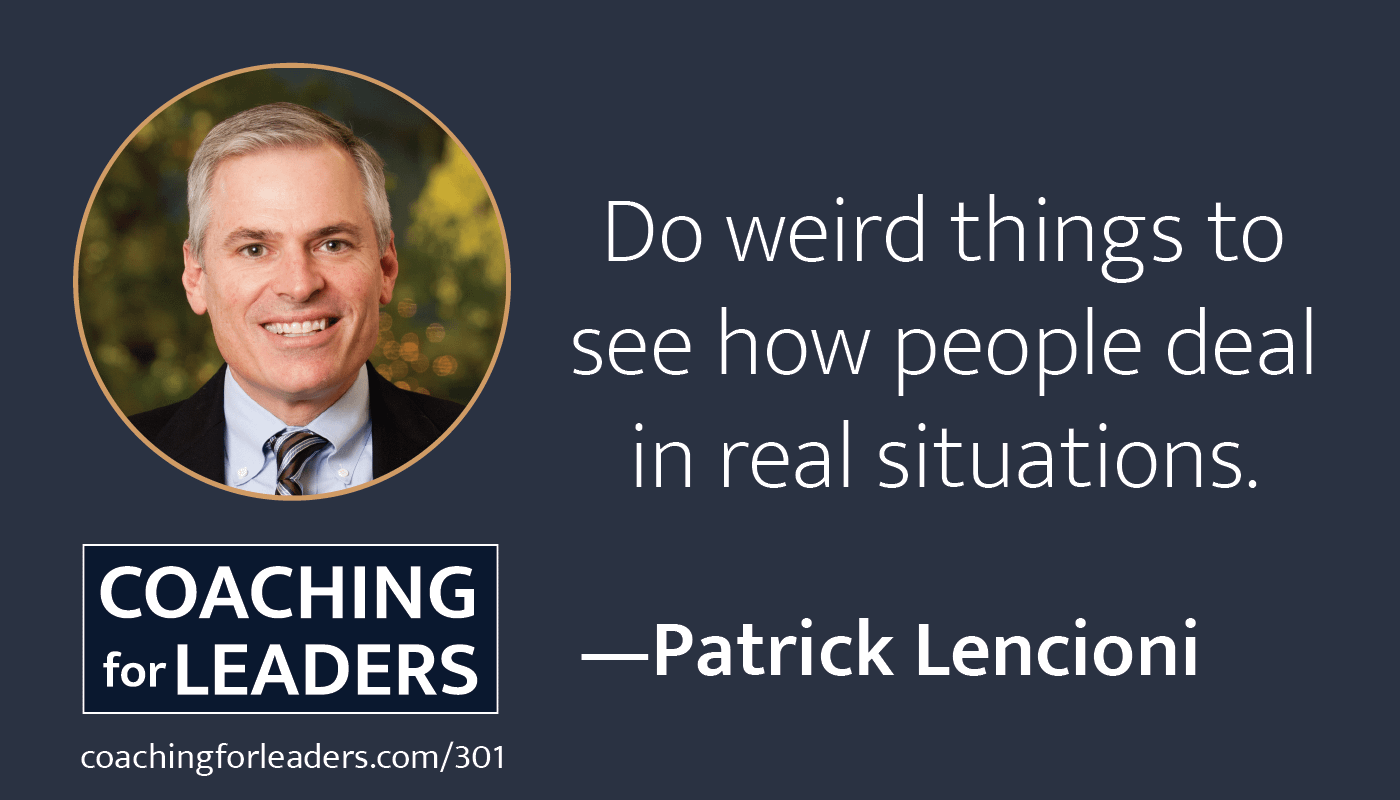 Ever had the feeling that everyone has read a book except you?
That's what happened to me when The Five Dysfunctions of a Team* hit the shelves, years ago. Colleagues and clients kept making reference to the model and I wasn't tracking. I finally picked up the book (partially out of frustration) and dug in.
It became an immeidate favorite and I've recommended it countless times since. Like many of you, I went on to read subsequent books by Patrick Lencioni, finding them all useful and meaningful.
When I heard that a few of our Academy members speaking highly of The Ideal Team Player*, I knew it was time to invite Pat on the show. This week, he joined me to discuss the three virtues he both uses and teaches — and how to recruit and hire people who are humble, hungry, and smart.
Who do you know that's getting ready to recruit and hire? Pass this episode along — it's a must-listen for them.
Weekly Guide: Listener Survey – FINAL DAYS
Take Listener Survey: Have five minutes to help me help you? Complete this listener survey to influence the future of Coaching for Leaders. Survey closes this Friday!
Weekly Guide: Articles
Good boss? Bad boss? Study says workers leave both: This study from my alma mater should be a reminder to all of us that people leave for good reasons too. Lines up beautifully with the superbosses model from past guest Sydney Finkelstein.
The Invisible Fence: Four sentence reminder from Seth Godin on the reality of fences.
Talking to Yourself (Out Loud) Can Help You Learn: Really glad to hear since this headline caught my attention to, errr, help out a friend…
Weekly Guide: Books
What Color is Your Parachute?*: I was speaking today with a client navigating a career transition – and ended up recommending this book. I've lost track of how many times I've recommended it over the years. The first half helped me answer the "What do I want to do with my career?" question long ago.
Weekly Guide: Inspiration
The Three A's of Awesome: A friend passed along this TED talk by Neil Pasricha. He highlights simple pleasures to teach us how to have an awesome life.
Weekly Guide: San Francisco
FREE Meetup on June 29th: Are you in the San Francisco Bay area? I'm hosting a free, live meetup in South San Francisco when I'm in town the evening of Thursday, June 29th. Although the event is free, seating is limited to 30 listeners. See details and RSVP here.
Next Week: Kim Scott
Kim is a highly successful, Silicon Valley executive who's released a fantastic new book called Radical Candor*. She'll help show us what's missing in a lot of workplaces and leadership conversations.