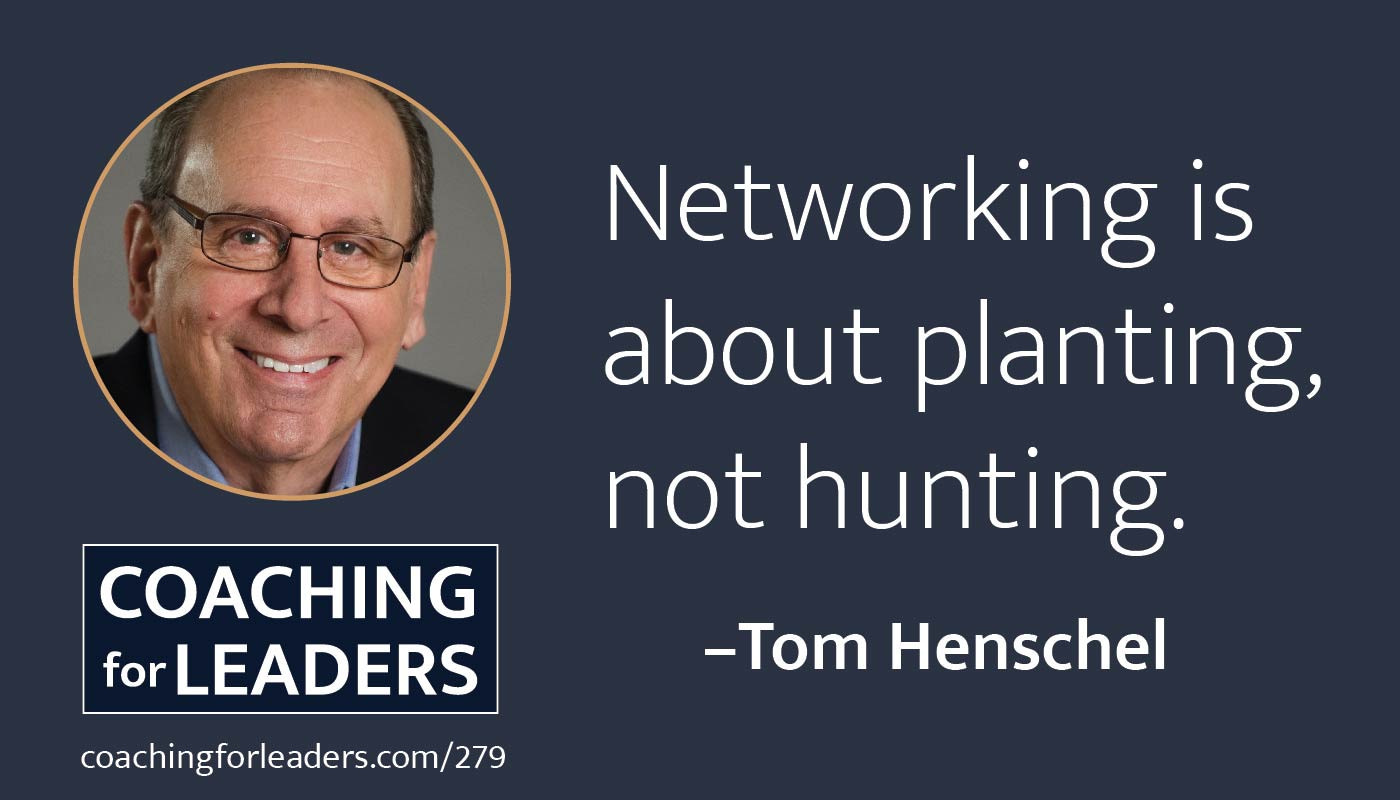 Monday's Episode
279: How to Grow Your Professional Network: My friend Tom Henschel hosts The Look & Sound of Leadership podcast (my favorite leadership show). He appeared on Coaching for Leaders this week to discuss the mindset and strategy for networking.
Key Points
Networking is about abundance and a mindset of giving
Networking is about relationships, not goals.
Networks are built over time.
Ask: How can I help?
Be open to giving your time and talents away for free through a spirit of abundance.
Always be prepared to network, no matter where you are.
Show up consistently, and build relationships over time.
Resources Mentioned
Related Episodes
Quick Reads
The 1 Skill Warren Buffett Says Will Raise Your Value by 50 Percent: Buffet has talked about this for years. If you don't know what to improve in 2017 and haven't yet enhanced this skill, it's a great place to start.
Living With Purpose Yields a Longer Life and Higher Income: This brief article perfectly captures the value of having direction — and the research that backs it up.
Audio
5 Ways to Empower the People You Lead: I was recently interviewed by Eric Cacciatore on the Restaurant Unstoppable podcast on some of the key Coaching for Leaders lessons from past guests.
Books
Scaling Up: How a Few Companies Make It…and Why the Rest Don't by Verne Harnish*: Coaching for Leaders Academy members are reading this book in January. If you're not sure where to start when the word "strategy" starts getting toss around, this book is for you.
Man's Search for Meaning by Viktor Frankl*: Bonni and a few of our friends recently read this classic. It reminded me of the power of this book – I've had so many clients over the years thank me for recommending it.
From My Desk
The Power of Positive Momentum: I posted this 6-minute audio on the podcast feed yesterday. It's the philosophy I use to make progress on almost anything new these days — and an underlying model in the Coaching for Leaders Academy.